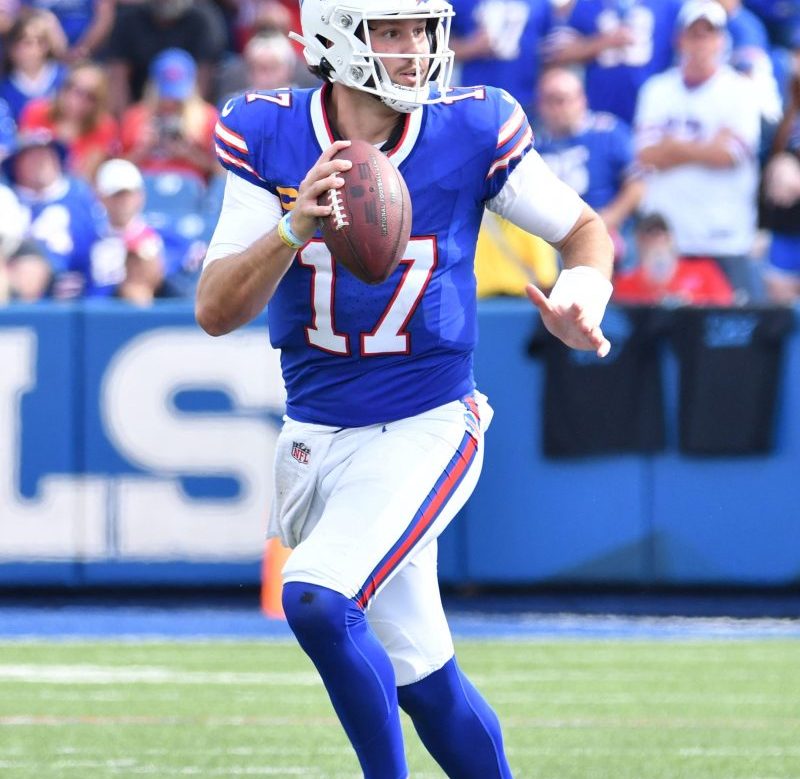 The problem with Buffalo Bills quarterback Josh Allen is Josh Allen
It's not the fault of the offensive coordinator. Or the defensive coordinator. Or any coordinator. It's not the head coach's fault. Or any coach's. It's not the actual football's fault. Or the economy's. Or an alien conspiracy. Well, actually, you can always blame an alien conspiracy.
The reason for the struggles of Buffalo quarterback Josh Allen is because of Josh Allen. His issues are almost exclusively problems of his own making.
Allen leads the NFL in turnovers (14) and interceptions (11). He has six straight games with a pick. Allen had three of the Bills' four turnovers (two interceptions and a fumble) on Monday against Denver. For those of us who have long pointed out Allen's propensity to cough up the football with poor decision-making, and said it would one day catch up to him in a big way, well, we will not say we told you so.
Allen has long been coddled by a media and NFL ecosystem that ignored his turnovers, or made excuses for them, while focusing with laser precision on the faults of Lamar Jackson and Dak Prescott. For those of us who have long pointed out Allen's propensity to throw the football to the other team at critical moments, and asked why so much attention went on Jackson instead, well, we will not say we told you so.
'The industry talks about Dak's (interceptions),' posted former Washington quarterback Robert Griffin III on X, formerly known as Twitter, 'the way they should talk about Josh Allen's.'
In the end, what we're seeing with Allen is something clear. A bunch of people crowned Allen prematurely as a generational talent. He's good. I've said that. But he's so incredibly flawed that for now he can't be great. It's impossible. It's also impossible for the people who have defended Allen like their life depends on it to ignore who he's de-evolving into which is a more athletic Jameis Winston.
The comparison isn't as bonkers as angry Bills fans will make it out to be. In 2019, Winston led all passers with 5,109 yards while also throwing a stunning 33 touchdowns and 30 interceptions. He remains one of the most physically gifted passers in the league but turnovers practically destroyed his career as a starter.
Maybe Allen won't follow that path and he'll be able to cut back on the turnovers and reassemble into the player who shook up the league. But Allen turning the ball over has been a consistent problem for years and it was only a matter of time before the issue became catastrophic. We're at that point now.
'The Josh Allen conversation NEEDS to be had!' posted analyst and former Pro Bowl cornerback Richard Sherman on X. 'It's getting out of hand.'
When asked to explain further, Sherman told USA TODAY Sports: 'Just meant the consistent turning over of the football. The expectations of this team since the AFC Championship appearance and the underwhelming' record of the team. The Bills are 5-5 and one of the most disappointing teams in the league.
Firing offensive coordinator Ken Dorsey won't necessarily fix Allen's issues. Allen will have to do that himself.
One of the reasons why you see Griffith, Sherman and others talk tangentially, and sometimes directly, about how Allen's mistakes have been viewed differently in the media when compared to other quarterbacks is because they have been. There are numerous examples of this. Just this week an NFL journalist who scouts college players said that Allen needs more player talent around him and better offensive schemes. That is a remarkable statement considering Allen's primary receiver is Stefon Diggs. There are quarterbacks who do more with far less.
That's what it's been like for Allen. He's been protected by a media bubble. His mistakes deemphasized; the mistakes of others heightened. It's like he's Loki burdened with a glorious purpose. But he's been a good quarterback, at times great, but also prematurely elevated to a stature he hadn't yet earned. He was propelled there by a media that desperately wanted him to be galactic when he's barely suborbital.
Again, Allen is good. He's just not what so many want him to be.
Allen will likely have games this season where he does remarkable Allen things. If that pattern holds, unfortunately, another one will. Where he will toss an interception. Or fumble the football. Or maybe there's some Josh Allen-y thing where he does both.
The only way this will change with Allen is if he works at it and maybe he has. If so, what he's doing isn't working.
And that isn't anyone's fault but his own.
This post appeared first on USA TODAY