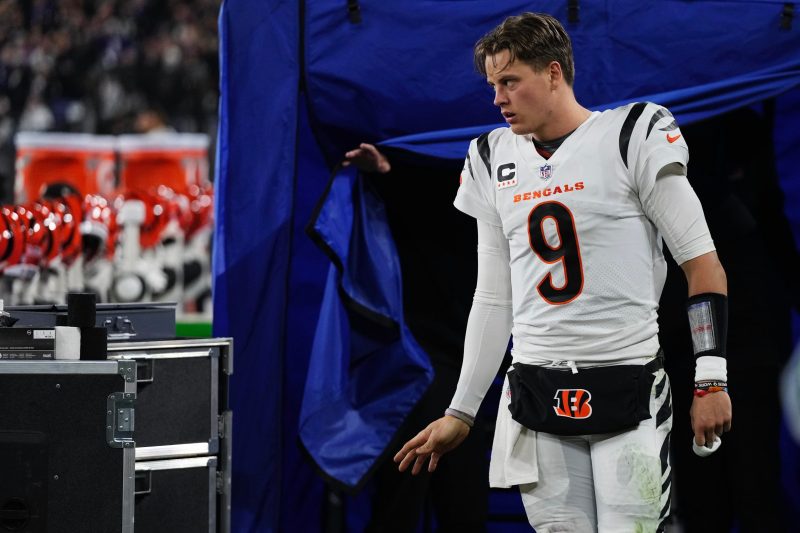 Bengals' Joe Burrow explains wrist sleeve seen in deleted video
Cincinnati Bengals quarterback Joe Burrow addressed reporters Friday after suffering a season-ending injury Thursday night. The 26-year-old left the Bengals' game against the Baltimore Ravens in the second quarter with a right wrist injury, which the team said Friday is a torn ligament.
The NFL is reportedly investigating why Burrow was not listed on the Bengals' injury report before the game. The Bengals posted, and then deleted, a video of players arriving to Baltimore on Wednesday, which showed Burrow wearing what appeared to be a soft, fingerless glove or sleeve on his right hand.
Burrow said Friday that the device he wore Wednesday was a compression sleeve, and that the injury he sustained during the game was new.
THURSDAY NIGHT FOOTBALL: Bengals, Ravens both face serious setbacks
'This is a completely different thing,' he told reporters. 'It's not uncommon for guys to wear compression sleeves on a plane because when you go up to that altitude, things can swell up.'
NFL STATS CENTRAL: The latest NFL scores, schedules, odds, stats and more.
Burrow added that wearing the compression sleeve during travel was normal maintenance after 'bumps and bruises' and a short week, but it had 'nothing to do with the wrist.'
'This is a completely new injury,' he added.
The NFL routinely looks into matters of compliance with its injury report policy, ESPN senior NFL insider Adam Schefter, who first reported about the investigation, wrote on X. Teams can be fined or even lose a draft pick if they violate the policy.
In 2019, the NFL fined the Pittsburgh Steelers $75,000 and coach Mike Tomlin $25,000 for violating the league's injury report policy.
This post appeared first on USA TODAY