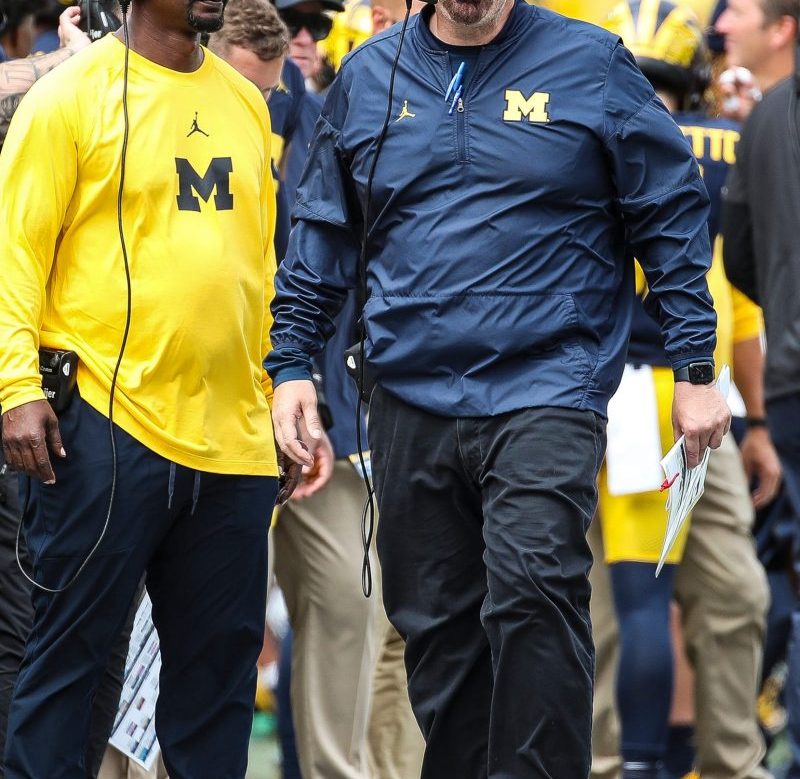 Michigan fires assistant one day after Harbaugh accepts suspension
Michigan has fired linebackers coach Chris Partridge, the school announced in a statement Friday morning.
'Effective today, Chris Partridge has been relieved of his duties as a member of the Michigan Football staff,' read a message from team spokesman Dave Ablauf. 'Rick Minter will serve as the team's linebackers coach.'
Partridge, who was making $500,000 this season, is the second staffer to leave his position in the past few weeks, after recruiting analyst Connor Stalions resigned Nov. 3 following evidence he ran an illegal sign-stealing scheme. The NCAA's investigation is ongoing.
Yahoo Sports reported Friday that Partridge 'allegedly participated in the destruction of evidence on a computer after the scandal broke,' according to its sources, though he is not currently alleged of knowing about Stalions' advanced scouting.
The original announcement came at 11:20 a.m. ET. Just more than 30 minutes later, the Free Press sent a message to a Michigan spokesman asking if a statement was coming from coach Jim Harbaugh. The spokesman responded 'the statement you have is what is being issued by the university.' At 12:10 p.m., the university added another comment.
'From the outset, our focus has been on seeking due process and allowing the NCAA to conduct a fair and deliberate investigation,' read the message from associate athletic director Kurt Svoboda. 'Although the Big Ten has closed its investigation, we are continuing to cooperate with the NCAA as it moves forward with its ongoing investigation. Consistent with our commitment to integrity, we will continue to take the appropriate actions, including disciplinary measures, based on information we obtain.
'Earlier today, Michigan Athletics relieved Chris Partridge of his duties as a member of the Michigan Football staff. Due to employee privacy laws, we are unable to comment further.'
Partridge was in his fifth year as a member of Michigan's coaching staff overall; he was brought back Feb. 8 to begin his second tenure with the Wolverines when he was hired to coach the linebackers. Partridge previously served as the team's special teams coordinator for four seasons (2016-19), before he became defensive coordinator at Mississippi for three seasons (2020-22).
Harbaugh has been suspended for the final three games as overseer of the program. Michigan and the Big Ten were scheduled to be in court Friday to address an attempt by the school to overturn Harbaugh's ban. However, an agreement was reached between the sides and Haburgh agreed to accept the ban.
This post appeared first on USA TODAY