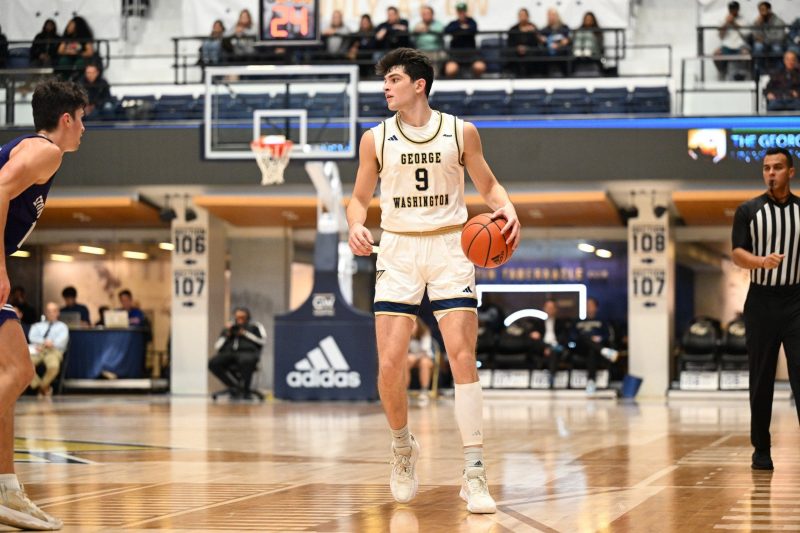 College basketball player crushes it on court after surgeries, chemo
When 21-year-old Garrett Johnson saw his first collegiate shot go in, he felt 'everything kind of release.'
It makes sense for a freshman college athlete to have nerves in their first game and feel a sense of relief seeing their first play result in a success. But for the George Washington forward, it was a moment that didn't seem possible just a few years ago. 
For the past two years, Johnson has battled a benign tumor in his hip, which not only delayed the start of his college basketball career, but created an uncertain future. But it was a battle Johnson didn't let end his dream, and he's gone from not knowing if he'd be able to hoop again to becoming a breakout star for the Revolutionaries. 
'It kind of changes your whole perspective on how you see life,' Johnson told USA TODAY Sports. 
The diagnosis
Johnson, an Alexandria, Virginia native, lost his senior season of high school due to COVID-19, and being a Princeton-commit, he kept in shape by playing in pickup games.
But in late 2020, Johnson began to notice tightness in his hip. He didn't think much of it, but it continued for months, to the point where Johnson had a difficult time with his range of motion. On March 1, 2021, he went to the doctor, and an MRI revealed a large mass in the area.
In an instant, Johnson went from preparing for his freshman season at Princeton to thinking about 'cancer and what that entails.'
'As a 19-year-old, it's something that you don't think you're gonna have to think about, ever,' he said.
A biopsy was then done, which found that Johnson's tumor was benign, but it could still cripple him if not treated.
No progress
Even thought the tumor wasn't cancerous and wouldn't spread throughout his body, it was affecting his day-to-day and his ability to play. There was a belief that if the tumor was quickly taken care of, Johnson would be ready to go by the beginning of the season.
So Johnson spent three months on a chemotherapy pill with the goal of shrinking the tumor, but by the end of it there was no change. Surgery was done in August 2021, but soon after, the tumor grew back.
Another surgery was done in December and another in March 2022, with the same results.
Johnson's first year of college resulted in three unsuccessful surgeries and not a single basketball practice. That July, Johnson had another surgery, but the tumor again grew back and 'was larger than it had ever been.'
'We're about a year and a half into the process, and we had made no progress,' Johnson said of that time.
It was after the fourth surgery when Johnson and his medical team decided to go through chemotherapy radiation. With the new school year on the way, Johnson decided to leave Princeton and focus on his treatment at home, meaning another year of no basketball.
'As a college age, student-athlete, with the aspirations I had, you don't think that you're going to have two years of your life just kind of disappear from you and go down the drain,' he said. 'I was thinking about 'Would I ever play basketball again?"
Getting cleared for the court
Throughout his chemotherapy treatments, Johnson couldn't practice or play any pickup games, but he would get shots up as often as he could. He recalled nearly every night during his year at Princeton, going to the gym and just shooting the ball until around 2 a.m., hoping the activity would mean something one day. 
Then when he was at home during chemotherapy, he had a team of trainers slowly helping him get conditioned, believing his basketball dream was still within reach. There were days when the chemotherapy made training feel worse, but Johnson felt as long as he got a little bit better, it was a win.
But then came some hope. Johnson began to notice as the chemotherapy progressed, he felt more relief on his hip. His range of motion and athleticism was coming back.
The best news came this past spring. After four surgeries and nine rounds of chemotherapy, the tumor had shrunk enough to where Johnson was cleared to play basketball. His last treatment round was April 27, a day he said 'was one of the best days.'
Getting back in the game
Even with clearance to play, Johnson knew he didn't want to go back to Princeton. There wasn't anything wrong with the basketball program, but after what he went through, there were too many negative thoughts and memories associated with the campus, and a change of scenery was necessary. Johnson entered his name in the transfer portal, but there was no guarantee he'd get another opportunity to play.
'For a guy who hasn't played basketball in two and a half years – competitively – I didn't know necessarily anybody would really want me,' Johnson said.
Through connections, George Washington head coach Chris Caputo learned of Johnson, with several people telling him he would be a great fit for his program. Caputo, like most coaches, wondered about Johnson's health, but offered him a workout. Caputo liked what he saw.
'I talked to Garrett about, 'Hey, I'll have patience with you," Caputo said. 'It was clear to me after a couple of workouts, he's somebody we want to not only have in the program, but we want to make sure he understands we're gonna put them on scholarship.'
Now on a college roster, Johnson spent all of summer and early fall getting into season shape. He admitted it was a shaky start and there were some tough days, adding he once got bumped where the tumor was in a pickup game but it didn't affect him as much as it did before. Wwith his health in great condition throughout training camp, by the time the 2023-24 season began, he was ready to play.
Two years later, the first college game
The day of George Washington's season opener against Stonehill on Nov. 6, Johnson was 'really nervous' all morning and afternoon. He couldn't stop thinking about his first game in more than two years. But when he thought about how long that journey was, his mindset went from feeling anxious to feeling grateful.
'This is really the fun stuff. I went through all the hard stuff,' Johnson said. 'At the end of the day, this is basketball. I love playing the game and I shouldn't be nervous for something I've prepared hours and hours and hours for. I've been through real tough things. A basketball game is not in comparison to some of the things that I've had to do.'
Not only did Johnson play in the first game, he was a starter. The first minute he said he was jumpy, but once that first shot went in, it was as if he hadn't missed a single game. Johnson went on to score a team-high 21 points with five made 3-pointers in an 89-44 win. Just six months after finishing his last round of chemotherapy.
'I've been doing this 22 years, I don't remember a lot of guys getting 21 points in their first game,' Caputo said.
Johnson has continued to be hot since his return. He followed up his debut with a 15-point performance in a 85-89 win over William & Mary, and ended the first week of the season being named the Atlantic-10 Rookie of the Week. George Washington is now 3-0 on the season, with Johnson emerging as a top scoring and rebounding starter for the team.
'He's doing the thing he loves to do'
The tumor isn't gone, but the last MRI in August showed it has continued to shrink even after ending chemotherapy. Johnson's health will still be monitored as the season progresses, with another MRI scheduled at the end of the season. But Johnson said he still feels great right now, and is eager to help George Washington make the NCAA tournament for the first time since 2014.
When he looks back on what he overcame just to get back on the court, Johnson is thankful for his parents and girlfriend for being with him throughout the entire process. He also wants people that see his story to know not to give up on any aspirations they have in life and to keep 'that hope that one day the storm is gonna pass and you'll be able to do what you want to do.'
Caputo said he's been 'incredibly fortunate' to witness Johnson's return. With four years of eligibility, the hope remains the worst is behind Johnson and he can go about his college career just like any other athlete. Caputo knows Johnson won't be the leading scorer every night for his team, but it's more than OK for him, because he's already achieved something far greater.
'I told him that it's a huge accomplishment just to be on the court after what he's been through, and that's inspiring to a lot of us and a lot of people,' Caputo said. 'What's most important is that he's out there and he's doing the thing he loves to do, and he's healthy.'
This post appeared first on USA TODAY