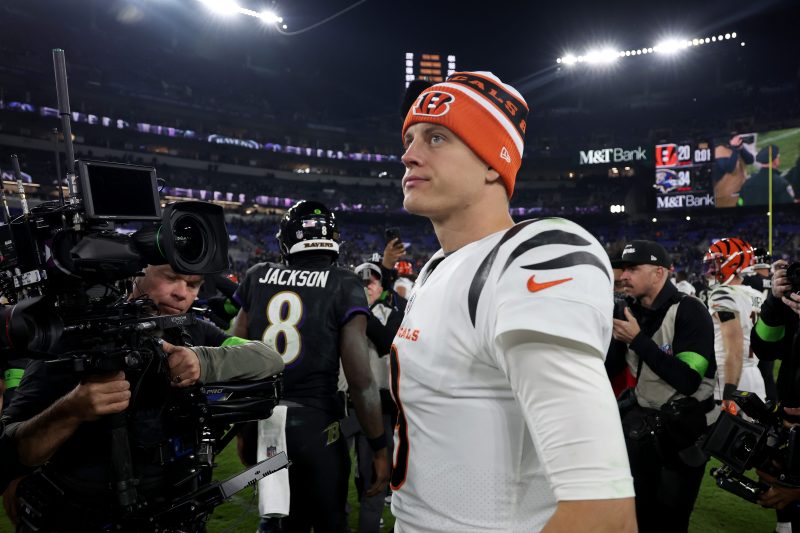 A game with no winners? Bengals, Ravens both dealt serious setbacks
It's still not clear if anybody truly won.
The loss was clearly devastating to Cincinnati, which fell to 5-5 while suffering a season sweep at the hands of the Ravens (8-3) – a tiebreaker that would severely hinder the Bengals' ability to win the division for a third straight season.
The defeat also left Cincinnati in a four-way tie for eighth place in the overall AFC standings, currently a half-game out of the final wild-card position.
Turns out, that was the least of the Bengals' concerns.
NFL STATS CENTRAL: The latest NFL scores, schedules, odds, stats and more.
Pro Bowl quarterback Joe Burrow, who became the NFL's highest-paid player earlier this year after signing a five-year extension that averages a record annual payout of $55 million, was unable to finish the game after suffering a right wrist injury in the first half – the No. 1 pick of the 2020 draft grimacing while throwing a 4-yard touchdown pass to Joe Mixon. Burrow was in obvious pain on the sideline afterward while trying to throw the ball and never returned to the playing field.
He didn't address reporters following the game, slightly struggling to get dressed in the locker room with the wrist wrapped and possibly splinted.
Friday, Cincinnati head coach Zac Taylor revealed his superstar is out for the rest of the season with a torn ligament in his wrist.
Bengals players had little to offer in a somber locker room, though some attempted to parrot Taylor's message that the season is far from over.
"You see backup guys winning games all over the place," said wide receiver Tyler Boyd.
However fellow wideout Ja'Marr Chase, who also played with Burrow collegiately at LSU, sounded less optimistic.
"Not something I was expecting," Chase said of Burrow's departure. "It was just tough seeing that happen.
"I don't know, it's part of football – next man up. … New guys gotta step up, we gotta adjust."
Wide receiver Tee Higgins (hamstring) and defensive end Sam Hubbard (ankle), two more key players for Cincinnati, were inactive Thursday. Top pass rusher Trey Hendrickson played through a hyperextended knee he sustained in Sunday's loss to the Houston Texans.
Matters were less dire for the Ravens, who will move into position as the AFC's projected No. 1 seed if the Kansas City Chiefs (7-2) lose to the Philadelphia Eagles in Monday night's Super Bowl 57 rematch. But Baltimore heads into its mini-bye – the Ravens' next game is on the road November 26 against the Los Angeles Chargers – with serious issues nonetheless.
The overriding one is the health of Pro Bowl tight end Mark Andrews, who suffered an ankle injury on what looked like a hip-drop tackle from Bengals linebacker Logan Wilson on the opening drive. Andrews, who was seen on crutches afterward in the bowels of the stadium according to Amazon Prime's broadcast team, is likely out for the remainder of the season.
"It's very tough,' said Ravens quarterback Lamar Jackson, who was drafted with Andrews in 2018. "We've been bread and butter, peanut butter and jelly – whatever you want to call it. It's very tough, because that's my boy. That's receiver (number) one sometimes.
"He's been having a remarkable year."
Long Jackson's preferred target, Andrews entered Week 11 with a team-high six touchdown catches and was second on the club both with 43 receptions and 521 receiving yards. He caught two balls for 23 yards Thursday prior to being injured.
But that might not be all for Baltimore, which was also without injured Pro Bowl cornerback Marlon Humphrey (calf) and left tackle Ronnie Stanley (knee) against Cincinnati.
Jackson, who missed five games apiece in the 2021 and 2022 regular seasons and didn't finish either of them – he also didn't play in last season's wild-card loss at Cincinnati – was hobbled by an ankle injury. He was taken down near the sideline by Wilson on a third-down incompletion in the first half and wound up in the medical tent but didn't miss a snap. Jackson seemed to be nursing the ankle on the sideline at various points in the evening, even using a heating pad on it, and occasionally appeared to have trouble with his footing on the field.
Still, he vowed to be ready for the Chargers game.
Baltimore wideout Odell Beckham Jr. also left the game in the fourth quarter, suffering an apparent shoulder injury on yet another tackle involving Wilson. OBJ finished with four catches for 116 yards, his highest total since signing with the Ravens earlier this year.
But the loss of Andrews is clearly going to be an obstacle and took a bit of luster off an otherwise convincing 'win.'
"To replace a player like Mark Andrews, it's going to take everybody," said Ravens coach John Harbaugh. "It's going to take a team to do it, and our guys will be up for the challenge and up for the task."
But not as big a task as the Burrow-less Bengals face – along with the AFC North rival Cleveland Browns, who lost quarterback Deshaun Watson to a season-ending shoulder injury.
"Gotta adjust, make changes probably. Or get back in the lab and keeping working," said Chase, while acknowledging he doesn't know what modifications will make a difference.
"Can't turn back now, so we've just gotta keep going, marching forward."
In the war of attrition that is the NFL, that's really all you can do. But with the Ravens and (especially) Bengals both seemingly diminished Thursday night, it just got that much harder to reach the finish line in Las Vegas next February.
***
Follow USA TODAY Sports' Nate Davis on X, formerly Twitter @ByNateDavis.
This post appeared first on USA TODAY