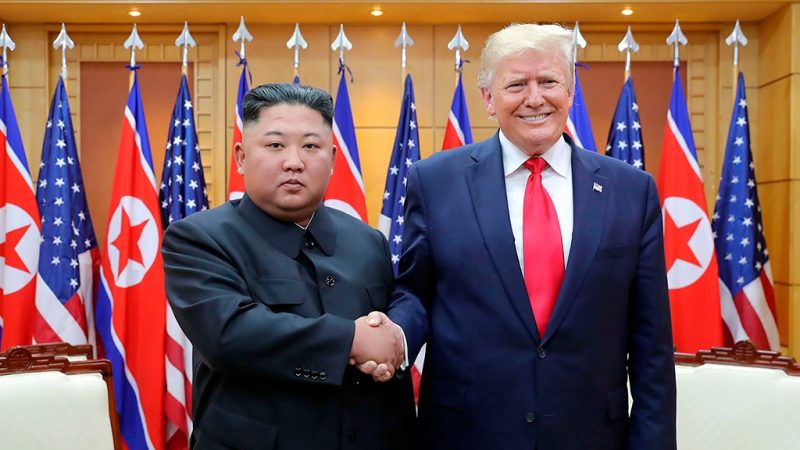 Pence, Haley and DeSantis slam Trump for congratulating North Korea's Kim Jung Un
DES MOINES, Iowa – Two top members in former President Donald Trump's administration who are now rivals to Trump in the 2024 GOP presidential nomination race are heavily criticizing Trump for celebrating North Korea's appointment to the World Health Organization.
Former Vice President Mike Pence and former South Carolina Gov. Nikki Haley, who served as ambassador to the United Nations during the Trump administration are taking aim at the former president in interviews in Iowa on Saturday with Fox News. Florida Gov. Ron DeSantis also took a swipe at Trump over his comments about the North Korean dictator.
'Congratulations to Kim Jung [sic] Un!' Trump wrote in the message on his social media platform Truth Social on Friday afternoon.
'I was surprised to see that,' DeSantis told Fox News Digital Saturday. 'I mean I think one, I think Kim Jong Un is a murderous dictator.' 
Trump linked his message to an article from American Greatness about the North Korean official recently elected to the executive board of the World Health Organization (WHO).
The North Korean Ministry of Public Health's Dr. Jong Min Pak has been seated on the WHO's executive board with a term set to last until 2026.
The communist state's new position on the board allows them say in determining the organization's agenda and policy prescriptions.
The decision sparked immediate criticism from the government of neighboring South Korea, which pointed to North Korea's history of ignoring policies put forward by the WHO and its parent organization, the United Nations. 
Pence, who's expected to launch a 2024 presidential campaign next week in Iowa, told Fox News The World Health Organization let America and the world down during the COVID pandemic. They were literally complicitous in covering up what was happening in China and we held them to account during our administration..' 
'Whether its my former running mate or anyone else, nobody should be praising the dictator in North Korea or praising the leader in Russia, who has launched an unprovoked war of aggression in Ukraine,' Pence said. 'This is a time when we ought to make it clear to the world that we stand for freedom and we stand with those who stand for freedom.'
Haley, who declared her candidacy for the White House in February, told Fox News that 'you don't congratulate a thug. I mean, let's keep in mind this. This thug has threatened America. It's threatened our allies over and over again. This is not something to play with.'
'He's a terrible individual. He's terrible to his people. He's terrible to our allies in the world. And I don't think he deserves congratulations,' Haley emphasized.
 Trump became the first sitting American President to meet with a dictator of North Korea when he shook hands with Kim Jong Un in 2019.
'It started off rough, remember that? I was saying 'little rocket man' and he was saying 'I've got a red button on my desk, and I'm willing to use it," Trump recalled in an April 2023 interview.
'And then all of a sudden we get a call — they want to meet,' he added. 'We would have had that whole situation straightened out shortly after the beginning of my second term.'
Pence and Haley spoke with Fox News on Saturday as they attended Sen. Joni Ernst of Iowa's annual roast and ride, a motorcycle ride that benefits veterans. All of the declared presidential candidates — other than Trump — spoke at the gathering.
Asked for a response, the Trump campaign took aim at DeSantis, which they view as the former president's top rival for the 2024 GOP nomination.
'President Trump achieved peace through strength and, as a result, no new wars were started under his presidency. On the other hand, Ron DeSantis is a puppet of the establishment war mongers and doesn't have the strength, fortitude, or will to stand up against America's adversaries,' Trump campaign spokesman Steve Cheung told Fox News.
This post appeared first on FOX NEWS