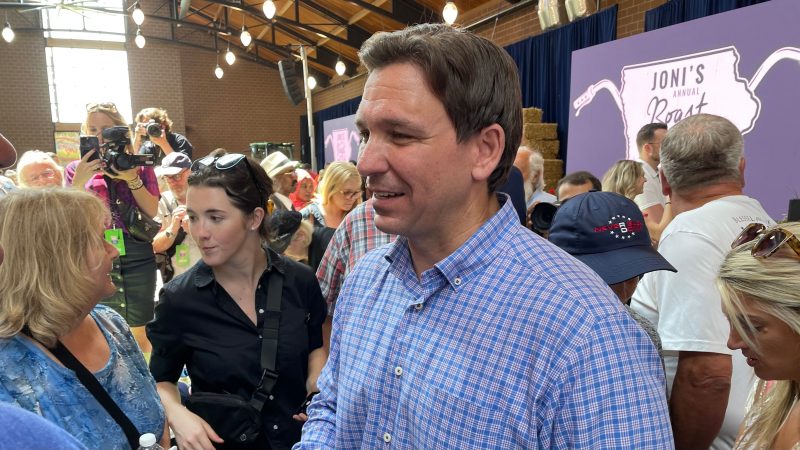 DeSantis suggests Trump doesn't understand the 'woke' threat to America
DES MOINES, IOWA – The current top two contenders for the Republican presidential nomination are trading verbal fire over the term 'woke.'
Florida Gov. Ron DeSantis told reporters on Saturday that 'woke is an existential threat to our society.'
DeSantis, greeting Republican activists at a major GOP 2024 presidential cattle call in Iowa, the state whose caucuses lead off the Republican White House nominating calendar, was asked about comments former President Donald Trump made two days earlier.
'I don't like the term 'woke' because I hear 'woke, woke, woke.' It's just a term they use, half the people can't even define it, they don't know what it is,' the former president said on Thursday during remarks at the Westside Conservative Club in Urbandale, Iowa.
Asked about Trump's comments, the Florida governor said Saturday that 'to say it's not a big deal, that just shows you don't understand what a lot of these issues are right now.'
Trump, who launched his third straight White House campaign last November, is the current commanding front-runner in the polls. 
DeSantis, who's seen his stature with conservatives across the country soar in recent years in part due to his culture wars battles against some major corporations, school unions, and the media. He often touts that Florida 'is where woke goes to die.'
The governor is solidly in second place in the GOP nomination polls, far behind Trump but well ahead of the rest of the field of actual and potential contenders. 
DeSantis at the Iowa State Fairgrounds at Sen. Joni Ernst's Roast and Ride. The annual motorcycle ride, which benefits veterans, this year attracted all of the declared Republican presidential candidates except Trump.
This post appeared first on FOX NEWS