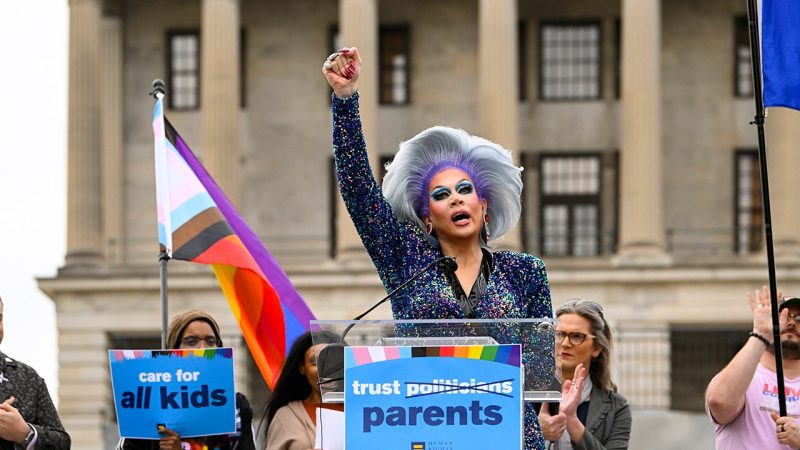 Tennessee law restricting drag shows 'unconstitutionally vague,' federal judge rules
A federal judge ruled late Friday that a Tennessee law that put strict limits on drag shows is 'unconstitutionally vague.' 
U.S. District Judge Thomas Parker in his ruling said the first-in-the-nation law that banned cabaret performances in a public place or anywhere that children could be present was 'overly broad,' encouraged 'discriminatory enforcement,' and violated the First Amendment rights of performers. 
'There is no question that obscenity is not protected by the First Amendment. But there is a difference between material that is 'obscene' in the vernacular, and material that is 'obscene' under the law,' Parker said in his ruling. 
He added, 'Simply put, no majority of the Supreme Court has held that sexually explicit — but not obscene — speech receives less protection than political, artistic, or scientific speech.'
FORMER AMERICAN IDOL STAR BLASTS GOP STATE BANS ON DRAG SHOWS FOR MINORS: 'USING CHILDREN AS AN EXCUSE' 
LGBTQ theater company Friends of George's had sued over the law, which it said would hurt their business because they focus on 'drag-centric performances, comedy sketches, and plays' with no age restrictions.
The group on Saturday called the ruling a 'triumph over hate.'
'Similar to the countless battles the LGBTQ+ community has faced over the last several decades, our collective success relies upon everyone speaking out and taking a stand against bigotry,' Friends of George's added in their statement.
One of the bill's sponsors, Senate Majority Leader Jack Johnson, called the ruling 'perplexing' and said he hopes the attorney general would appeal it. 
'Sadly, this ruling is a victory for those who support exposing children to sexual entertainment,' Johnson said. 
Parker, who is a Trump-appointed judge, used the example of a woman dressing as Elvis for a performance, saying she could be in violation of the law because she could be considered a 'male impersonator.'
While the word 'drag' doesn't actually appear in the law, Republican lawmakers cited drag performances in their hometowns as impetus for it. 
Lawmakers changed the state's definition of adult cabaret to mean 'adult-oriented performances that are harmful to minors,' classifying 'male or female impersonators' as adult cabaret performers similar to strippers. 
Gov. Bill Lee signed the law, which went into effect on April 1 but has not yet been enforced because Parker temporarily blocked it in March after the lawsuit. 
The Associated Press contributed to this report. 
This post appeared first on FOX NEWS
–>