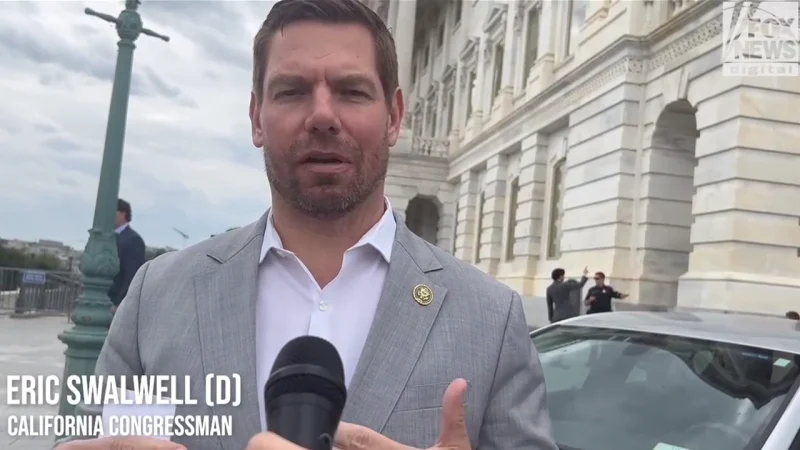 WATCH: Dems dismiss Durham report that found flaws in FBI's Trump probe: 'A process foul'
House and Senate Democrats on Tuesday dismissed the findings from Special Counsel John Durham's report that found the Department of Justice and FBI 'failed to uphold their mission of strict fidelity to the law' when it launched the Trump-Russia investigation.
Durham's report after a years-long investigation of the FBI's original investigation into Donald Trump's 2016 campaign dubbed 'Crossfire Hurricane' was delivered on Monday to Congress.
Fox News Digital was on Capitol Hill Tuesday to ask Democrats if they are concerned that Durham revealed officials aggressively went after a sitting president with little evidence, and whether the FBI is still living up to its motto: Fidelity, Bravery, Integrity.
'It's a process foul, not of any substance,' Rep. Eric Swalwell, D-Calif., said of the FBI's actions outline in the report.
'The Durham report did not disabuse the fact that Trump asked the Russians to hack Hillary Clinton. Russians did hack Hillary Clinton,' Swalwell added. 'Met with, had his team meet with people offering dirt on Hillary Clinton at Trump Tower and Donald Trump, it still looks like, was trying to do the biggest deal of his life in Moscow while he was a candidate. So if that was not disproved, then this report seems of little value.'
Rep. Jamie Raskin, D-Md., the top Democrat on the House Oversight and Accountability Committee, said of the report, 'nobody takes it seriously.'
'I think it is a naked self-justification for the millions of dollars of taxpayer dollars they wasted in that wild goose chase,' Raskin said. 'So he's trying to justify it now, but nobody takes it seriously. Everybody knows that Vladimir Putin was involved in an active measure campaign to destabilize and sabotage the American election in 2016. And he… has been doing it ever since he's never stopped.'
'I don't think that he said anything new in that statement that would undermine… anybody's faith in FBI. Of course, if you've been trashing the FBI for the last several years, it's not going to suddenly vindicate that in your eyes,' Raskin said.
Senator Joe Manchin, D-W.V., would not answer the questions and stated he had 'nothing else to say.'
Rep. Dan Goldman, D-N.Y., also dismissed the report's finding, and said it was 'very disappointing to see a once venerable prosecutor clearly infected by political bias.'
'Based on the review of Crossfire Hurricane and related intelligence activities, we conclude that the Department and the FBI failed to uphold their mission of strict fidelity to the law in connection with certain events and activities described in this report,' the Durham report said.
Durham said his investigation also revealed that 'senior FBI personnel displayed a serious lack of analytical rigor towards the information that they received, especially information received from politically-affiliated persons and entities.'
The FBI said in a statement responding to the report: 'The conduct in 2016 and 2017 that Special Counsel Durham examined was the reason that current FBI leadership already implemented dozens of corrective actions, which have now been in place for some time. Had those reforms been in place in 2016, the missteps identified in the report could have been prevented.'
'This report reinforces the importance of ensuring the FBI continues to do its work with the rigor, objectivity, and professionalism the American people deserve and rightly expect,' it added.
This post appeared first on FOX NEWS