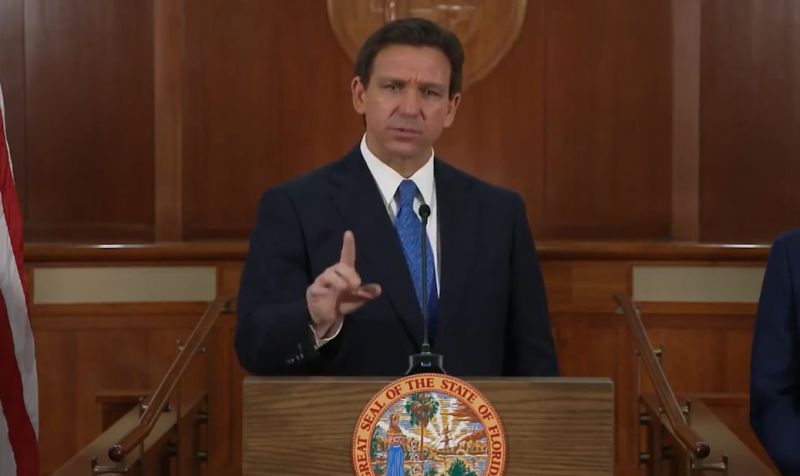 DeSantis, pro-life activists hit back at Trump over abortion bill criticism
Florida Gov. Ron DeSantis hit back at former President Trump after the possible 2024 rival claimed the governor's six-week abortion ban had been 'too harsh' for pro-life voters.
DeSantis defended his signing of the ban during a Tuesday press conference, telling reporters that virtually all pro-life voters supported the bill. Many pro-life groups spoke out to criticize Trump this week after he suggested that such abortion bans were too strict.
'Protecting an unborn child when there's a detectable heartbeat is something that almost 99% of pro-lifers support,' DeSantis told reporters. 'It's something that other states like Iowa, under Gov. Kim Reynolds, have enacted.'
'As a Florida resident, you know, he didn't give an answer about, 'Would you have signed the heartbeat bill that Florida did, that had all the exceptions that people talk about?'' DeSantis added.
Trump split with pro-life groups in an interview with The Messenger on Monday, telling a reporter, 'If you look at what DeSantis did, a lot of people don't even know if he knew what he was doing. But he signed six weeks, and many people within the pro-life movement feel that that was too harsh.'
When asked about whether he would support restrictions on abortions after six weeks of pregnancy, Trump replied, 'I'm looking at all options.'
DeSantis's abortion bill, signed in mid-April, bans most abortions beyond six weeks but includes exceptions for rape and incest. Existing state exceptions for the life of the mother also remain in place.
Pro-life groups were quick to correct the record earlier this week after Trump's comments, saying the Florida bill was an example of success for the movement.
'The pro-life movement demands a presidential candidate who will boldly advocate for the human rights of all people,' Noah Brandt, vice president of communications at Live Action, told the Daily Signal. 'It is sad and disappointing to see a candidate attack the people of Florida for protecting pre-born Floridians with a detectable heartbeat.'
Lila Rose, president of Live Action, tweeted a poll showing that more than 60% of Florida voters in general support protection for unborn children after a heartbeat is detected, which is at around six weeks.
'Trump is embarrassing himself by abandoning pro-life voters and the children we are fighting for,' Rose wrote in another tweet. 'Florida and Gov DeSantis should be applauded for protecting life. If President Trump is done with fighting for life, pro-life voters should be done with him.'
The Associated Press contributed to this report.
This post appeared first on FOX NEWS