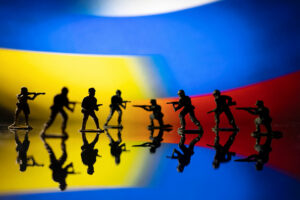 'Losing our best': Activists killed in war seen as blow to Ukraine's future
KYIV — Investigative journalist Oleksandr Tsakhniv spent much of his professional life trying to uncover corruption in Ukraine's eastern hinterlands where he lived and worked.
He was killed in March, aged 37, fighting Russian forces near Bakhmut. Now, his employer says his death could have an impact on the local fight against graft — and on Ukraine's broader efforts to prepare for a future more closely aligned to Europe.
"I understand it's a civic duty to defend your country, and so they go," said Maria Davydenko, director of the online outlet Vchasno where Mr. Tsakhniv worked, referring to activists and other members of civil society. "But we really are losing our best."
A growing number of civic activists and community leaders, who might be expected to drive Ukraine's ambitions to build a modern democracy, are among the thousands of Ukrainians from all walks of life killed fighting since Russia's full-scale invasion in February 2022.
The European Union offered Kyiv candidate status last year and made improving governance and fighting corruption key requirements for membership negotiations.
Among the first activists to fall was well-known environmental campaigner Roman Ratushnyi, who famously tackled illegal construction in a woodland in Kyiv. He was killed fighting near Izium in the east of the county last June aged 24.
Another was 28-year-old Mykhailo Alekseyenko, a star political science graduate from Karazin University in Kharkiv. He was killed last month near Kreminna.
The pro-European Maidan revolution in 2014 that ousted a pro-Russian leader inspired young Ukrainians like Mr. Alekseyenko, who before the war helped rebuild homes and took part in youth education programmes after receiving a Masters degree in 2017.
"Misha was definitely another type of activist, who was ready to act in many different ways," said professor Yuliya Bidenko, who taught Mr. Alekseyenko political science. Misha is shorthand for his first name.
In different circumstances, Ms. Bidenko believes Mr. Alekseyenko could have sought a political career. His death, and those of other young idealists, could undermine the country's drive toward greater self-rule across its regions, she said.
Decentralization was a key post-Maidan reform to empower local administrations.
The mass flight of millions of refugees after Russia's invasion has also dealt a blow to Ukraine's potential political class, Ms. Bidenko added.
'EXTREMELY NECESSARY'
In some cases, the war may also be forging future leaders, especially among the military and humanitarian volunteer organizations that are now trusted by 88% of Ukrainians, according to the Razumkov Centre think-tank in Kyiv.
Away from Kyiv, in far-flung places like Pokrovsk, about an hour's drive west of the besieged city of Bakhmut, people like Tsakhniv, the journalist, will be missed.
There, in 2018, he investigated an allegedly rigged tender process involving more than $10 million of European Investment Bank money to rebuild local schools and hospitals damaged after Russia's previous, covert, invasion of 2014.
His report led to a review by the United Nations Development Programme (UNDP), which scrapped the tenders, said colleague Davydenko. The UNDP confirmed to Reuters that new tenders were held and contracts awarded to different builders.
"People like this are just extremely necessary for us after the war," Ms. Davydenko said of Mr. Tsakhniv. — Reuters