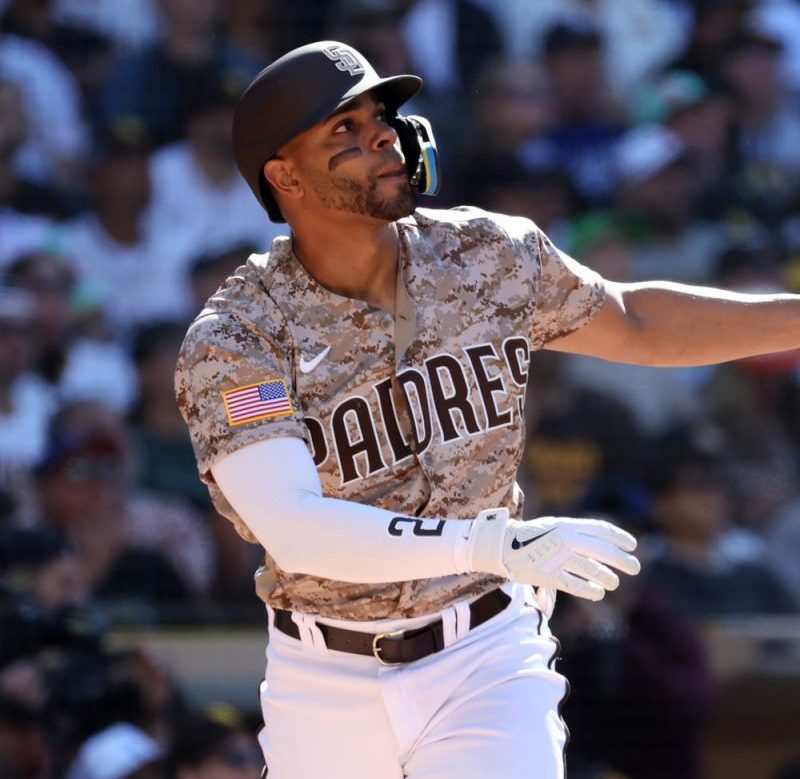 $280 million shortstop is living up to the hype for San Diego
You see it every year, big-time free agents who switch teams, players who are traded, who suddenly go bust. 
All-Star outfielder Juan Soto has been a shadow of himself since being traded from the Washington Nationals to the San Diego Padres, saying he's still trying to get comfortable, while off to the worst start of his career. 
Future Hall of Famer Adrian Beltre went from hitting 48 homers with 121 RBI and a 1.017 OPS in his last year with the Dodgers to 19 homers, 87 RBI and a .716 OPS in his first year of a five-year, $64 million contract with the Seattle Mariners. 
The worst year of Bryce Harper and Manny Machado's stints with the Phillies and Padres were their first seasons after signing their $300 million contracts. 
The surreal expectations and the self-inflicted pressures have a way of cracking the confidence of even the greatest players. 
Follow every game: Latest MLB Scores and Schedules
"It's an adjustment for sure,' Soto says. "It's tough going to a new team. I'm still trying to get comfortable. Slowly, it's coming, little by little, day by day.'
And then there's Padres shortstop Xander Bogaerts. 
He signed an 11-year, $280 million contract after spending the first 10 years of his career with the Boston Red Sox. He took away the shortstop job from fan favorite Fernando Tatis Jr. He was installed as the Padres' cleanup hitter. 
And after going from the East to the West Coast, finding a new home and learning a whole new coaching staff, Bogaerts is having one of the best seasons of his career. 
He has easily been the Padres' finest player, their most consistent hitter, and the metronome in an underachieving lineup. 
He entered the weekend leading the Padres in virtually every statistical category. He's hitting .283 with a .378 on-base percentage, .465 slugging percentage and had reached base in 30 consecutive games – breaking Bobby Brown's 1983 record for a player's on-base streak after joining the team.
"I was wondering how it would go early on for him being in Boston for as long as he was,'' Padres manager Bob Melvin tells USA TODAY Sports, "but he's been unbelievable. He's the kind of guy who can walk into a clubhouse, any clubhouse, and fit in from Day 1. Just the way he goes about his business, the respect he gets universally around the league, you never hear a bad word said about him. 
"He's vocal. He's supportive. He's just one of those rare guys who seem to fit in really quickly. He's just a stud. No excuses. Extremely accountable. Wants no part of taking a day off. That's just who he is.'
Bogaerts, the four-time All-Star and two-time World Series champion, says the most difficult part of the move simply is getting used to having nothing to do at night. When he played in Boston, he would go back to his condo and watch the West Coast baseball games. Now, when he goes home after night games in San Diego, all of the games are over. 
 "That's the only thing I don't like,' Bogaerts says, "is that there's no more baseball after I play. So that makes it tough when I go home. Now, I just get to watch the highlights.'
"But really, I thought it would be a little difficult. I'm thankful its gone well so far and hopefully I can continue to help the team.'
You would never know that the only person Bogaerts really knew was pitcher Michael Wacha, his teammate for the 2022 season in Boston. Yet, here he is, a vocal leader acting like he was born and raised in San Diego, fitting in as easy as a margarita goes down sitting on Mission Beach. 
"I've been very impressed with how he's handled everything being with a new team,' Wacha says. "It can definitely be weird going to spring training and having to build those new relationships with people you never met. 
"But you see how he goes about his business. What he does in the weight room. The training room. His prep on the field. And when the lights turn on, it doesn't seem to matter what jersey he's wearing, he's ready to play. 
"He's the ultimate gamer.' 
Certainly, it helps going from the pressure-cooker of Boston to San Diego.
Then again, San Diego isn't the same sleepy town, either. This is a team that has loftier expectations than Boston in 2023. It's World Series or bust with the third-highest payroll in baseball that employs 11 All-Star players. 
"There are pretty big expectations here too,' Bogaerts said. "If you don't play well, they'll let you know real quick. I heard a couple of boos early on. I thought, 'Wow, I didn't know they did that here.'
"But it's a little different beast [in Boston] with the expectations. People want you to go 10-for-10 out of the gate with two homers. But that's not how the game works, man. It's hard, making adjustments with pitchers you've never seen.'
Bogaerts relies heavily on video these days, trying to learn the starters' repertoire, studying relievers' tendencies, asking a whole lot of questions to teammates, and yes, getting used to life on the West Coast. 
"It's different, but it's definitely fun coming to the ballpark with expectations,'' Bogaerts says, "instead of just coming in, hanging out, and whatever happens, happens. It gives you a lot of motivation to come and expect to do good stuff. 
"I'm determined, man.'
This post appeared first on USA TODAY