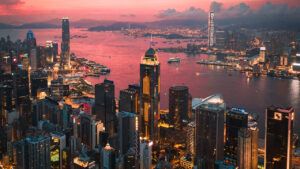 British investment minister visits Hong Kong, first official visit in 5 years
HONG KONG – Britain's Minister for Investment Dominic Johnson said he held a series of meetings with government officials and executives in Hong Kong this week, the first official visit from a senior British official to the city in five years.
Mr. Johnson's visit comes after relations between Britain and Hong Kong have been increasingly strained since 2020 when Beijing imposed a national security law in the former colony.
Mr. Johnson said he was in Hong Kong to promote the United Kingdom as a leading destination forinvestment and trade.
"Hong Kong is one of the world's leading international financial centres and we have shared interests from financial services to infrastructure to sustainability," he wrote on Twitter.
Mr. Johnson also wrote in an opinion piece in the South China Morning Post on Tuesday that Britain would engage with China and Hong Kong where interests converge but would stand up for its values "and be clear about our right to act when Beijing breaks its international commitments or abuses human rights".
Britain will not look the other way on Hong Kong he said, adding that the country would not duck its historic responsibilities.
"As a co-signatory to the Joint Declaration, we will continue to stand up for the people of Hong Kong, to call out the violation of their freedoms, and to hold China to their international obligations."
Hong Kong and Beijing have said previously that Britain had no rights over the city under the joint declaration that laid the blueprint for how the city would be ruled after its 1997 reunification with China.
Photos on Mr. Johnson's Twitter account published on Monday showed him meeting with Christopher Hui, Hong Kong's secretary for Financial Services and the Treasury "to discuss our ongoing work to remove market barriers and increase UK-Hong Kong trade".
He also met with CK Hutchison Chairman Victor Li and co-managing director Canning Fok to discuss the company's investment plans in Britain.
Mr. Johnson visited the city's Cyberport area on Monday, which authorities have been trying to develop as a start up area, according to photos he posted on his feed.
When asked about Johnson's visit, Hong Kong's chief executive John Lee said on Tuesday he welcomed foreign officials to come to Hong Kong to promote business, trade and people-to-people relationships, as Hong Kong has always relied on international and regional cooperation for its success.
"It's just some countries because of their political interests make certain moves to jeopardise the relationships," Mr. Lee said without directly referring to Britain.
"We should all focus on economic development for mutual benefit…we should be pragmatic and promote favourable policies."
Hong Kong's government did not respond to a request for comment on Johnson's trip nor did the British consulate provide any details. Johnson's meetings have all been closed door and not available for media.
He is due to leave Hong Kong on Tuesday.
Western governments including Britain's have criticised the security law as a tool to crush dissent.
Chinese and Hong Kong authorities say the law, which punishes subversion, collusion with foreign forces and terrorism with up to life in prison, has brought stability after the 2019 protests.
Britain's Foreign Secretary James Cleverly said last week he had "made plain" Britain's views onHong Kong, Xinjiang and Taiwan in a meeting with Chinese Vice President Han Zheng during the latter's visit to London for King Charles' coronation.
London has restricted Chinese investment over national security worries and expressed concern at Beijing's increasingly military and economic assertiveness. – Reuters