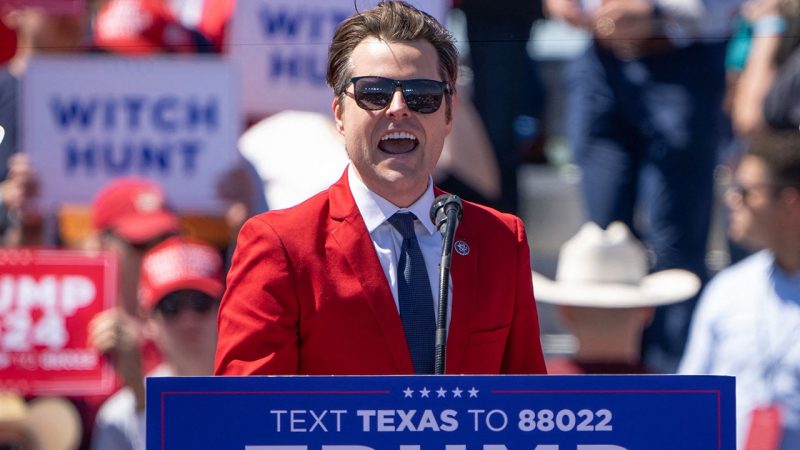 Rep. Gaetz brushes off leak of DeSantis debate tapes with joke about his weight loss
Rep. Matt Gaetz, R-Fla., brushed off videos of him helping Florida Gov. Ron DeSantis prepare for a debate during his 2018 campaign, which ABC News leaked on Sunday, with a joke about the weight both men have lost.
When one user pointed out how much weight Gaetz had lost since 2018, noting that he 'looks like a different person,' the Florida Republican responded by saying DeSantis also lost weight.
'We used to stop at Wawa way too much on that 2018 campaign,' Gaetz wrote on Twitter. 'More veggies these days!'
The joke came amid some backlash Gaetz is receiving from DeSantis' supporters and those of former President Donald Trump.
The videos show DeSantis and Gaetz discussing how to communicate the governor's differences with then-President Trump without angering his supporters.
Gaetz, a former adviser of DeSantis, has emerged as a public ally of Trump and has endorsed him for president.
'I ran the Desantis Debate Prep in 2018,' Gaetz said on Twitter, initially responding to the videos. 'Though I prefer Trump for President (bigly), the release of these videos by the person operating the camera is disloyal hackery that I do not abide. Staffers who leak on the candidates they've done work for deserve the reputations they get.'
The DeSantis camp also pushed back on the release of the videos, saying they show an 'authentic' DeSantis even behind closed doors.
'Another swing and a miss from Disney-funded ABC,' Dave Abrams, a spokesman for DeSantis' political team, told Fox News Digital. 'The best their propaganda machine could do with the 2.5 hours of leaked footage is further [proof] that Ron DeSantis is unwilling to be anyone but his authentic self – no matter the politics.'
DeSantis is expected to announce his candidacy for the 2024 presidency as early as next week, setting up a primary contest against Trump.
Trump has secured key endorsements of Florida Republicans, including Gaetz as well as Reps. Byron Donalds, Gus Bilirakis, Michael Waltz, Vern Buchanan, Anna Paulina Luna, Cory Mills, John Rutherford, and Greg Steube.
More than 40 members of the House of Representatives and at least nine U.S. Senators have endorsed Trump for president. DeSantis has not yet announced his campaign but three representatives have publicly supported him.
DeSantis narrowly won his 2018 gubernatorial contest against Democratic nominee Andrew Gillum with both candidates receiving more than 4 million votes. Gillum is currently under investigation for allegedly pocketing campaign cash and illegally receiving gifts during the contest.
Fox News' Patrick Hauf contributed to this report.
This post appeared first on FOX NEWS