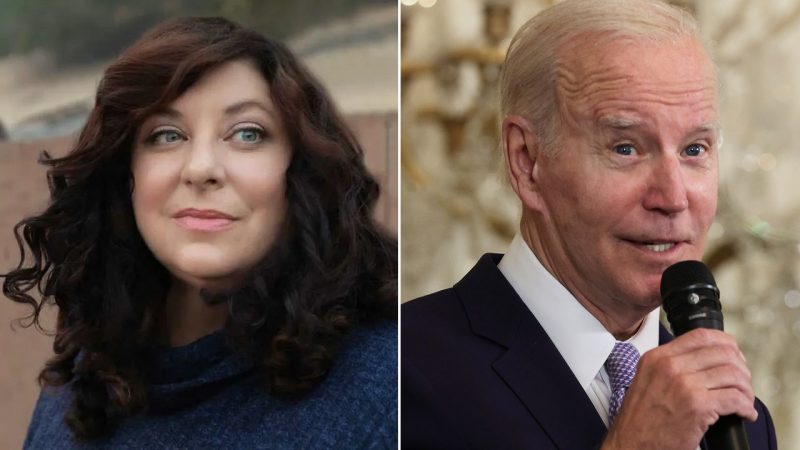 Biden accuser Tara Reade posts cryptic message about death before potentially testifying to Congress
Tara Reade, who has accused President Biden of sexually assaulting her in the 1990s, tweeted a cryptic message about death before she potentially testifies to Congress following an invitation from Reps. Marjorie Taylor Greene and Matt Gaetz. 
'I want to make something clear. If something happens to me, all roads lead to Joe Biden,' Reade wrote Sunday afternoon. 'Joe Biden and DNC political machine threats, bullying and intimidation over the last three years will not work.'
'I am not suicidal,' she added.
The message includes a promise to testify before Congress, to address 'what happened and what' she knows.
Reade worked as a staff assistant in Biden's office from 1992 to 1993 when he was a U.S. Senator.
'I should not be under investigation nor am I a foreign agent. I am a private citizen. I was a former staffer of Joe Biden's that has chosen to step forward to tell the truth,' Reade continued.
She added: 'The tactics using intimidation and bullying to silence me and suppress me using DOJ and FBI and social media will not work. Leave me alone. I will testify under oath in Congress if asked to do so and tell what happened and what I know.'
'The Biden corruption must end. Period,' Reade said. 
She concluded her tweet by thanking Reps. Greene and Gaetz for inviting her 'to testify and caring about the truth!'
Reade also responded to a user who accused her of being paid by Gaetz and Greene to testify.
'No I am not getting paid to testify about being raped by my former boss. You are an absolute ghoul. Sexual assault is non-partisan,' Reade tweeted.
Biden has denied the allegations of sexual misconduct. 
The cryptic message was posted after Dr. Gal Luft, a co-director of a Washington D.C.-based think tank, claimed he was arrested in an effort to stop him from revealing information about the Biden family.
'I've been arrested in Cyprus on a politically motivated extradition request by the U.S. The U.S., claiming I'm an arms dealer. It would be funny if it weren't tragic. I've never been an arms dealer,' Luft tweeted on Feb. 18.
He added: 'DOJ is trying to bury me to protect Joe, Jim, and Hunter Biden. Shall I name names?'
House Oversight Committee Chair James Comer, a Republican from Kentucky, told FOX Business' Maria Bartiromo that his committee is trying to communicate with Luft and tried to get his testimony.
'This is something we take very seriously. We had already identified this individual. We had hoped to talk to this individual by now but for whatever reason we have been unable to,' Comer told Bartiromo on March 2.
His committee is continuing to investigate alleged coordination between the FBI and members of the Biden family, including the president and Hunter Biden.
This post appeared first on FOX NEWS