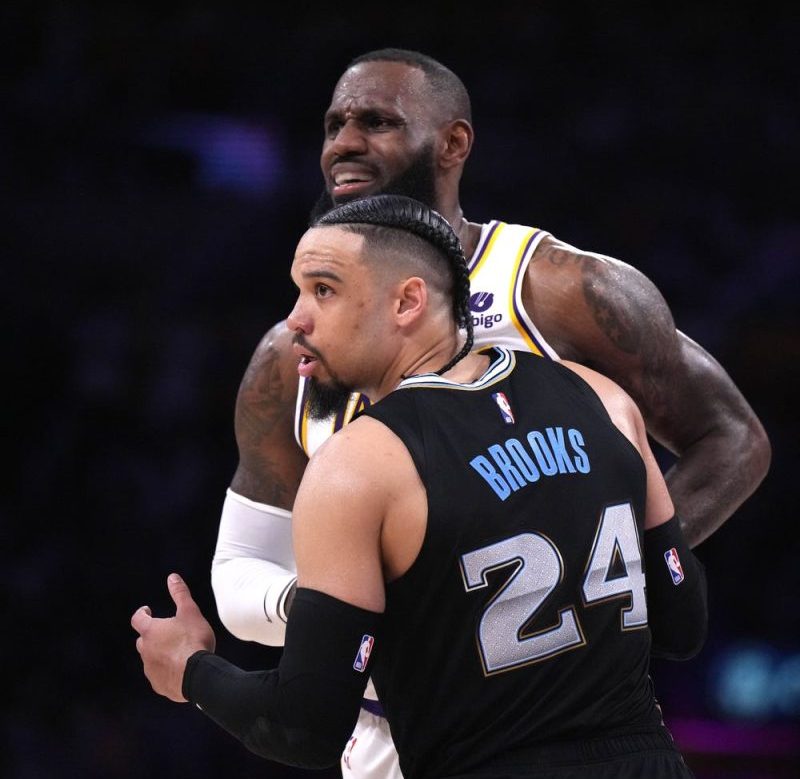 Grizzlies' Dillon Brooks ejected after hitting LeBron in groin
LOS ANGELES – Memphis Grizzlies forward Dillon Brooks got ejected from Game 3 of the Lakers-Grizzlies playoff series after hitting LeBron James in the groin in the second half. 
Brooks, the Grizzlies antagonist who called James "old'' after Game 2, put an open backhand into James' groin area as the Lakers star dribbled the ball upcourt early in the second half of the Lakers' 111-101 win at Crypto.com Arena. 
James writhed on the court and needed a couple of minutes before getting back onto his feet. At the same time, officials reviewed the play and determined Brooks had committed a flagrant foul 2, resulting in an automatic ejection. 
The sellout crowd cheered and jeered as Brooks left the floor. 
Follow every game: Latest NBA Scores and Schedules
With James leading the way, the Lakers outscored the Grizzlies 35-9 in the first quarter and Brooks was of little help. He finished the half 3-for-13 from the floor and with a traveling violation that delighted the crowd. 
But then came the groin strike, and with it his exit with 11:43 left in the third quarter. 
The Grizzlies could never quite close the gap thanks to their poor start, but they never quit either and were led by Ja Morant. In his return from injury, Morant scored a game-high 45 points and at one point scored 22 straight for the Grizzlies. James finished with 25 points, nine rebounds and five assists. Anthony Davis led the Lakers with 31 points. 
Los Angeles leads the series 2-1. 
Brooks didn't speak with reporters after Saturday's game. Asked about Brooks' ejection, all Grizzlies coach Taylor Jenkins said was 'Officials made a call.'    
James Harden of the Philadelphia 76ers received a similar ejection to Brooks during his team's Game 3 victory on Wednesday. Harden received a flagrant foul 2 after it was determined he struck the Nets' Royce O'Neale in the groin while he was trying to create separation on a drive.        
This post appeared first on USA TODAY