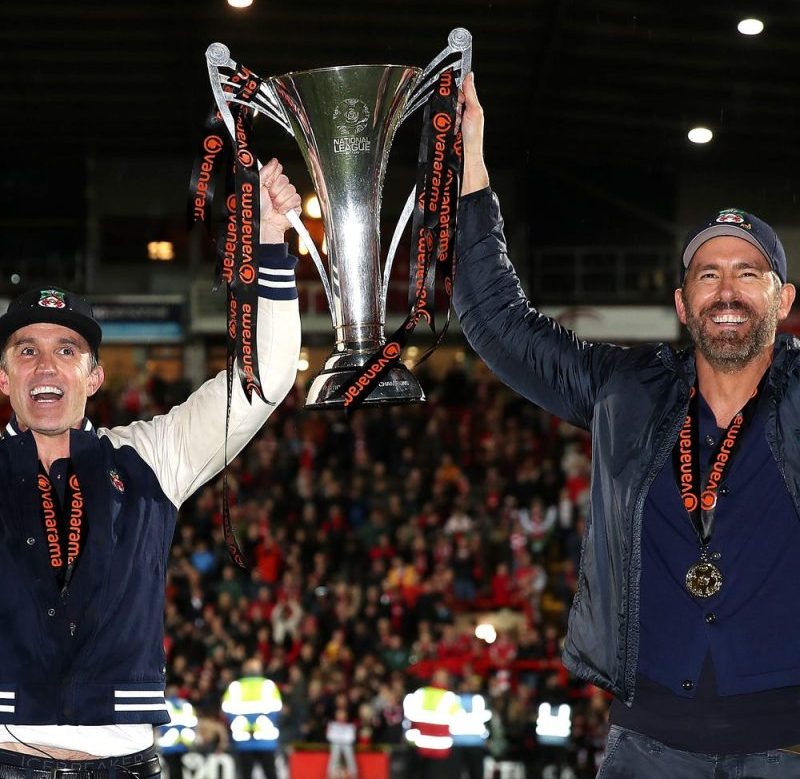 Soccer club owned by famous actors wins league, earns promotion
Welcome to League Two, Wrexham.
A long campaign in the National League ended in a championship and promotion for Wrexham, which clinched their place in English soccer's fourth tier with a 3-1 win over Boreham Wood on Saturday.
The subject of FX's popular 'Welcome to Wrexham' show, for the first time in 16 seasons, clinched promotion with one game left to play in their season.
Despite the influx of money and attention that have come since actors Ryan Reynolds and Rob McElhenney arrived as owners in 2021, it hasn't been easy. Last year, Wrexham saw the top spot slip away from them, and then fell 5-4 in an epic promotion playoff semifinal against Grimsby Town.
That marked the fourth time they fell short in the National League playoffs, including multiple extra-time losses. Two other seasons ended with Wrexham missing the playoffs by three or fewer points. Heartbreak has been a regular function in the pursuit of a spot in English soccer's fully professional ranks.
However, an extraordinarily dramatic 3-2 win over Notts County featuring a stoppage-time penalty kick save from goalkeeper Ben Foster seemed to turn the tide in Wrexham's favor. Hosting Boreham Wood on Saturday, the job was simple: win one more game, and promotion was finally theirs.
Wrexham started the day four points clear of Notts County, whose 5-2 win over Maidstone United kept the league up for grabs. It would take a victory for the Welsh club to finish the job.
That history of things falling apart at the last hurdle threatened to pop up again. Boreham Wood took a first-minute lead, with Lee Ndlovu casually lobbing Ben Foster after a ball over the top caught Wrexham's defense out.
However, a prolific Wrexham attack got things level by the 15th minute, as Elliott Lee ghosted away from his markers to head home following a driven cross from the right wing.
Needing to push on to claim the three points and get the party started, Wrexham turned to an obvious hero. Paul Mullin started the day with 36 goals in 44 appearances, and you could be sure he'd factor in with a championship within reach.
First, the 28-year-old turned out of a blind alley in the corner, working back towards the top of the box before unleashing a thunderbolt to put Wrexham ahead.
19 minutes later, Mullin sealed the deal, capitalizing on a missed interception at midfield. Suddenly one-on-one, Mullin feinted right before cutting left to finish, setting off wild celebrations at a packed Racecourse Ground.
Finally full time came, and those wild celebrations moved from the stands to the pitch. Fans lifted Mullin up on their shoulders, while in the owner's box, McElhenney wiped away tears as both he and Reynolds looked equal parts delighted and stunned.
'We're over the moon to get it over the line,' Mullin told BT Sport after the match. 'The fans have deserved this day.'
Once the pitch had been cleared of celebrating fans to enough of a degree that BT Sport could conduct an interview, Reynolds and McElhenney could barely contain their glee.
'People said at the beginning, 'Why Wrexham? Why Wrexham?' This is exactly why Wrexham,' exclaimed Reynolds. 'What's happening right now, is why.'
'I think we can hear how it feels to the town [of Wrexham]. That's what's most important for us. This is a moment of catharsis for them, and celebration,' said McElhenney, before adding that 'Paul Mullin is one of the greatest football players in the world.'
This post appeared first on USA TODAY