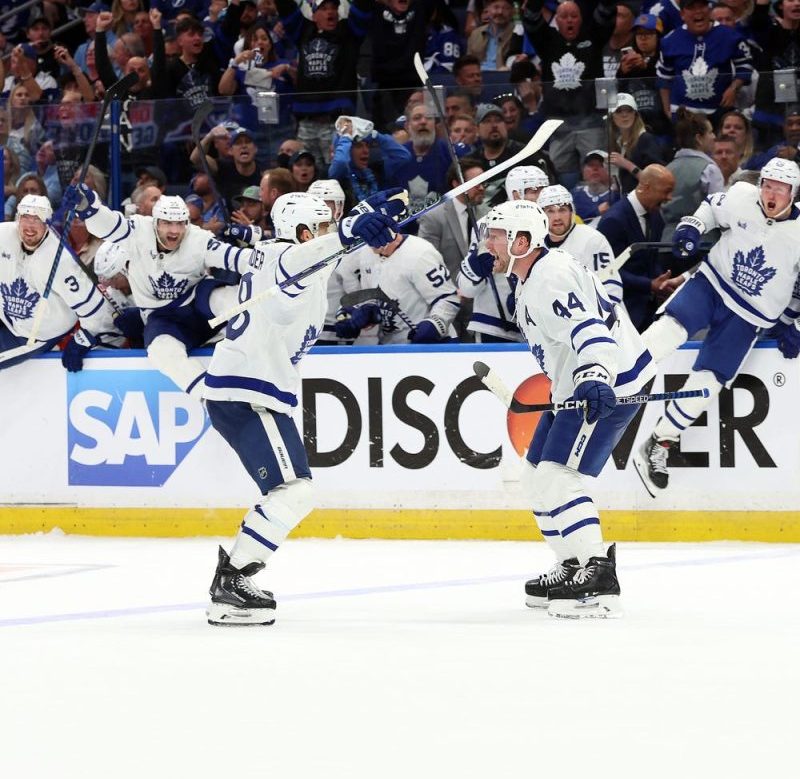 Leafs player sparks line brawl with hit, scores in overtime
Toronto Maple Leafs defenseman Morgan Rielly briefly injured the Lightning's top goal scorer with a third-period check.
Then he hurt Tampa Bay in a different way by scoring at 19:15 of overtime. His seeing-eye goal gave the Maple Leafs a 4-3 victory on Saturday night and a 2-1 lead in the best-of-seven first-round series.
Rielly had sparked a line brawl in the third period when he shoved Lightning 51-goal scorer Brayden Point into the boards at the 5:04 mark. Point hit his shoulder and was in pain as he skated off the ice. He would return later in the third period.
Tampa Bay's Nikita Kucherov fought Toronto's Ryan O'Reilly and the Lightning's Steven Stamkos and Maple Leafs' Auston Matthews also fought. Tampa Bay's Darren Raddysh was called for roughing Toronto's Mitch Marner.
Rielly was originally called for a five-minute boarding major, but on review, the league determined that there was no penalty for the shove. That left Rielly in the game and able to return once he served two minutes for roughing Kucherov.
Follow every game: Latest NHL Scores and Schedules
'It was a no-call,' Lightning coach Jon Cooper said. 'We have to live with it.'
O'Reilly forced overtime by scoring with a minute left in the third period. He also had an assist on Rielly's game-winner.
The Maple Leafs have won two in a row since losing 7-3 in the opener to the Lightning, who have been to the Stanley Cup Final the past three seasons.
'It's a gutty group,' Cooper said of the Lightning, 'and I'd never bet against a gutty group that's in there.'
Jets comfort defenseman after OT turnover
The Golden Knights won 5-4 in the second overtime when Winnipeg Jets defenseman Dylan Samberg's pass went off Vegas' Ivan Barbashev to Michael Amadio, who scored past Connor Hellebuyck.
Samberg looked distraught but players went up to comfort him.
'I talked to him right after,' Jets coach Rick Bowness said. 'I said, 'Dylan, we're only here because of you.' He helped us get to double overtime. … He's a big part of why we're here and we'll keep playing him.'
The Jets will be without All-Star defenseman Josh Morrissey (lower body) for the rest of the series after he was injured in the first period. Winnipeg played with five defensemen for the rest of the game.
Goalie change pays off in Devils win vs. Rangers
The New Jersey Devils switched to rookie Akira Schmid in net after two losses by Vitek Vanecek.
Schmid made 35 saves to beat the New York Rangers 2-1. Dougie Hamilton scored in overtime for the Devils, who trail the series 2-1. 
Avalanche beat Kraken to take series lead
In the lone Saturday game that was settled in regulation, Colorado's Nathan MacKinnon and Mikko Rantanen each scored twice for a 6-4 win. 
The Avalanche take a 2-1 lead in the series.  
This post appeared first on USA TODAY