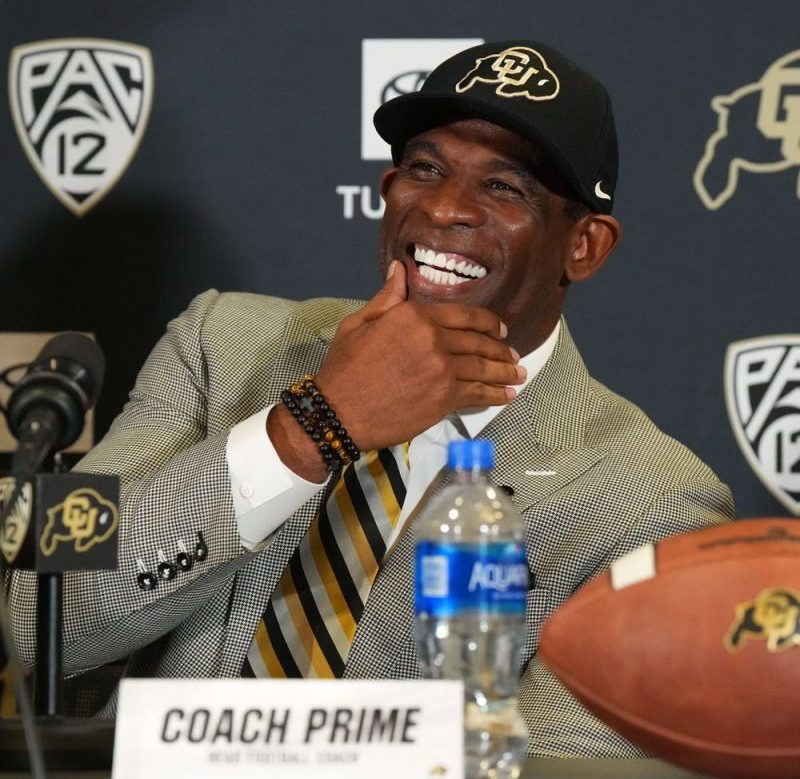 Deion Sanders brings revival, reunion, recruiting to Colorado spring game
BOULDER, Colo. – Kavosiey Smoke spent five years as a running back at Kentucky after growing up in the Deep South and receiving scholarship offers from several football programs in the Southeastern Conference, including South Carolina and Florida.
His hometown is Wetumpka, Alabama. His sports hero is Bo Jackson, the two-sport icon from Auburn.
But this week he's changing direction and heading west – to Folsom Field at Colorado to watch the first spring football game under new head coach Deion Sanders.
"I've got to get around my boys," said Smoke, who graduated from Kentucky and is joining Sanders' team in Boulder this summer as a graduate transfer.  "I wish I was playing, man. I would have turned the fans up."
They're all still likely to go a little nuts Saturday anyway. They've been desperate after so many years of despair, including a 1-11 season last year. And they can't believe what just happened.
'It's crazy'
Since his hiring in December, Sanders has delivered hope to the Colorado masses by massively reshaping the team roster and bringing in the nation's No. 1 recruiting class of transfer players, including Smoke, according to 247Sports.
Colorado then sold out of tickets for its intrasquad spring game Saturday at $10 apiece. ESPN is even coming to town to televise it at 3 p.m. ET., the only spring college football game it will televise on its main network.
"It's crazy, huh?" asked Jeff Crawford, a Colorado graduate and donor.
Expect a big party-like atmosphere Saturday even though it's just a glorified practice and the weather might be chilly and cloudy.
COLORADO FOOTBALL: Sanders is leading Colorado makeover with transfer portal
SURPRISES AHEAD:Who can mimic TCU's unlikely College Football Playoff run?
It feels like a revival
They're coming from all over to watch this. Crawford is coming from Southern California and can't remember the last time he came to Boulder for a spring game. Another Colorado grad, Chuck Stilwell, is coming from South Florida, where he runs a crop insurance business. He hadn't attended a spring football game since the 1990s, when the Buffaloes went to major bowl games and won a Heisman Trophy.
"Since December, I just watched the transformation," Stilwell said. In less than five months, he said, it went from a "dead program" to this – an offseason juggernaut that just sold out season tickets for the first time in 27 years.
It crescendos again Saturday when more than 20 current and former NFL players from Colorado return to Folsom Field for a reunion, including former quarterback Kordell Stewart and receiver Michael Westbrook, a pair that led the Buffaloes to a No. 3 national finish in 1994 with an 11-1 record.
"It's like there was a plug that was sitting on the floor next to the socket, and somebody had to be brave enough to put it in the wall to get this thing lit up again," Stewart said on campus Wednesday.
Nostalgia is running thick
Sanders, the flamboyant former two-sport superstar, electrified it with his signature mixture of hype and swagger, a combination that has served him well in recruiting new players. He's also restored pride to a downbeat program that had only two winning seasons in the past 17 years and never had a spring crowd of more than 17,800 (2008).
And that's the thing: Stewart, Crawford and Stilwell knew it didn't have to be so bad. Quite the contrary. Stilwell attended Colorado when the Buffs finished No. 3 nationally at 10-2 in 1971.
"I've suffered so damn long that I said, `Let me go out there and see,'" Stilwell said of his decision to attend the spring game.
 In 1989, Crawford's senior year, the Buffs were undefeated before losing in the Orange Bowl to Notre Dame to finish 11-1. The Buffs won a share of the national title a year later at 11-1-1 under coach Bill McCartney.
"I've been dying for the Buffs to be relevant in football again," Crawford said. "It's just been a terrible dry spell, and I think Coach Prime (Sanders) is going to turn it around.  I want to see it come to fruition."
It's a recruiting showcase
A crowd of more than 45,000 is expected Saturday, along with more than 20 recruits, including defensive lineman Williams Nwaneri, the nation's No. 4 prospect for 2024, according to 247Sports. Even prospects who previously committed to other schools are expected to be there, such as linebacker Sterling Dixon, who chose Alabama in December but is keeping his mind open enough to watch Coach Prime's preliminary product.
Smoke, the incoming graduate transfer from Kentucky, said it doesn't matter that many of today's players are too young to have remembered Sanders as a player. They have parents or older brothers who did and know his reputation.
"I just liked how he approached the game, like he was a dog," Smoke said in an interview with USA TODAY Sports. "He had a dog mentality. He wanted to win all the time, you feel me? So I know he was going in to win as a player. He's going in to win as a coach. I just like the winning atmospheres he builds."
It's a sneak peak at massive change
Earlier this year, Sanders signed 42 newcomers to a roster that is limited to 85 scholarship players. He's adding more transfer players and incoming freshman in the summer. By the time he's done, perhaps 60% to 70% of his roster in the fall could be newcomers.
This more than anything has fueled hope now, as opposed to the wait-and-see approach many fanbases take after their team changes coaches and needs three years to rebuild.
Sanders still has stressed patience, at least until this summer.  
'What you see is not what you're going to see," Sanders said of the spring game.
He said it'll be different when the Buffs open the season at TCU Sept. 2.
'I promise you when we go out there and play our first game you're going to be happy with the product that we place on the field for you,' Sanders said. 'I promise you.'
It's Coach Prime
Before the game, Colorado fans might notice a new CU brand taking up prominent space at the campus bookstore. It's Coach Prime gear – T-shirts ($29.99) and hooded sweatshirts ($69.99) emblazoned with Sanders' nickname above the Colorado logo.
This surge is all about the man. It likely would not have happened under any other coach except him, just because his fame and accomplishments in sports give him instant credibility and relevance with today's players and fans.
Colorado merchandise sales skyrocketed 505% in December over the previous year, according to the school. In January and February, the CU Buffs team store was No. 2 on the Fanatics platform behind only Georgia, said Alexis Williams, CU's senior associate athletic director for external operations.
They even had to turn away customers who wanted to buy tickets.
"It went through the roof more than we could ever imagine," Williams said.
Follow reporter Brent Schrotenboer @Schrotenboer. E-mail: bschrotenb@usatoday.com
This post appeared first on USA TODAY