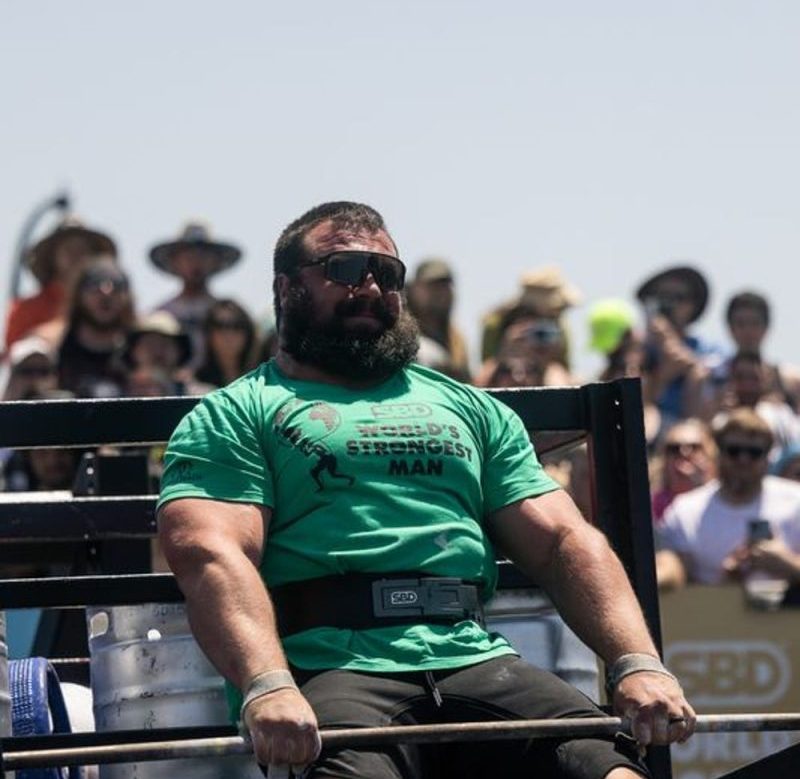 After NFL dream died, one player pivoted to World's Strongest Man event
Thomas Evans once snapped footballs to Aaron Rodgers. 
Now he heaves logs. 
Evans, 29, never reached his dream of playing in the NFL. This weekend, though, is a pit stop on what he considers his road to redemption: the 2023 World's Strongest Man.
In 2017, Evans was one of the final cuts the Green Bay Packers made to its 53-man roster before the season began.
"I thought I was one of the strongest guys playing," Evans told USA TODAY Sports a day before the competition started in Myrtle Beach, South Carolina.
NFL Draft Hub: Latest NFL Draft mock drafts, news, live picks, grades and analysis
It wasn't enough to make the team, and his football career ended. His competitive endeavors did not stop there, however.
Evans, whose day job is a strength and conditioning coach at the University of Delaware, turned that power – and the frustration that comes with falling agonizingly short of his life's goal to that point – into his endeavor of becoming a professional strongman.
"When football ended, it was devastating to him," Delaware associate athletic director and head strength and conditioning coach Chris Stewart told USA TODAY Sports. "He had a second to gather his thoughts and redirect that passion for competition into lifting."
NFL dream falls short
Raised in Franklin, North Carolina, Evans played collegiately at the University of Richmond. There, he met Stewart, then the Spiders' head strength and conditioning coach who is now Evans' boss at Delaware.
Stewart said Evans, a natural leader who became a team captain, was "everything you want in a football player" who had a passion for the weight room and strength and conditioning.
"He's the strongest athlete I've ever trained," said Evans, who spent 11 years at the University of Tennessee prior to Richmond (2009-16).
Evans went undrafted and was invited to Packers camp. To try to make the team, he tried out multiple positions on the offensive line, including center.
He never received a reason for being cut.
"I could hold my own at right guard," Evans said. "When I got flipped over to the left side, my pass setting wasn't as good."
From gridiron to weight room
While still pursuing the NFL, Evans latched onto Stewart's new operation in Delaware, starting as a volunteer while becoming a certified coach. He secured a minicamp invite in 2018 with the Washington Commanders, but a contract did not materialize.
"At that point, I was pretty hurt and over with it," said Evans, who is now an assistant strength coach for the Blue Hens' football team and is the lead strength coordinator for men's and women's lacrosse.
This was before spring football leagues such as the AFL, XFL and USFL began their most-recent iterations in earnest. Evans said his desire to make it in football likely would have lured him to one of those options had they existed sooner. It was not meant to be.
Instead, he was at home, and found the Netflix documentary, "Born Strong," which chronicled the annual Arnold Strongman Classic (named after bodybuilding icon and former California Gov. Arnold Schwarzenegger).
Evans saw a community that spoke his language – little running and lots of weight being moved.
"I thought, 'Hey, why can't I do this?'" Evans said.
His goals started small. Evans found himself humbled in his first competition, finishing third out of five in a statewide competition in Delaware.
"He also loved the brotherhood, the camaraderie, of the athletes … and how they worked together and coached each other," Stewart said.
'OK, you belong here'
Eight months ago, Evans was asked when he wanted to debut in the World's Strongest Man competition. He responded that, ideally, it would be within three to four years.
Clearly, that timeline has sped up.
Evans placed fifth out of nine at America's Strongest Man in September 2019, his first event. He won the Arnold Amateur Strongman six months later and the Shaw Classic Open later that year.
"To me, that was a moment like, 'OK, you belong here,'" Evans said.
This year, in his debut at the Arnold Strongman Classic, Evans came in fifth.
Evans said he prefers events that are moderate in weight with the goal of maximizing repetitions. The log ladder is his best event, he said, and Evans showed that Wednesday during his World's Strongest Man qualifying by leading his group with five reps in 38.96 seconds. (Overall, he finished fourth in his group of six with 18 points.)
Evans made it this far by being a generalist, he said. He's worked hard at improving his deadlift, which maxed out at 855 pounds at the Arnold Strongman in March.
"You don't necessarily need to win any event, but if you get top three in everything, you'll win the whole (competition)," Evans said.
This week, Evans competed with a heavy heart. His grandfather, Frank Lasky, played football at the University of Florida and two seasons in the NFL with the New York Giants. Lasky was the father figure in Evans' life, and he passed away last week following a long-term battle with dementia, Evans said.
"He was a fighter," Evans said. "He hung in there a long time."
Evans wanted to follow in his grandfather's footsteps on the gridiron and ultimately came up short. He also hoped to honor him with his performance in Myrtle Beach. But Evans knows that the weight does not care about his feelings.
"Five hundred pounds," he said, "is five hundred pounds every day you walk in there."
Follow Chris Bumbaca on Twitter @BOOMbaca.
This post appeared first on USA TODAY