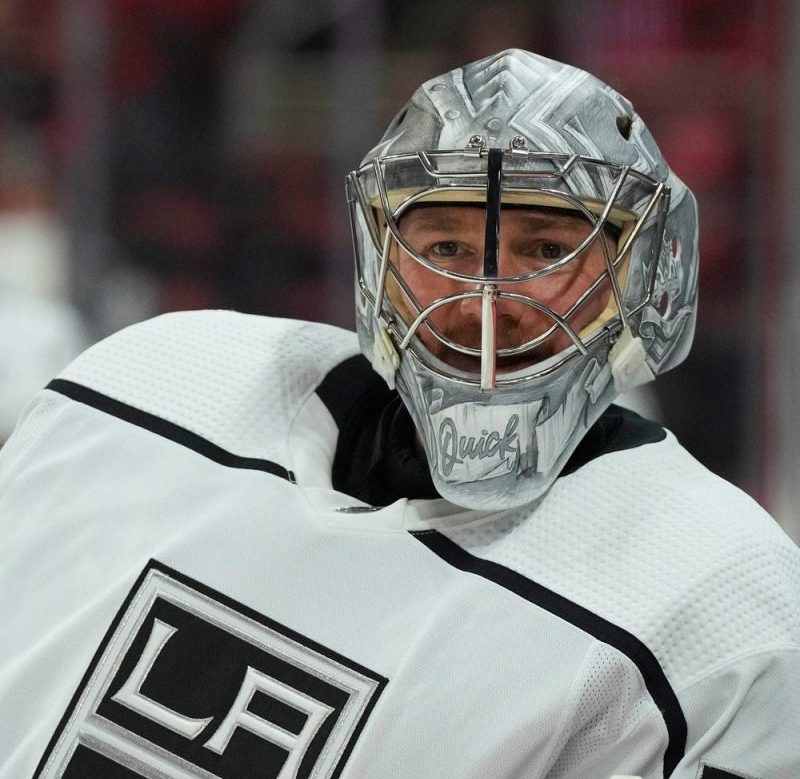 Two-time Cup-winning goalie dealt to last-place team, then contender
Goaltender Jonathan Quick didn't have a no-trade clause and didn't have a say on where he ended up if the Los Angeles Kings decided to move him in the final year of his contract.
So the two-time Stanley Cup winner headed from a team in a Western Conference playoff position to the 32nd-ranked Columbus Blue Jackets in a trade that was announced Wednesday morning. But his time with the Blue Jackets didn't last long. Columbus dealt him Thursday to the contending Vegas Golden Knights, a Pacific Division rival of the Kings.
Quick, 37, won Stanley Cups in 2012 and 2014 and was playoff MVP in 2012. He's the Kings' all-time winner in victories (370) and won the Williams Jennings Trophy (lowest team goals-against average) in 2013-14 and 2017-18. But he has struggled this season, with a 3.50 goals-against average and .876 save percentage. His career numbers are 2.46, .911.
More about the trades:
Follow every game: Latest NHL Scores and Schedules
What were the two trades?
The Blue Jackets dealt goalie Joonas Korpisalo and defenseman Vladislav Gavrikov to the Kings on Wednesday. Columbus gets Quick, a conditional 2023 first-round pick (it becomes two second-rounders if the Kings miss the playoffs) and a 2024 third-rounder.
Then Blue Jackets dealt Quick to the Golden Knights for goalie Michael Hutchinson and a 2025 seventh-round pick on Thursday.
What does the trade do for the Kings?
Their goaltending has been an issue. Cal Petersen, who was projected to be the No. 1 goalie, was sent to the American Hockey League. Pheonix Copley emerged as their top goalie. Quick was pulled from his last start. Korpisalo, a pending unrestricted free agent, has better numbers (3.17, .911) and matched Quick with 11 wins. He is 3-5 with a 1.90 goals-against average, .941 save percentage and two shutouts in the playoffs. He made 85 saves during a five-overtime loss to the Lightning in 2020. Los Angeles also wanted to boost its defense, and the steady Gavrikov will help.
What did the Kings say about Quick?
They put out the above tweet thanking Quick for his time in Los Angeles.
What does the trade do for the Blue Jackets?
If the Kings (currently in second place in the Pacific Division) make the playoffs, the Blue Jackets get another first-round pick in a deep draft. They also currently have the best lottery odds, with generational talent Connor Bedard the prize. General manager Jarmo Kekalainen said he would try to do the right thing for Quick, who gets to finish out his contract on a contender. Blue Jackets goalies Elvis Merzlikins and Daniil Tarasov are signed long-term so they'll be the pair going forward next season. Hutchinson is a pending UFA. The Blue Jackets, in another trade on Thursday, acquired minor league goalie Jon Gillies from the Coyotes and sent injured Jakub Voracek's $8.25 million cap hit to Arizona to clear out cap space.
What does the trade do for the Golden Knights?
Quick gives them a veteran presence amid goaltending injuries. Robin Lehner has been out all season. All-Star Logan Thompson is out with a leg injury and backup Adin Hill missed a few recent games. He returned, but call-up Laurent Brossoit is now hurt. With the second trade, Quick could end up facing the Kings in the playoffs.
This post appeared first on USA TODAY