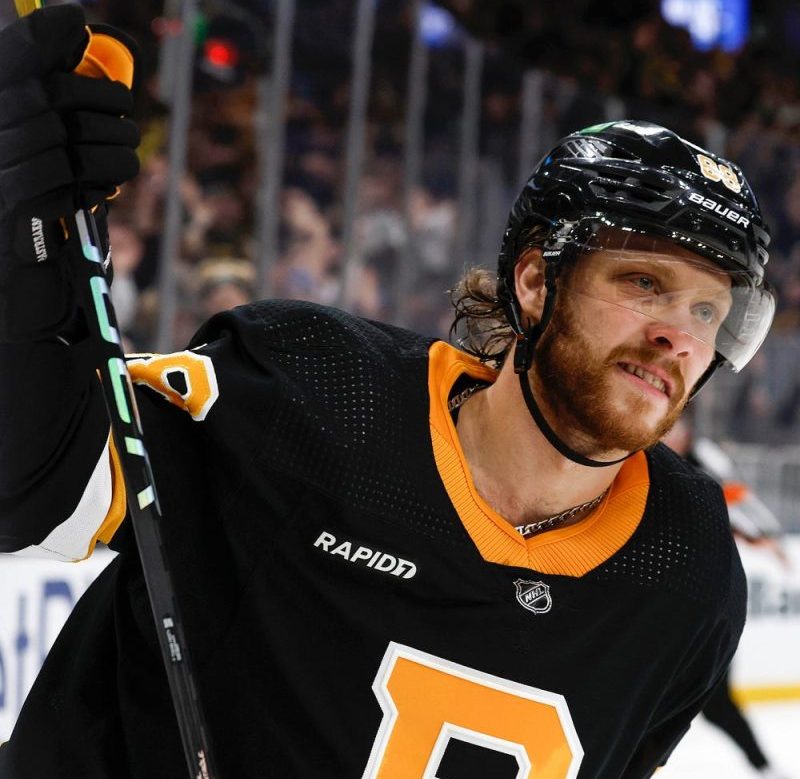 NHL trade tracker: Bruins make big signing, trade for forward
The Eastern Conference contenders are beefing up for the playoffs, and one move seems to lead to another.
After the New Jersey Devils acquired forward Timo Meier on Sunday, the New York Rangers made their second big move by trading for nine-time All-Star winger Patrick Kane on Tuesday after clearing out enough salary cap space. The Ottawa Senators, who are pushing for the final wild-card spot, added young defenseman Jakob Chychrun on Wednesday and now the No. 1 overall Boston Bruins have traded for forward Tyler Bertuzzi.
And more important for the future of the franchise, the Bruins announced an eight-year, $90 million contract extension for three-time All-Star forward David Pastrnak on Thursday.
Analyzing the top trades and other moves made before Friday's deadline. A separate blog will run on deadline day.
When is the NHL trade deadline?
Follow every game: Latest NHL Scores and Schedules
The NHL trade deadline is at 3 p.m. ET on March 3.
Who are some of the bigger names who could be moved before the deadline?
Chicago's Max Domi. San Jose's Erik Karlsson. Vancouver's Brock Boeser. Anaheim's John Klingberg and Dmitry Kulikov. Philadelphia's James van Riemsdyk and Kevin Hayes. Washington's Conor Sheary.
What trades, transactions or other news occurred before the March 3 deadline?
March 2: The Bruins announce an eight-year, $90 million contract extension for forward David Pastrnak. He was always going to get paid, and the $11.25 million cap hit, up from $6,666,667, will make him the sixth-highest-paid NHL player next season. Pastrnak, 26, is in the Hart Trophy mix with 80 points in 60 games, including his third 40-goal season. His strong play was important while the Bruins dealt with early season injuries to Brad Marchand and Charlie McAvoy, and he's helping Boston challenge the NHL record of 62 wins in a season. He's an alternate captain and could become a captain whenever Patrice Bergeron retires. In addition, Pastrnak helps sell the team with his personality. Witness his performance at the NHL All-Star Game skills competition.
March 2: The Bruins acquire forward Tyler Bertuzzi from the Red Wings for a 2024 first-round pick (top-10 protected) and a 2025 fourth-round pick. The pending UFA has had three injuries this season, but he was a 30-goal scorer last season and plays a feisty style — important attributes in the playoffs. The Bruins had some recent injury issues, with Taylor Hall going on long-term injured reserve and Nick Foligno on regular IR. The Red Wings will retain 50% of Bertuzzi's remaining salary.
March 2: The Golden Knights acquire goalie Jonathan Quick from the Blue Jackets for goalie Michael Hutchinson and a 2025 seventh-round pick. Last-place Columbus, which acquired Quick from the Kings a day earlier, did the right thing and dealt him to a contender. Quick could end up facing the Kings in the playoffs.
March 2: The Oilers acquire forward Nick Bjugstad and defenseman Cam Dineen from the Coyotes for defenseman Michael Kesselring and a 2023 third-round pick. The Oilers wanted a forward for their bottom six and Bjugstad fits that role. He's 6-6 and kills penalties. The Coyotes retain 50% of his $900,000 salary. The two defensemen have spent the entire season in the American Hockey League.
March 2: The Blackhawks acquire forward Anders Bjork from the Sabres for future considerations. Chicago needs players after everyone they've traded away. Bjork is a restricted free agent.
March 2: The Coyotes take on Jakub Voracek's contract and send goalie Jon Gillies to the Blue Jackets for a 2023 sixth-round pick. The first part is the important one as the Coyotes make sure they reach the salary cap floor. They earlier picked up Shea Weber's remaining contract and took on 25% of Patrick Kane's salary to facilitate the Blackhawks star's trade to the Rangers. Voracek is out indefinitely with a concussion and has a year left on his contract at an $8.25 million cap hit.
March 1: The Senators acquire defenseman Jakob Chychrun from the Coyotes for a conditional 2023 first-round draft pick, a conditional 2024 second-round selection (previously acquired from the Capitals) and a 2026 second-round pick. This move has been rumored at times during the season. It's a solid pickup for the Senators because he has two seasons left on his contract at $4.6 million a year. The 24-year-old will grow with a young core that includes Brady Tkachuk, Tim Stutzle, Alex DeBrincat and Thomas Chabot. He'll boost their power play. He has been sitting out since Feb. 11 while awaiting a trade. The Coyotes moved two defensemen and got more for Chychrun because of his remaining term.
March 1: The Penguins trade forward Teddy Blueger to Golden Knights for defenseman Peter DiLiberatore and a 2024 third-round pick; acquire Mikael Granlund from Predators for 2023 second-round pick. The Penguins made a pair of moves, with the biggest being their acquisition of Granlund. The forward, who turned 31 on Sunday, has 36 points in 58 games this season and has two more years on his deal at $5 million per season. He'll help bolster the Penguins' depth, though ideally you'd want more production given his price tag.  – Jace Evans
March 1: The Lightning trade Vladislav Namestnikov to the Sharks for Michael Eyssimont. The three-time defending Eastern Conference champs traded Namestnikov for a second time (the first coming in 2018). They retained 50% of his salary in the deal. – Jace Evans
March 1: The Hurricanes acquire defenseman Shayne Gostisbehere from the Coyotes for a 2026 third-round pick. The Hurricanes moved on from puck-moving defenseman Tony De Angelo during the offseason and traded for Brent Burns. Gostisbehere, a pending UFA, gives the Hurricanes another puck-moving defenseman. He had 31 points this season and had 51 last season.  
March 1: The Canucks acquire defenseman Filip Hronek and a 2023 fourth-round pick from the Red Wings for the Islanders' 2023 first-round pick and a 2023 second-round pick. Vancouver wants its retool to be a short one, and Hronek can help that. He was one of the league's hottest defensemen in November before cooling off. He has a year left on his contract. The first-rounder is the pick that the Canucks got in the Bo Horvat trade. If it's in the top 12, then it switches to 2024.
March 1: The Red Wings sign forward Dylan Larkin to a contract extension. He'll get $69.6 million over eight years, with annual salaries totaling $31 million in the first three years. Larkin, 26, is signed through the 2030-31 season and avoids any talk of unrestricted free agency. He's local, played at the University of Michigan and has been captain since 2021. General manager Steve Yzerman also signed defensemen Olli Maatta and Jake Walman to recent extensions. — Helene St. James, Detroit Free Press 
March 1: The Kings acquire defenseman Vladislav Gavrikov and goalie Joonas Korpisalo from the Blue Jackets for goalie Jonathan Quick, a conditional 2023 first-round pick and a 2024 third-round pick. It's a shame that pending UFA Quick, who won two Stanley Cups but had no trade protection, gets moved from a team in a playoff position to the 32nd-ranked NHL team in his final season. He has struggled this season with a 3.50 goals-against average. Korpisalo (3.17), a pending UFA, will share the net with Pheonix Copley in Los Angeles. Gavrikov is a steady on defense, another area of concern for the Kings. The Kings save $1.5 million in cap hit in the deal, which gives them the flexibility to make another trade. If the Kings miss the playoffs, the first-rounder becomes two second-round picks (2023 and 2024).
March 1: The Avalanche acquire center Lars Eller from the Capitals for a 2025 second-round pick. Colorado lost center depth in the offseason for salary cap reasons. Eller will help, though he has been limited to 16 points this season. He scored the Stanley Cup-clinching goal for the Capitals in 2018. Washington has now traded five players: Dmitry Orlov, Garnet Hathaway, Erik Gustafsson, Marcus Johansson and Eller. But they did re-sign defenseman Nick Jensen to a three-year, $12.15 million contract.
Feb. 28: The Rangers acquire forward Patrick Kane from the Blackhawks for a 2023 conditional second-round pick, a 2025 fourth-round pick and minor league defenseman Andy Welinski. The Blackhawks will retain 50% of Kane's salary, and the Coyotes will retain 50% of the remaining portion. According to reports, the second-rounder would turn into a 2024 or 2025 first-rounder if the Rangers win two playoff rounds. What seemed like an unprecedented salary cap dance over the past few days in order to create space for this trade – waiving a player, trading one, dressing two players but not playing one and giving the other 13 seconds and then demoting the other after the game – has come to an end. It's clear the Rangers did not enter this trade deadline period with both Kane and Tarasenko in mind for cap reasons, and Kane used his no-movement clause leverage to essentially force a trade to New York. And how could the Rangers pass it up? Their top-six forward group now includes Mika Zibanejad, Chris Kreider, Tarasenko, Vincent Trocheck, Artemi Panarin and Kane. The Coyotes get a 2025 third-round pick for taking on part of Kane's salary. They also shipped prospect Vili Saarijarvi to the Blackhawks in the deal and the Rangers received minor league defenseman Cooper Zech.    
Feb. 28: The Edmonton Oilers acquire defenseman Mattias Ekholm from Nashville Predators. The Oilers made a big swing to beef up their blue line for the playoffs by shipping defenseman Tyson Barrie, 19-year-old prospect Reid Schaefer, a 2023 first-round pick and 2024 fourth-round pick to Nashville for Ekholm and a 2024 sixth-round pick. Ekholm has been a steady and dependable player on the back end for the Predators, who drafted him in the fourth round of the 2009 NHL draft. He's appeared in 719 regular-season games and an additional 75 playoff contests, including his major role in helping Nashville to the 2017 Stanley Cup Final. The Oilers hope he can help Connor McDavid and Co. take the next step after last year's playoff campaign ended in the semifinals. The Predators got a nice return for the 32-year-old with three more seasons on his contract. Barrie has one more year left on his deal, but the real prizes are next year's first and Schaefer, who was the 32nd overall pick in the 2022 draft. – Jace Evans
Feb. 28: The Maple Leafs acquire defenseman Erik Gustafsson and a first-round pick from the Capitals for defenseman Rasmus Sandin. The Maple Leafs also acquire defenseman Luke Schenn from the Canucks for a 2023 third-round pick and traded forward Pierre Engvall to the Islanders for a 2024 third-round pick.  Gustafsson (38) has more points than Sandin (20), and Sandin has missed some time with injury. Gustafsson is the fourth pending UFA that the Capitals have dealt, and the first-rounder is the one Washington got from Boston in the Dmitry Orlov-Garnet Hathaway trade. Sandin is 22, which helps the Capitals' desire to get younger. Schenn leads the NHL in hits, and along with recently acquired Jake McCabe will make the Maple Leafs tougher to play against. Toronto has made five recent trades as it faces a tough playoff path.
Feb. 28: Columbus Blue Jackets trade Gustav Nyquist to Minnesota Wild. Minnesota added the 33-year-old in exchange for a fifth-round pick. A veteran depth forward, Nyquist has 22 points in 48 games this season and has appeared in 65 playoff games. – Jace Evans  
Feb. 28: The Hurricanes acquire forward Jesse Puljujarvi from the Oilers for forward Patrik Puistola. Puljujarvi, the No. 4 pick from the 2016 draft, has not lived up to his draft billing, but the 24-year-old has developed into a serviceable depth forward. While he has 14 points in 58 games this season, he is coming off two seasons in which he tallied a combined 29 goals. The Finn will be a restricted free agent this offseason. Puistola, a third-round pick from the 2019 draft, has 15 goals and 38 games in the SM-Liiga (Finland). He has not played an NHL game. The Oilers can use the increased cap space to try to get a defenseman.
Feb. 28: The Wild acquire winger Marcus Johansson from the Capitals for a 2024 third-round pick. Johansson has 28 points in 60 games. He adds depth to a team that has not received a lot of scoring beyond its top line.
Feb. 27: The Maple Leafs acquire defenseman Jake McCabe, forward Sam Lafferty, conditional fifth-round picks in 2024 and 2025 from the Blackhawks for a 2025 first-round pick (top-10 protected), 2026 second-round pick and forwards Joey Anderson and Pavel Gogolev. McCabe is physical and blocks shots and he and Lafferty kill penalties. Lafferty is tied for the league lead with four shorthanded goals. The Maple Leafs need all the depth they can get as they likely will face the Lightning and Bruins in the first two rounds. The Blackhawks will retain 50% of the salary of McCabe, who has two years left on his contract.
Feb. 27: The Sabres acquire defenseman Riley Stillman from the Canucks for forward Josh Bloom. It's not Luke Schenn, but the 24-year-old son of former NHL player Cory Stillman will provide depth on a team fighting to end a playoff drought. Plus he has another year left on his contract. Bloom, 19, is averaging about a point a game in the Ontario Hockey League.
Feb. 26: The Devils acquire forwards Timo Meier and Timur Ibragimov, defensemen Scott Harrington and Santeri Hatakka, goaltender Zachary Emond and a 2024 fifth-round pick from the Sharks for New Jersey's 2023 first-round pick (conditional), defensemen Shakir Mukhamadullin and Nikita Okhotiuk, forwards Andreas Johnsson and Fabian Zetterlund, a conditional 2024 second-round selection and a 2024 seventh-round selection. The Devils land the prize of the trade deadline in Meier, who will make the NHL's fifth-ranked offense even more dangerous and help improve their 19th-ranked power play. As a restricted free agent, the Devils hold the rights to re-sign him. The Sharks moved Meier, due a $10 million qualifying offer next summer, because they couldn't make the numbers work on an eight-year deal. They get a first-round pick and potentially another. Plus, Mukhamadullin, playing in the Kontinental Hockey League, is a former first-round pick with the potential to become a top-four NHL defenseman.
Feb. 26: The Lightning acquire forward Tanner Jeannot for defenseman Cal Foote and five draft picks. Tampa Bay always seems to make the right deadline move as it has reached the Stanley Cup Final three years in a row, winning twice. Jeannot, 25, is a rugged player who scored 24 goals last season (but five this season) and will be a restricted free agent this summer. Predators general manager David Poile, who announced he'll retire after the season, got a nice haul for successor Barry Trotz. The picks are a 2025 first-rounder (top-10 protected), a 2024 second-rounder and a 2023 third, fourth and fifth-rounder.
Feb. 26: The Avalanche acquire defenseman Jack Johnson from the Blackhawks for defenseman Andreas Englund. A depth move for the defending Stanley Cup champions. Johnson played with Colorado last season.
Feb. 26: The Golden Knights acquire forward Ivan Barbashev from the Blues for center Zach Dean. Barbashev plays a physical style (132 hits) and scored 60 points last season, though he's at 29 this season. Vegas could use more offense with Mark Stone out. Dean, 20, was drafted 30th overall in 2021 and has 49 points in 38 games with Gatineau of the Quebec Major Junior Hockey League. Barbashev is the fourth pending unrestricted free agent that the Blues have traded recently as they retool.
Feb. 26: The Stars acquire winger Evgenii Dadonov from the Canadiens for winger Denis Gurianov. The Canadiens are retaining 50% of the salary of Dadonov, who's a pending unrestricted free agent, Though his numbers are down this season, he's a four-time 20-goal scorer who should put up better numbers on the deeper Stars. He was also traded at last season's deadline (by the Golden Knights), though the deal was canceled because the Ducks were on his limited no-trade list. Gurianov, a restricted free agent, had a strong playoffs in 2020 but has been limited to nine points this season. A change of scenery could help.
Feb. 25: The Rangers trade forward Vitali Kravtsov to the Vancouver Canucks for forward Will Lockwood and a 2026 seventh-round pick. This is important because the Rangers need to shed salary if they're going to acquire Patrick Kane from the Blackhawks. Chicago announced that the team is holding Kane (and Sam Lafferty) out of the lineup for 'roster management.' Kravtsov, who often has been a healthy scratch this season, has a $875,000 cap hit. The Rangers also have been sitting out Jake Leschyshyn to improve their cap space, then placed him on waivers.
Feb. 25: The Jets acquire winger Nino Niederreiter from the Predators for a 2024 second-round pick. Winnipeg's Cole Perfetti is out long-term and Niederreiter will take his place. He has 28 points in 56 games. The Predators are seven points out of a playoff spot and look to be in sell mode. Nashville had signed Niederreiter to a two-year, $8 million contract in the offseason.
Feb. 24: The Penguins place forward Kasperi Kapanen on waivers. He was claimed by the Blues. Kapanen, who filed for arbitration and was re-signed to a two-year, $6.4 million contract, has 20 points in 43 games. The move created cap flexibility for the slumping team to activate Jan Rutta. 'When a team doesn't live up to expectations, as ours has of late, I think change is inevitable,' coach Mike Sullivan told reporters. 'Kapy is a really talented player and to a certain extent, it's on all of us because we didn't find a way to maximize his potential.'
Feb. 23: Bruins acquire defenseman Dmitry Orlov and forward Garnet Hathaway from the Capitals for forward Craig Smith, a 2023 first-round pick, 2025 second-round pick and 2024 third-round pick. The NHL's top team, which could set a league record for wins, was expected to beef up for its Stanley Cup run. Orlov is a top four defenseman who will add to Boston's depth, and Hathaway is a gritty competitor. Both are pending UFAs, as is Smith. The banged-up Capitals have lost six in a row to drop out of a playoff spot and wanted to get draft picks to make the team younger. They will retain 50% of Orlov's salary. The Wild got involved, as they did in the O'Reilly trade, retaining 25% of Orlov's salary and sending the rights to Kontinental Hockey League center Andrei Svetlakov to Boston for a 2023 fifth-round pick. If the Capitals do make the playoffs, they'd likely face the Bruins in the first round. 
Feb. 22: Senators trade defenseman Nikita Zaitsev and draft picks to Blackhawks. Ottawa unloaded Zaitsev, who has one more year on his contract, on Chicago. That clears cap room because the Senators need to re-sign restricted free agents Alex DeBrincat, Shane Pinto and newly acquired Julien Gauthier. As payment for taking Zaitsev off the Senators' hands, the Blackhawks are receiving more draft picks to aid in their rebuild – a 2023 second-round pick and a 2026 fourth-round pick. The only thing Chicago is sending the other way is 'future considerations.' – Jace Evans  
Feb. 22: Golden Knights trade Shea Weber's contract and a 2023 fifth-round pick to Coyotes for Dysin Mayo. Acquiring injured Weber's $7.8 million-plus cap hit allow the Coyotes to stay at the cap floor if they trade Gostisbehere and/or Chychrun. His deal runs through 2025-26. Mayo is an unrestricted free agent this summer.
Feb. 19: Senators trade Tyler Motte to Rangers for Julien Gauthier and a 2023 conditional seventh-round pick. Motte returns to the Rangers and will inject their bottom six with much-needed speed and add a proven penalty killer to the mix. His relentless style of play was especially effective for them during last year's run to the Eastern Conference final, giving coach Gerard Gallant the energetic pest he needed to execute his aggressive forechecking system. – Vincent Z. Mercogliano, lohud.com 
Feb. 17: Maple Leafs acquire Blues center Ryan O'Reilly in three-team deal. Toronto, which has not won the Stanley Cup since 1967 and has not even won a playoff round since 2004, made a big move in a bid to end its playoff woes. The Maple Leafs acquired Blues captain Ryan O'Reilly and forward Noel Acciari and prospect Josh Pillar in three-team deal that also includes Minnesota. St. Louis gets Mikhail Abramov, Adam Gaudette and three draft picks (Toronto's 2023 first, Ottawa's 2023 third, and Toronto's 2024 second). The Wild receive the Maple Leafs' fourth-round pick in 2025. St. Louis will retain 50% of O'Reilly's salary while Minnesota retains 25%. O'Reilly is a pending free agent. While he's not having the best year of his career (just 19 points in 40 games) the 32-year-old who collected the Selke (best defensive forward) and Conn Smythe (playoff MVP) trophies in 2019 should make the Leafs incredibly potent down the middle. For the Blues, trading their captain after trading longtime winger Vladimir Tarasenko indicates they are throwing in the towel and turning their eyes to the future. – Jace Evans  
Feb. 11: The Arizona Coyotes announced that defenseman Jakob Chychrun was a healthy scratch for trade related reasons. Chychrun can give the Coyotes their greatest return in their rebuild. He's skilled and has two seasons beyond this one for a reasonable $4.6 million salary cap hit. Considering defenseman Shayne Gostisbehere recently got hurt, the Coyotes need to protect their assets. And if a trade doesn't happen immediately, not having Chychrun on the ice will help them get better draft lottery odds for Connor Bedard.  
Feb. 9: The New York Rangers acquire forward Vladimir Tarasenko and defenseman Niko Mikkola from the St. Louis Blues for a conditional 2023 first-round draft pick, a conditional 2024 fourth-round pick, forward Sammy Blais and defenseman Hunter Skinner. Tarasenko, an All-Star this season even with reduced numbers as he missed time with an injury, boosts the Rangers' top six and they didn't have to give up one of their top youngsters to get him. He's a six-time 30-goal scorer who puts up good playoff numbers. The Rangers also hold the Dallas Stars' first-round pick and they'll give up the lower pick, helping them in this year's deep draft. Mikkola is a 6-4 shutdown defenseman who kills penalties and is an upgrade on defenseman Libor Hajek, who was placed on waivers. Blais used to play for the Blues and put up better numbers there. He had no goals with New York. Both he, Mikkola and Tarasenko are pending unrestricted free agents. The Blues will retain 50% of Tarasenko's salary.
Feb. 6: Chicago Blackhawks star Patrick Kane addresses his future. The pending unrestricted free agent has a no-movement clause and told reporters he's 'not really at that point' about deciding whether to waive it. He did say agent Pat Brisson has told him 'a few' teams have reached out. "We're probably taking it up to the deadline before making a decision,' he said. Meanwhile, captain Jonathan Toews has missed the past two practices because of a non-COVID illness, coach Luke Richardson said. Toews also has a no-movement clause.
Feb. 5: The Seattle Kraken acquire defenseman Jaycob Megna from the San Jose Sharks for a 2023 fourth-round draft pick. He 6-6, 220, adding size to a defense that also has 6-7, 255 Jamie Oleksiak. He averages 19 minutes a game and was a plus player on a Sharks team that was full of minuses. He's signed through 2024. The Kraken have until June 15 to decide whether the pick they give up is theirs or the one that belonged to the Colorado Avalanche.
Feb. 5: New York Islanders sign Bo Horvat for eight years.  Islanders general manager Lou Lamoriello, as usual, didn't reveal terms, joking, 'All I can tell you it's too long and too much money.' But Sportsnet's Elliotte Friedman reports the cap hit is $8.5 million, which puts Horvat second on the team behind Mathew Barzal ($9.15 million). Knowing that Horvat is more than a rental makes this deal even better. He and Barzal, the Islanders' most skilled offensive players, are signed through 2030-31. ​​​​​​
Feb. 4: The Washington Capitals announce a three-year, $5.7 million extension for forward Sonny Milano. That's two signings in two days for the Capitals. Milano (Ducks), like Dylan Strome (Blackhawks) the day before, came to the Capitals as free agents after their previous team didn't qualify them. Milano didn't join the Capitals until Nov. 5 and has 22 points in 40 games.
Feb. 3: The Washington Capitals announce a five-year, $25 million extension for center Dylan Strome. The pending restricted free agent wasn't going to be moved, but the Capitals did well to lock him up long-term. He was an important offseason acquisition, helping the team get through the early absence of Nicklas Backstrom, plus ranking third on the team in points and power play points.
Feb. 1: The Columbus Blue Jackets announce forward Gustav Nyquist (shoulder) is likely out for the season. He is on an expiring contract and the Blue Jackets could have received something in return for him had he been healthy. 
Jan. 30: The New York Islanders acquire forward Bo Horvat from the Vancouver Canucks for forwards Anthony Beauvillier and Aatu Raty and a protected 2023 first-round draft pick. This deal solves two problems. The Canucks couldn't offer Horvat enough to account for his All-Star season, and the Islanders are having trouble scoring. Islanders general manager Lou Lamoriello said it was incumbent upon him to try to fix that, and he made a very good start. Horvat has 31 goals this season – matching his career best from last season – and 54 points in 49 games. He had four assists in his final game with the Canucks, and is the Islanders' new leader in goals, points and power play goals and points. That could make the difference on a team that has had to rely too much on its stellar goaltending. The deal will be even better if the Islanders can re-sign Horvat. The Canucks wanted back players who could step into the lineup. Beauvillier has had a 20-goal season but just nine this season. Raty, the Islanders' top prospect, could benefit from a change of scenery. The draft pick would move to 2024 if it lands in the top 12. Vancouver will retain 25 percent of Horvat's salary.
Jan. 25: The Colorado Avalanche acquire forward Matt Nieto and defenseman Ryan Merkley from the San Jose Sharks for defenseman Jacob MacDonald and forward Martin Kaut. The banged-up Avalanche need depth players, and Nieto played for them previously. Merkley, a former first-round pick, never found a place with San Jose. Sharks general manager Mike Grier ends up getting some assets for Nieto, a pending unrestricted free agent. His better test will be the return if he deals Karlsson or Meier.
Dec. 19: The Florida Panthers acquire forward Givani Smith from the Detroit Red Wings for defenseman Michael Del Zotto. Detroit then trades Del Zotto to the Anaheim Ducks for forward Danny O'Regan. Smith didn't pan out a fourth-line grinder with the Red Wings. He fills that role in Florida.
Nov. 23: The Minnesota Wild acquire forward Ryan Reaves from the New York Rangers for a fifth-round 2025 pick. The Rangers made this move early in the season to give them more cap space to make a bigger move at the deadline. The Wild were interested in Reaves' toughness.
Nov. 23: The Toronto Maple Leafs acquire defenseman Conor Timmins from the Arizona Coyotes in exchange for forward Curtis Douglas. The Maple Leafs were missing three defensemen at the time, and Timmins adds to their defensive depth.
This post appeared first on USA TODAY