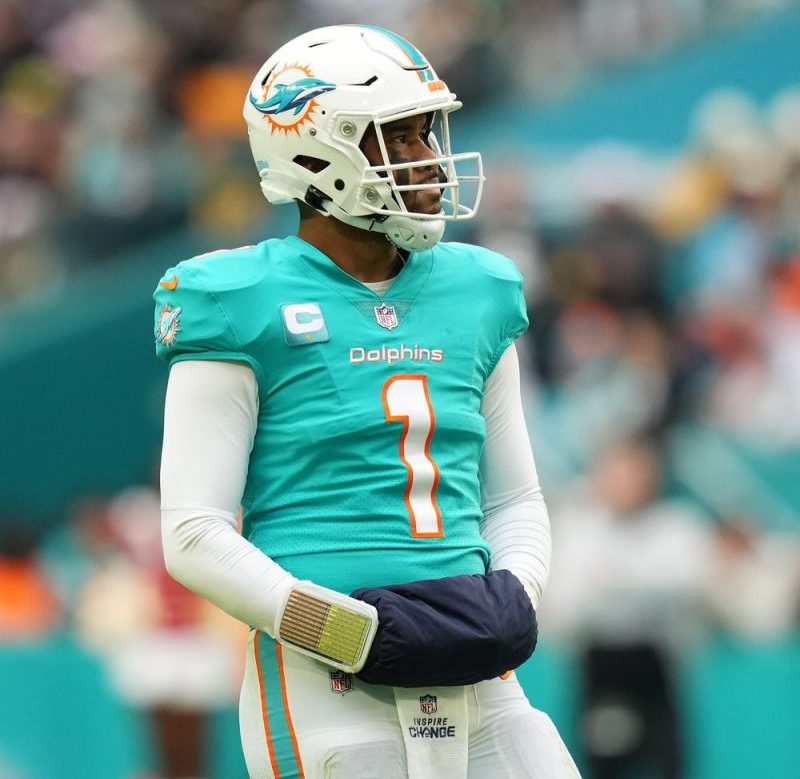 Dolphins will be without QB Tua for playoff game vs. Bills
MIAMI GARDENS — Miami Dolphins quarterback Tua Tagovailoa will not play in the team's playoff game Sunday against the Buffalo Bills, coach Mike McDaniel said on Wednesday. 
Tagovailoa has not been cleared by doctors to resume football activities on the field with his teammates after his second documented concussion from Christmas Day.
'It's very frustrating for him to not go through everything with his teammates,' McDaniel said of Tagovailoa. 'It was a huge goal of his to get to the playoffs, and he wants to play in the playoffs.'
Still, Tagovailoa and the Dolphins will heed to medical advice and continue a day-to-day recovery as he remains in the NFL's concussion protocol. He has not experienced any setbacks, but there are some 'compounding variables in play with his evaluation," McDaniel said.  
McDaniel did not want to speculate on Tagovailoa's future, next week or beyond.
Follow every game: Latest NFL Scores and Schedules
'I'm just thinking about his day, and him getting to full health as a human being. And when it's time to turn the page, it's time to turn the page,' McDaniel said. 'Next step for him to be fully through this protocol and then we can see where the land lays, so to speak. Outside of that, I'm worried about him.'
The Dolphins got the 11-6 win they needed to reach the postseason last week against the Jets. But they'll likely need more than three field goals and a safety if they're going to beat Josh Allen and the Bills in hope of the franchise's first playoff win since 2000.
Immediately after McDaniel's news conference, the betting line on the Dolphins-Bills game moved from 9.5 points to 12.5 points on Tipico Sportsbook, and even 13.5 points on other sportsbooks.
McDaniel did not name a starter for the Bills game, but it appears rookie third-string quarterback Skylar Thompson is in line to start his second straight game for the Dolphins, who reached the playoffs for the first time since 2016, and third time in 21 years.
Dolphins backup Teddy Bridgewater, who is recovering from a dislocated finger on his throwing hand and dealing with a knee injury, is also in question for the Bills game. The Dolphins signed and elevated veteran Mike Glennon from their practice squad last week to be Thompson's backup.
'I know there's more at stake, but last week there was a lot at stake, too,' Thompson said of the win that got Miami into the postseason.
The thing is quarterback isn't the only Dolphins problem heading into Sunday's game.
Starting running back Raheem Mostert, who leads Miami with 891 yards rushing, broke his right thumb against the Jets last week.
Starting left tackle Terron Armstead did not practice Wednesday, and has not played in the last two games, dealing with pectoral, toe, knee and hip injuries accumulated during the season. Left guard Liam Eichenberg (hand), right tackle Brandon Shell (knee, ankle) and backup tackle Kendall Lamm (ankle) also did not practice. 
And star edge rusher Bradley Chubb, who the Dolphins acquired from Denver at the trade deadline and gave a new five-year deal worth up to $111.25 million (including $63.2 million guaranteed) intends to play despite a right hand injury. He also did not practice Wednesday.
'This is the hand right now. How do you play that hand?' said McDaniel, who has led Miami to the playoffs in his first season as Dolphins coach.
Yet, the Dolphins are still elated about just getting to the playoffs – something that evaded them the past two seasons, under former coach Brian Flores, despite having winning records.
'Each year, it's been one game away,' veteran safety Eric Rowe said. 'We've finally pushed over that little hill.'
The Dolphins will play the Bills for the third time this season. Miami won earlier this season 21-19 at home, and lost 32-29 after a game-ending field goal in Buffalo on Dec. 17.
Still, Allen and the Bills have largely gotten the best of the Dolphins with an 8-2 record since Allen's rookie season in 2018.
Buffalo will also continue to ride the wave of positive news surrounding safety Damar Hamlin's recovery, as Hamlin was released from a Buffalo hospital and returned home Wednesday, nine days since his cardiac arrest during a Bills-Bengals game Jan. 2.
Despite the apparent odds stacked against them, the Dolphins are trying to maintain a positive perspective.
'I know we have a dedicated, hungry football team that's excited to play in a game they earned,' McDaniel said.
This Dolphins' playoff game is eerily like Miami's last postseason game on the road against the Pittsburgh Steelers in 2016.
Former backup Matt Moore started in place of former starter Ryan Tannehill, who was sidelined with a knee injury. Miami lost 30-12 in a game with a wind chill in the single digits.
'We got whooped,' Dolphins cornerback Xavien Howard, the only player still on Miami's roster from that Steelers playoff loss, said succinctly Wednesday.
The Dolphins hope for a different outcome this time around.
The defense knows it must do its part against Allen, so Thompson and the offense – led by star receivers Tyreek Hill and Jaylen Waddle – have a chance.
'Skylar could have the best game of his career and put up 50 points, but if we don't stop nobody on defense, then that'll mean nothing,' Rowe said of the Dolphins defense. 'We have to focus on us, and how to stop Josh Allen.'
Thompson – who was 20 of 31 for 152 yards, while Miami ran the ball 32 times for 162 yards against the Jets – hopes his experience watching from the sideline during Miami's last game in Buffalo can help this week.
'Honestly, every snap, I feel more and more confident,' Thompson said.
'It's going to be a great challenge for us. I got the experience for seeing it in person, what the atmosphere is going to look like, snowballs being thrown at us. All that. It was awesome. … I'm looking forward to going out there and competing, and I know our guys are, too.'
This post appeared first on USA TODAY