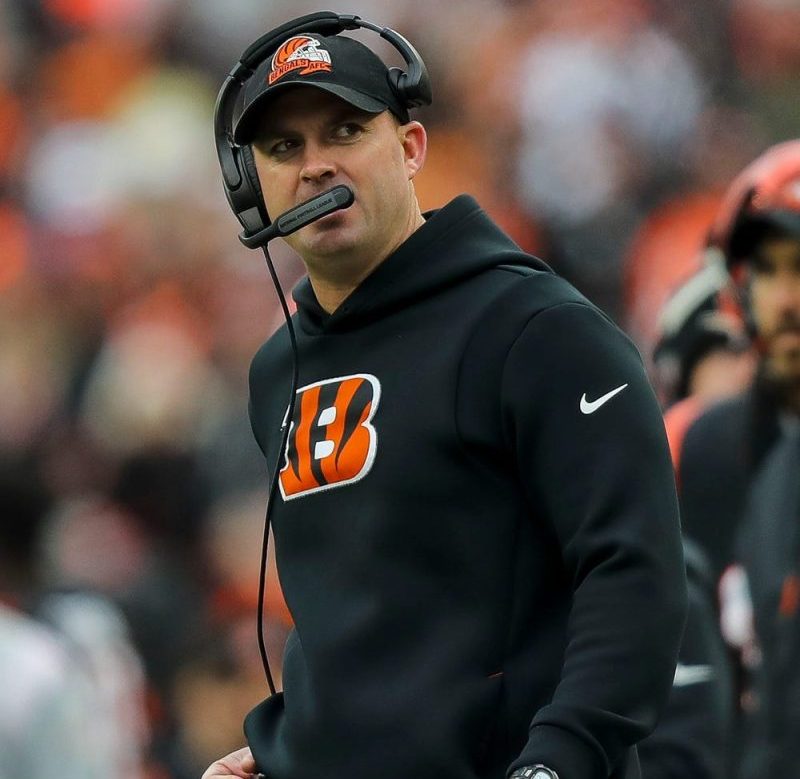 Bengals coach opens up about Damar Hamlin situation, playoffs
Zac Taylor and the Cincinnati Bengals didn't need a coin flip to determine the site of Sunday's AFC wild card matchup versus the Baltimore Ravens.
Taylor and the Bengals were disappointed in the NFL's ruling in the aftermath of the canceled Buffalo Bills vs. Bengals Week 17 game, but the club is ready to move forward as the No. 3 seed in the AFC playoffs.  
'It doesn't matter now. It's set the way it's set. We won the division, and we get a home field game. So now we'll just follow the seeding and go wherever it takes us,' Taylor told USA TODAY Sports. 'But it starts with this first game against Baltimore. We got to have a great plan in place and have the ability to move on to the next round.'
The Bengals are riding an AFC-best eight-game winning streak entering the postseason.
Follow every game: Latest NFL Scores and Schedules
USA TODAY Sports interviewed Taylor this week about the canceled Week 17 game, Damar Hamlin, being back-to-back AFC North champions and this year's playoffs. Here are the highlights, lightly edited for clarity, from the exclusive conversation:
Damar Hamlin's injury captured the attention of the country. You were praised for how you handled the unprecedented situation. Can you take us through those moments? What was going through your mind when you saw how severe Hamlin's injury was and your thought process while the NFL was deciding whether or not to resume the game?
Taylor: It was a terrible moment on the field. We all felt terrible for Damar. We could see what the Bills were going through. It was an awful situation that you hope to never replicate. I thought the officials did a great job communicating with both teams. Obviously, the conclusion came that we couldn't continue on with that game and people needed to be at the hospital to support him because you didn't know what the outlook was gonna be. Ultimately, I thought everybody got to the right decision.
When did you first realize the game should be canceled?
Taylor: It was hard. When everyone was looking at Damar Hamlin on the ground, nobody is thinking about anything. They are just thinking about I hope everything is alright with Damar. I don't think it was going through anyone's mind are we gonna play or not play. That's not what happens when you're sitting right next to someone who is fighting for their life. Playing is not going through your mind. When the ambulance pulls away, that's when you start trying to pick up the pieces and figure out what's about to happen. There's no precedent that's been set. We just needed a couple moments to gather our teams and think about it.
Every moment that passed provided clarity. I don't think anybody was thinking about playing.
Bills QB Josh Allen said some people are going to be changed forever after witnessing that moment on Monday night. Do you think your team will be changed forever after witnessing that frightening scene?
Taylor: It's a moment that you'll never forget. We're thankful that the outcome has been really positive for Damar. It's hard to imagine seven days from that happening, him being able to go back to Buffalo. I don't think anyone would've been able to predict that happening. That's awesome to see the progress he's made. I think this week is something we'll always remember. Just the support that everyone had for Damar and his family.
How does it feel to be back-to-back AFC North Champions?
Taylor: That was one of our goals since the beginning of the season. We have one home game in the playoffs. Our guys did a great job in earning this title. That's two (AFC North titles) for us for the first time in franchise history.
A lot of people said, including myself, the Bengals will be going from the hunter to the hunted this season. As the defending AFC champs, you guys finished 12-4 and won the division. How do you think your team performed throughout the regular season?
Taylor: To win eight in a row to close out the regular season, this team is playing good football at the right time. We are winning the turnover battles, it's a very unified team with great leadership. It's not unexpected. I'm proud to be a part of this team. We're starting a new season now. Everyone is 0-0 and we got to be able to take care of business one game at a time.
Joe Burrow is in the MVP discussion. How has he improved his game in his third season?
Taylor: He took us to the Super Bowl last year, so he had a great year last year. He continues to play really fast at a really high level. It's his third year in the system. He has complete ownership of the system. I think he's done a great job for us, as we expected him to do. He continues to impress every single week that passes.
Joe Burrow, Ja'Marr Chase and the offense get a lot of national attention. But your defense has performed at a high level this season, finishing top 10 in points allowed. Describe the impact your defense has had this year.
Taylor: There's great leadership at every position group. We have a ton of talent on defense. The coaches have done a great job starting with (defensive coordinator) Lou Anarumo and his whole staff. They have found a way to create a lot of turnovers. That's what they did at the end of last season, too. That really helped us in our playoff run. These last couple weeks we have seen a lot more of that. We have to continue that in (this year's) playoffs as well.
As the defending AFC champions and runner-up in last year's Super Bowl, what's the message to your team as you embark on another postseason?
Taylor: You can't look beyond the first game. We have Baltimore. It's a big game. They want a piece of us. We want a piece of them. You can't look beyond that. Because that's when you can stub your toe. These guys have done a great job of having a narrow focus on the seven-day week, getting great work done and being ready to go play on Sunday.
Follow USA TODAY Sports' Tyler Dragon on Twitter @TheTylerDragon.
This post appeared first on USA TODAY