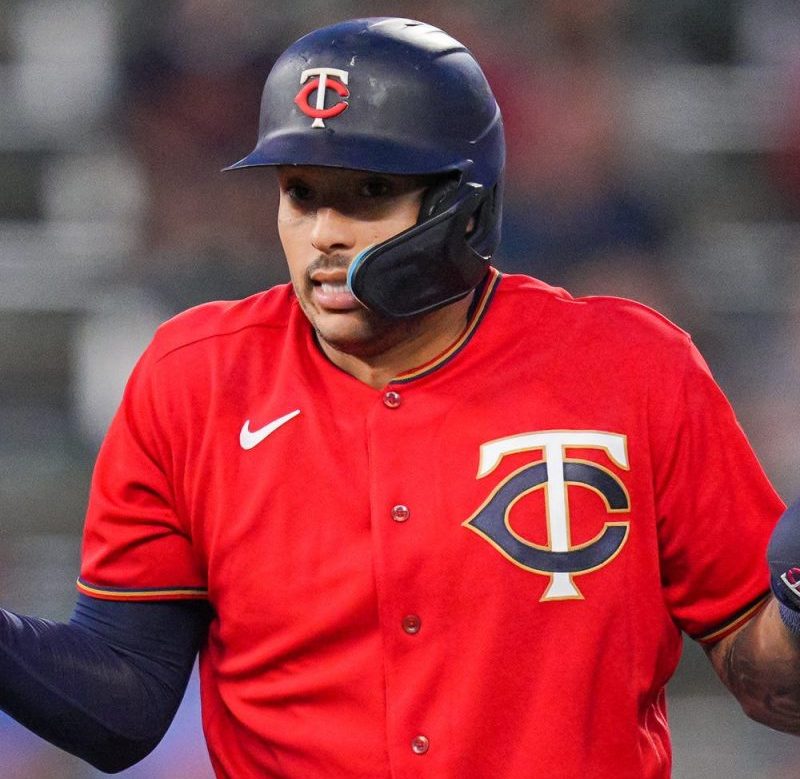 Carlos Correa saga shows the value of running a tight ship
The Carlos Correa saga should be a lesson, but it won't be. 
There will continue to be shameless leaks on free-agent signings and trades, with about 95% of the information coming from agents. 
You see it all the time with agents revealing player signings, agents rushing to inform reporters that their client has just been traded, and agents giving out access to the union website for contract details, the hundreds of minor-league signings the clubs have yet to announce and arbitration case settlements. 
It is common practice for agents to reveal where their client is headed, and what he'll earn, before he takes a physical, let alone the deal becomes official. 
The Correa case is living, breathing proof how messy a deal can become before it's an official one. 
Correa is not a San Francisco Giant, with red flags raised in a physical the day before his scheduled press conference, wiping out the 13-year, $ 350 million deal. 
He's not a New York Met, who turn out to be as alarmed as the Giants by Correa's medical reports on his lower right leg, tabling his 11-year, $315 contract. 
So, officially, Correa remains a free agent. 
You now have one side (Correa's camp) leaking out that Correa could still be talking to other teams, like the Minnesota Twins, despite the Twins having no interest in making another offer until he undergoes the complete physical that troubled the Giants and Mets. 
You have the other side (the Mets) saying that they are so frustrated by the lack of progress that they just might completely walk away. 
Neither will happen. 
He will still wind up with the Mets, just on a completely restructured deal that won't fully guarantee his original 12-year, $315 million contract, protecting the Mets if his previous surgery causes him to miss significant time. 
While the Mets and Correa continue to dominate the New York tabloids, there's one power in baseball that spoils all of the fun. 
It is Atlanta, winners of five consecutive NL East titles and a 2021 World Series ring.
There are no leaks. Barely any rumors. They are the KGB of baseball. 
If they are close to making a trade, it's radio silence until players are informed. 
If they sign a player, you'll read the details when they reveal it on theirofficial website.
Sorry, they're not intentionally trying to ruin the fun for reporters, but they've got a business to run, games to win, and aren't concerned one bit about their name barely being mentioned during the winter. 
Last year, Atlanta didn't tip their hand when they were after All-Star first baseman Matt Olson – while they still were in contract talks with Freddie Freeman – until they announced the trade. And not a single word that they were signing Olson to an eight-year, $168 million contract a day later. 
They kept everything absolutely quiet when they signed Austin Riley to his 10-year, $212 million extension. The same with NL Rookie of the Year Michael Harris (eight years, $72 million) and rookie pitching sensation Spencer Strider (six years, $75 million). 
And most recently, acquiring catcher Sean Murphy from the A's and once again quickly signing him to a six-year, $72 million extension. 
No rumors. No speculation. No leaked negotiations. Just action. 
"I know it can be frustrating for fans,'' Atlanta GM Alex Anthopoulos tells USA TODAY Sports. "They want to know who we're talking to, who we're trying to get. But in today's day and age, you have leaks, and when you have distractions and interference, it makes it more complicated. If things get out, and they're not finalized, then you're bombarded with text messages, calls and e-mails. 
"I just don't see any upside. It doesn't help anybody. There's no benefit. It's not conducive to doing your job. It just makes it so much easier to work when there are no leaks and having all of those distractions.'' 
There have been times when Anthopoulos, widely regarded as among the top GMs in the game, has gone through what the Giants and Mets endured with Correa. There have been flunked physicals. There have been trades thwarted at the last moment. There have been tumultuous negotiations. 
"We've had free agent agreements or trades that hit a snag from a medical standpoint where things were restructured, or fell apart, but nobody knew any of it. Players went onto sign with other teams. Or trades went on with other trade partners. The team wasn't hurt by it. The players weren't hurt by it. Things can happen.'' 
We just don't know about it, at least coming out of Atlanta. 
"Look, I'm a huge sports fan myself,'' Anthopoulos says. "I'm a big Atlanta Hawks and Falcons fan. I love reading all of the rumors and gossip. As a kid growing up in Montreal, I'd go to the corner store on Sunday and get Peter Gammons' notes column in the Boston Globe. I loved it. 
"As a sports fan, it's great. It just doesn't help the Braves.'' 
It certainly wasn't going to benefit Anthopoulos letting everyone know he was interested in trading for Murphy. There didn't seem to be a natural fit until the St. Louis Cardinals decided to sign free-agent catcher Willson Contreras to a five-year, $87.5 million deal instead of trading for Murphy. Talks quickly picked up but there was no clear path until the Milwaukee Brewers got involved, and the three-team trade was completed. 
Two weeks later, Atlanta made sure he would be going nowhere, signing him through 2029 if they exercise a $15 million option. 
"When we acquire guys,'' Anthopoulos says, "we believe in their character and makeup. We offer aggressive deals right after we get them. I'm grateful these guys want to stay here. Atlanta is a great place to live. Players want to be on a competitive team. They want to be on a contending team. And the fan support is great.'' 
Certainly, it would be a whole lot easier to operate in Atlanta if they spent like the Mets and Philadelphia Phillies. The Mets and Phillies will have dropped $1.1 billion on the free-agent market (including Correa's $315 million deal) this winter.
Atlanta has spent $3.015 million. 
A year ago, they lost former MVP Freddie Freeman to the Dodgers. 
This winter, they lost beloved All-Star shortstop Dansby Swanson to the Chicago Cubs. 
"It makes it more challenging when you lose great players and put yourself in position to win the World Series,'' Anthopoulos says. "It's always tough when you get attached to those guys. Those guys earned the attachment to employees and fans. You don't get attached to guys who aren't good people and good players. It's tough on fans. It's tough on everyone across the board. 
"But there's only so much pie to go around. You have to infuse young talent. Financially, you get to a point where you can't keep them all. You've got to allocate your dollars wisely.'' 
Anthopoulos, ever so quietly, believes Atlanta has done just that. 
Big Papi on Boston's offseason
OK, now David Ortiz can smile again. 
Ortiz, elected into the Hall of Fame a year ago, openly campaigned for the Boston Red Sox to keep Xander Bogaerts and sign Rafael Devers to a contract extension. 
So the Red Sox went 1-for-2, watching Bogaerts leave for San Diego while they reached an agreement on an 11-year, $331 million contract with Devers. 
"Those guys are the heart and soul of the franchise,' Ortiz said last month. "They are good players. They are franchise boys. You know what they're capable of. You know what they bring to the table. What else do you need?'' 
Realistically, the Red Sox likely weren't going to keep both of their stars, but still, the loss of Bogaerts could be excruciating. 
"It's going to be like the pain of not having a guy like Mookie [Betts] stay with the team,'' Ortiz said. "Bogaerts is the best player you can ever have on your team. I'll tell you why. His dedication and passion is on another level. Very respectful. You never heard anything negative from him. He's a kid that never gets in trouble. He is the perfect guy you want on your ballclub. 
"I'm not saying he's the perfect human being, but the perfect guy on your ballclub. What else do you want?'' 
Meanwhile, Ortiz says life is no different for him since joining baseball's most exclusive club as a Hall of Famer. He's still full of life, lighting up the room whenever he goes, and continues his charity work for kids. 
Ortiz, who worked with loanDepot, recently helped the Boys & Girls Club of LA Harbor get their facility renovated. 
"I'll always do things for the Boys & Girls Club,'' Ortiz said, "that will always be part of my life. How you going to stay away from that? I love kids. I always want kids to have a great time, get to learn things. I know guys like me can be an influence and role model. I want them to take advantage of their opportunities. 
"I always wanted to provide and give back to my community. I've always been a guy that looked to give back to my community with my passion. When people like myself get to be involved with things like that, you become an inspiration where the kids learn, and one day they can give back to their community.'' 
Jeremy Peña's homecoming 
A year ago, he was nothing more than a prospect who was asked to fill the shoes of All-Star shortstop Carlos Correa. 
Today, he is a superstar, and a household name in Houston. 
He is Jeremy Peña, the Houston Astros' World Series MVP. 
Yes, and even after all of the fame, and newfound riches earning an extra $933,000 atop his $700,000 minimum salary from his World Series share and MLB's pre-arbitration pool, guess what digs he chose to live in during the offseason? 
Yep, still at his parents' home in Providence, R.I., in the same room where he grew up. 
"I didn't realize how many people know where I live,'' Peña said.
Peña, 25, who moved to Rhode Island from the Dominican Republic when he was 9 years old, credits sports for helping make him the person he has become. 
"Sports has been such a big part of my life,'' he said. "When I moved from Dominican Republic, I didn't speak English, but I could relate to the language of sports. It helped build my character, and now I want to help do the same for kids.'' 
This is why Peña returned to Houston last month to work with thousands of kids at a Sports Matter Day with the DICK's Sporting Goods Foundation at the University of Houston. 
"I want to give them the tools for them to create their own path,'' Peña says. "Sports teaches you hard work, discipline and team work. It helps build your character. 
"So that's my biggest goal now is to connect with youth, and use my platform to teach life lessons with kids and teach them the importance of sports. What you learn in sports you can incorporate in life. 
"My whole life has been about giving back, giving back to the place I've come from, and I see sports as a platform for me to give back.'' 
The Astros open camp in five weeks trying to become the first team since the Yankees since 1998-2000 to win back-to-back titles, and Peña sees no reason why they can't return for more October glory. The Astros lost Cy Young winner Justin Verlander, but still have a wealth of talent returning, plus the addition of first baseman Jose Abreu. 
"Going into spring training last year, we knew we had a special team, and a special group,'' Peña said, "and now they bring in a guy like Abreu. He's a great leader, and he balls. It just speaks to what the front office is trying to do, keeping that winning culture. 
"I can't wait to get started.'' 
Around the basepaths
– The Los Angeles Dodgers, who still have another week to try to trade Trevor Bauer with little hope of doing so, wound up paying Bauer $64.5 million for 17 starts and 107 ⅔ innings, going 8-5 with a 2.59 ERA. 
Yes, as the Dodgers will privately admit, it was the worst personnel move in franchise history. 
– Sale of the Los Angeles Angels likely will not be completed by opening day, as Major League Baseball Commissioner Rob Manfred hoped. Prospective buyers are still being allowed to make bids with at least six parties expressing interest. 
The team is expected to be sold for a record $2.5 billion. 
– The Pittsburgh Pirates are not close to reaching a contract extension with center fielder Bryan Reynolds after he rejected their six-year, $75 million offer, and requested a trade. They still have an awfully high price tag on him, teams say, believing Reynolds will still open the season with the Pirates. 
– Arizona Diamondbacks owner Ken Kendrick has quietly let it be known that he will consider selling a significant, but still minority share of the franchise once the Angels are sold. Kendrick has been the managing general partner of the D-backs since 2004. 
– The consequences of the delayed Carlos Correa negotiations with the New York Mets: 
The Mets, with no room for third baseman Eduardo Escobar, likely would have traded him to the Miami Marlins if the Correa deal had immediately gone through. And infielder Jean Segura, who signed with the Marlins, probably would have wound up with the Detroit Tigers. 
The Segura signing snapped the Marlins' free-agent drought this winter. 
According to the Miami Herald:
They first tried to sign first baseman Jose Abreu on a two-year, $40 million deal only for him to end up Houston on a three-year, $58.5 million deal … third baseman Justin Turner on a one-year, $15 million deal before he signed with the Boston Red Sox on a two-year, $22 million contract … and third baseman Brandon Drury on a two-year, $19 million before he signed for $2 million less with the Los Angeles Angels. 
– The Marlins are letting teams know that starters Pablo Lopez, Jesus Luzardo, Trevor Rogers and Edward Cabrera are all available. 
– The Marlins may indeed by interested in acquiring Red Sox first baseman Triston Casas for one of their starting pitchers, but if the Red Sox had any temptation of doing a deal, they would have hung onto first baseman Eric Hosmer instead of releasing him. 
– The Red Sox really had no choice but to sign homegrown talent Rafael Devers to his 11-year, $331 million extension after losing Xander Bogaerts and trading away Mookie Betts. They badly needed to regain their loyal fanbase's trust. 
Devers had already agreed to a one-year, $17.5 million deal for 2023, so really it's a 10-year, $313.5 million contract. 
If the Red Sox had waited until he reached free agency in a year, the cost might have eclipsed $400 million. 
– Peter Angelos' family legal dispute is nearing a conclusion, which should trigger the Baltimore Orioles soon going on the market. 
– The Yankees reached back into their archives and brought back one of their original architects in Brian Sabean, and also former GM Omar Minaya. 
Sabean, 66, will be an executive advisor to GM Brian Cashman, reuniting the two after being together 30 years ago. 
It may be the shrewdest free-agent pickup of the winter. 
Sabean, who led the San Francisco Giants to three World Series titles, stepped aside in the day-to-day operations when Farhan Zaidi became aboard, but felt marginalized in his role as executive vice president. 
"It's good to be wanted and needed again,'' Sabean said. "Obviously with new regimes there's different group dynamics and wants and needs. It became what it was. I'm just so thankful that I'm relevant enough to get this opportunity." 
– The Chicago White Sox actually wanted Andrew Benintendi when he played collegiately at the University of Arkansas before finally signing him to a five-year, $75 million contract. 
The White Sox planned on selecting Benintendi with the No. 8 pick in the 2015 draft. The Boston Red Sox took him at No. 7, leaving the White Sox to draft starting pitcher Carson Fulmer. 
"I actually joked with him when we did a Zoom call as part of the getting-to-know-you process back in November,'' White Sox GM Rick Hahn said, "that I've waited over seven and a half years to officially welcome him to the organization, given how highly we regarded him when he was at the University of Arkansas. Better late than never.'' 
The New York Yankees badly wanted Benintendi too, but the White Sox trumped their four-year, $64 million contract. 
– The Washington Nationals made an under-the-radar move that may pay dividends by grabbing Dominic Smith, who had spent his six-year career with the New York Mets. 
They are paying him just $2 million, nearly half of what Smith earned last year ($4.95 million) with the Mets. 
"Any time a guy gets a fresh start, it can be an exciting time for him as a player, as a person," Smith said on a video call with reporters. "It can be an exciting thing for the organization. And for me, I'm excited for the chance to go out there and play every day. That's all I've ever wanted in my career, just to finally be in a position where I can go and compete, prove what I can do." 
– Whether it happens this year or next, Scott Rolen will become the first player in baseball history to receive less than 17% of the votes in his first year of eligibility and reach the Hall of Fame. 
He received only 10% of the votes in his first year, with a meteoric rise going to 17%, 35%, 53% and 63% while on pace to eclipse 75%, according to Ryan Thibodoux's balloting figures. The lowest first-year percentage by a player to reach the Hall of Fame is Dodgers first baseman Duke Snider, who received 17% of the vote in 1980. 
– The Texas Rangers have spent a cool $834.85 million in free agency the past two winters. 
Yes, about a quarter-billion dollars more than the team was sold for in 2010 at $570 million. 
– The Tampa Bays have a major-league leading 19 players eligible for salary arbitration with outfielder Randy Arozarena clearing the Super Two eligibility by just one day. If he wasn't eligible for arbitration, he was expected to earn less than $800,000. Now, his salary is projected to be about $4 million by mlbtraderumors.com. 
– The Orioles still owe former first baseman Chris Davis $59 million over the next 15 years in deferred payments beginning this year. 
– Let's see, since infielder Lewin Diaz played his last game, he has been: 
Designated for assignment by the Miami Marlins. Claimed by the Pittsburgh Pirates. DFA'd by the Pirates. Claimed by the Baltimore Orioles. DFA'd by the Orioles. Traded to Atlanta. DFA's by Atlanta. Claimed by the Orioles.
– Michael Conforto, who missed the entire 2022 season, can opt out of his two-year, $36 contract with the San Francisco Giants only if he makes at least 350 plate appearances in 2023. 
– A whopping 10 umpires announced their retirement after the 2022 season, including six crew chiefs, the highest total since 1999:  
Ted Barrett, Marty Foster, Greg Gibson, Tom Hallion, Sam Holbrook, Jerry Meals, Paul Nauert, Jim Reynolds, Tim Timmons and Bill Welke. 
That experience will be greatly missed. 
Follow Nightengale on Twitter: @Bnightengale 
This post appeared first on USA TODAY