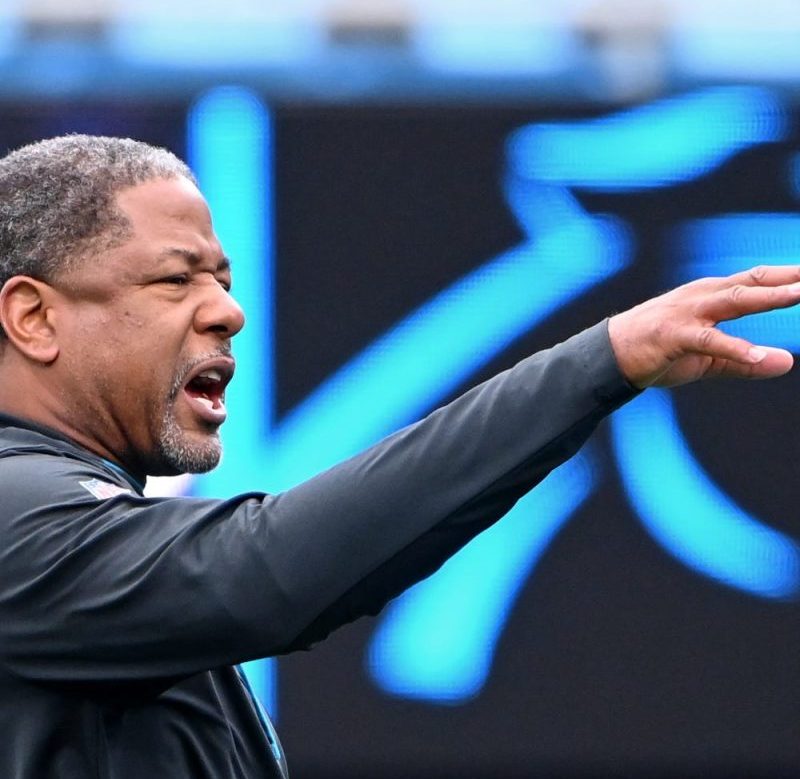 To Panthers owner: Don't overthink decision on Steve Wilks
To say that Carolina Panthers coach Steve Wilks inherited a mess would be an understatement. Wilks was given the helm of a sinking ship, and not just the Titanic, but the Titanic if it was sinking while on fire, surrounded by sharks, and torpedoed by a U-boat.
Now, some two months later, Wilks is completing one of the best interim stints in recent history. But that may not be enough to land the full-time gig. Data collected by USA TODAY Sports shows no correlation between winning percentages of interim coaches and getting hired.
More on that later but memo to David Tepper: Don't over-complicate things. Wilks has earned the full-time job.
Former coach Matt Rhule was fired in October. Wilks took over a 1-5 team that had lost 11 of its previous 12 games and traded its best player, running back Christian McCaffrey, to San Francisco, and its No. 2 receiver, Robbie Anderson, to Arizona. The Baker Mayfield experiment imploded.
But something strange happened on the way to tanking: the Panthers were competitive in almost every game and Wilks, entering Sunday's contest against New Orleans, is 5-6. That 1-5 group is 6-11 and was a furious Tom Brady comeback win away from having a legitimate shot at winning the division. While six wins isn't exactly Lombardi Trophy material, what Wilks did in engineering a stabilizing effect was nonetheless impressive. He also won over the Panthers' locker room.
"I speak for everybody in that locker room and say we want Wilkes to be our next head coach, that's for sure,' said Panthers defensive lineman Derrick Brown. 'I think every single week when we're going to come in, he's going to tell us how it is."
"He doesn't sugarcoat (anything). He lets you know exactly what's going on. You could be one of the best players but you walk into that building on Monday he's going to tell you exactly how you played and that level of clarity is exactly what we want."
What does all of this mean? It means Wilks should be retained not solely because he provided steadiness but also because the data shows Wilks has done one of the best interim coaching jobs over the past few decades, according to data compiled by USA TODAY Sports, which examined interim stints since 2000. An interim stint is defined as the firing or resignation of the previous head coach.
When you compare Wilks to other interim coaches who led their teams for half the season or more, his performance stacks up well. Since 2000, 15 interim coaches (including Wilks) have led their team for at least half the season, and only four other than Wilks have five wins: Dan Campbell (5-7), Mike Singletary (5-4), Gregg Williams (5-3) and Jason Garrett (5-3).
Rich Bisaccia went 7-6 with the Raiders in 2021.
Wilks deserves the job but will he get it? Probably not. That's because what the data shows is that many owners, well, don't pay attention to data. As mentioned before, there are 15 guys since 2000 (including Wilks) who have spent at least half the season as an interim coach (eight games or more).
Of the four guys who had the highest winning percentage, meaning .500 or better, two got hired (Garrett and Singletary) and two didn't (Bisaccia and Williams). Of the four guys who fared the worst, two got hired in Dave McGinnis (1-8) and Mike Mularkey (2-7) and two didn't in Jim Haslett (2-10) and Tony Sparano (3-9).
Thus, in many cases, there's an extreme randomness in the hiring process.
Owners over-complicate things. In the case of Wilks, for example, the job he's done has been exemplary but if the hiring process goes the way it often has with other owners, Tepper will look for reasons not to hire Wilks, instead of examining what Wilks did correctly.
There's also the thirstiness of organizations to go for the big names. In this hiring cycle, you'll hear names like Michigan coach Jim Harbaugh and former Saints coach Sean Payton. Or the Panthers will reach in a big way, like they did with Rhule.
Sometimes, the best choice is right in front of you.
This post appeared first on USA TODAY