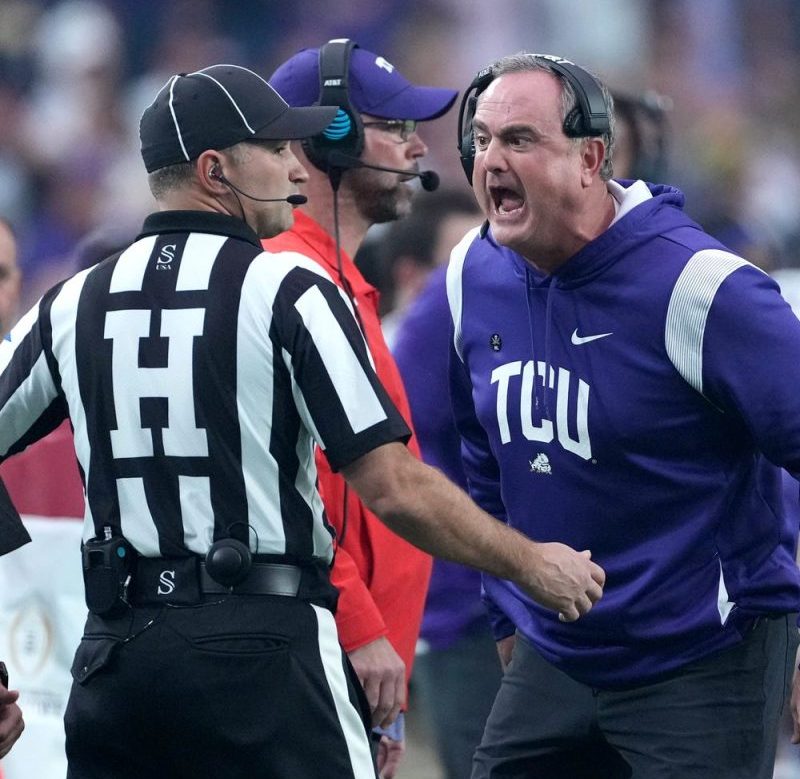 Fearlessness defines coach who has TCU on cusp of national title
This week, as Texas Christian football coach Sonny Dykes prepared his team to play heavily-favored Georgia on Monday night for the national title, his two siblings recounted another time when he looked to be overmatched.
Dykes, 5, was riding his Big Wheel down a steep hill in the family's backyard and getting airborne on the low-riding tricycle before landing in a creek.
"We dressed him up with a football helmet and shoulder pads, and Sonny just jumped on (the Big Wheel) and he took off,'' his brother Rick Dykes told USA TODAY Sports. "First time we did it, we didn't know how it was going to work, and hit that last hill, he was in the air and he probably covered 10 yards.
"We were like, 'Oh my god.' And when we got down there to him, I thought he was going to be crying and upset, and he was laughing.''
Added his sister, Bebe Petree, "That's the perfect example of his fearlessness! At 5 years old he was totally a kamikaze.''  
Follow every game: Latest NCAA College Football Scores and Schedules
OPINION: Transfer portal creating more level playing field helped TCU reach title game
WINNERS, LOSERS:  Georgia, TCU, Tulane lead winners and losers from college football bowl season
"Sonny was kind of the cocky one,'' she added, "and the great thing for me is to see that cockiness, that little edge that he always had. He was that way when he was a kid playing baseball. He would just rush home plate and knock the catcher off the plate and score the run.
"He always had confidence and swagger.''
Now 53, Sonny Dykes is leading with that same fearlessness. It's emanating from his team, too. 
In his first year as head coach at TCU, Dykes inherited a team that finished 5-7 last season and was picked seventh in the 2022 Big 12 preseason poll.
Now the Horned Frogs are 13-1, coming off a stunning 51-45 victory over second-ranked Michigan in the College Football Playoff semifinals and headed for a showdown with the defending national champion Bulldogs.
'We beat some of the best'
Though Mike Stoops is unfamiliar with the Big Wheel launches, the former head coach at Arizona recalled something he and Dykes did together that reflected shared fearlessness.
Stoops hired Dykes as offensive coordinator in 2007 and gave him his first chance to call plays. Over the next three years, Arizona upset second-ranked Oregon, then coached by Mike Bellotti; 18th-ranked Southern California, then coached by Pete Carroll; Arizona State, then coached by Dennis Erickson; and Stanford, then coached by Jim Harbaugh. 
'We beat some of the best of the best, and that's hard to do when you're the little guy," said Stoops, now an assistant at Kentucky.
As Dykes prepares TCU to play a Georgia team that opened as a 13½-point favorite, Stoops recalled those big victories they shared at Arizona and said, 'We were never scared of anybody."
Dana Holgorsen, who was co-offensive coordinator with Dykes at Texas Tech from 2005 to 2006, said he is struck by his old friend's demeanor.
He's friendly and laid-back off the field, said Holgorsen. Which is what one might expect from Dykes considering he's a husband and the father of two daughters, ages 14 and 11, and a son, 6.
'And then I see a raging competitor on game day," Holgorsen said. 'He loses his mind more than I lose my mind."
Losing his mind but not many games – the exception a  31-28 overtime setback Dec. 3 against Kansas State, then ranked No. 10.
How Sonny Dykes' father, grandmother shaped him
Family history also helps explain how Dykes and his team continue to beat the odds.
This week, memories of his late grandmother Alta Dykes surfaced.
She was a gambler, said Sonny Dykes' sister, Bebe Petree.
Petree said Alta Dykes used to wager on college football games as far back as the 1970s and placed bets with a neighborhood bookie.
Petree also said Alta Dykes would have taken an interest in the point spread for the national championship game, with the Horned Frogs having opened as an underdog against Georgia.
"My grandmother was a bit larger-than-life personality,'' said Sonny Dykes, who named his oldest daughter Alta.
Then there was Alta Dykes' son, Spike, who was Sonny Dykes' father and another big personality on the family tree.
Spike Dykes was a beloved football coach at Texas Tech who was transformed the program, consumed an immense amount of chicken-fried steak at booster events and dispensed homespun wisdom like, "A lot of people want be around when you're having a parade, but not many want to serve as the pallbearer.''
Recently, Sonny Dykes recounted the time he came home late from one of his high school football games and found Spike sharing drinks with an opposing coach the night before their teams played.
Spike Dykes usually prevailed on the field, and he was named Southwest Conference coach of the year three times and Big 12 coach of the year once.
"My dad was a character,'' Sonny Dykes said. "He just was. He was raised by characters.''
As the national title game approaches, Petree said she sees in her youngest brother the influence of her colorful father, who died in 2017, and the gambling grandmother.
"She was a trip," Petree said of Alta Dykes. 'That whole renegade personality, Sonny is like her. Spike was like her. Kind of fearless and funny."
Father and son shared a similar defiance, according to Petree.
"My mother got to name the kids and then Spike just called us whatever he wanted to call us,'' Petree said. "Like, my mother named Sonny 'Daniel'. But Spike wanted to call him Sonny so he was Sonny.''
From those characters has sprung another, one determined to call his own shots.
'Sonny's never been scared to roll the dice'
His 29-year coaching career has included stops at two high schools, a junior college and eight colleges, none of them traditional powerhouses.
By contrast, Georgia's Kirby Smart coached under Nick Saban for nine years at Alabama before being hired as the head coach at Georgia in 2016.
"Sonny's never been scared to roll the dice,'' said Rick Dykes. "If you had to diagram to him getting to where he is from where he started, there are several strange stops along the way.''
ANALYSIS: Georgia, TCU should be intriguing CFP final matchup 
The strangest stop might have been California, where he took the head coaching job in 2013 against the advice of his father. He was finishing his fourth year at Louisiana Tech and had won 17 games in the previous two seasons.
The concern was California was not committed to its football program. Sonny Dykes was confident he could turn things around at a place where one day his team was kicked off the practice field because it had been reserved by the marching band, he told ESPN.com.
Four years after he arrived, and after posting just one winning record and interviewing for multiple jobs, Sonny Dykes was fired.
"I think it served Sonny well,'' Rick Dykes said. "I think he had a chance to kind of get his priorities back in position and figure out what he wanted to do.''
What he wanted to do took four years: one year as offensive assistant under Gary Patterson, then head coach at TCU; then as head coach at SMU, where in four seasons his teams went 30-18 and qualified for bowl games three times; and then on to TCU and back in the Big 12, the same conference where his father last coached.
"My dad told me one time, 'Your little brother will be the head coach of the Dallas Cowboys one day if he wants to,' " Petree said. "I think (Spike) just saw that he's fearless."
After all, Spike had seen Sonny Dykes pedaling that Big Wheel as he zoomed down the hill toward the creek in the backyard.
"My dad came out at some point and said, 'What in the hell are you all doing?' ' Rick Dykes recalled.
With the 5-year-old kamikaze within earshot, the answer from Rick Dykes was simple.
'Sonny wants to go down the hill."
Now, he's enjoying the ride of his life.  
This post appeared first on USA TODAY