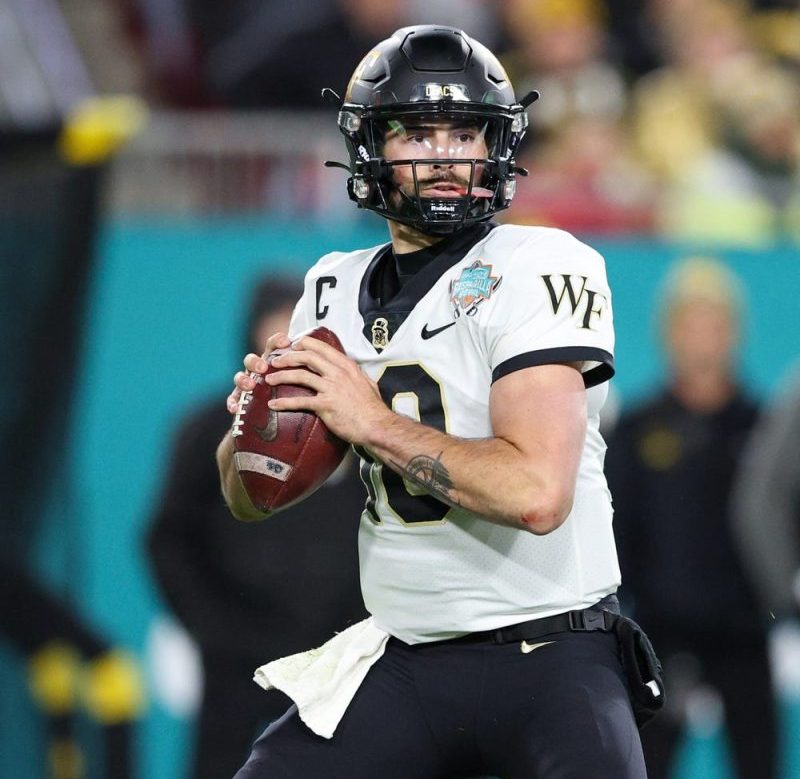 Notre Dame lands record-setting QB via transfer portal. Can he win big?
From rumor to reality — Notre Dame has mined the transfer portal for a quarterback. 
A starting quarterback.
Wake Forest's Sam Hartman — Atlantic Coast Conference record-setting Sam Hartman, sixth-year senior Sam Hartman — is headed to Notre Dame. His decision, made Thursday afternoon via Twitter, was the worst kept "secret" around these parts for the last few weeks. Nobody said near anything – Hartman didn't even take to his Twitter account to tell everyone he was officially in the transfer portal when that news leaked Dec. 27 — but if you knew, you knew. Hartman was headed to the portal and he was headed to Notre Dame. 
We're already a few paragraphs in, so might as well get this buried lead out of the way — Hartman will be the starter when Notre Dame opens the 2023 season against Navy in Dublin, Ireland. Put it in bold and in all CAPS. Run it as a banner headline in the South Bend Tribune — Hartman is the STARTER. 
That's not a knock on sophomore Tyler Buchner, who took a massive step forward with his most valuable player performance in the Gator Bowl against South Carolina after missing 10 games with a shoulder injury. That's not a knock on freshman Steve Angeli, who might be/could be the guy somewhere down the line, or a dismissal of current high school senior Kenny Minchey, who signed last month with Notre Dame. 
Follow every game: Latest NCAA College Football Scores and Schedules
Guys — quarterbacks — who've been around the college football block as long as Hartman and done as much as Hartman don't choose a sixth (and final) season to be a backup. Or switch schools and systems and everything else just to add another veteran voice to the quarterback room. 
Hartman's not going to sit in South Bend. He's not just another guy; he's the guy. He's played in 45 career games; he's started 45 career games. Expect Nos. 46 and beyond to occur next season. 
In an era when college guys can't wait to start their NFL clocks and get on to the next challenge in their football lives, Notre Dame gets a guy who doesn't want to leave college. He's one year shy of following the college plan of John "Bluto" Blutarsky of "Animal House" fame. You know — John Belushi and "seven years of college down the drain. Might as well join the (freaking) peace corps." 
Hartman was asked prior to his final regular-season home game at Wake Forest about returning for a sixth year, and his response was simple. Absolutely not. Wake Forest needed a new challenge. He needed a new challenge. He's going to get it. 
Hartman's as good as Notre Dame could've hoped for in the transfer portal. He's played a lot of games. He's racked up a lot of stats. He oozes experience. But he knows little about what it takes to be the starting quarterback at Notre Dame, where 8-5 seasons (Wake's record after the bowl win) aren't looked upon as any sort of accomplishment. It's the opposite. 
The last starting Irish quarterback to win eight games now is at Arizona State. 
You go to Notre Dame to win double-digit games. No exceptions. You go to Notre Dame to get back to the College Football Playoff. You got to Notre Dame to chase national championships. Stats and Gasparilla Bowl wins with MVP honors don't matter. That's a tough ask of Hartman next season. Better be ready. 
He's the kind of quarterback that offensive coordinator Tommy Rees needs. The kind of quarterback that he has to have. The kind of quarterback that won't allow Notre Dame to do what it did this season at the position in home losses to Marshall and Stanford. 
Who cares about the NFL? Just go win
An upgrade at quarterback likely means an upgrade at the wide receiver position. That group will be better next season because the quarterback will be better. Hartman can make all the throws. He'll find all the guys. They'll have to deliver, from Lorenzo Styles to Deion Colzie, Jayden Thomas to Tobias Merriweather. That means making the tough catches in traffic, which means stretching the field vertically, which means finding the end zone more than the Irish receivers did this season (nine touchdowns). 
Notre Dame's longest pass from quarterback to wide receiver was 54 yards. That was the first play from scrimmage against Ohio State. Seriously. Notre Dame ran 789 more plays during the regular season in 2023 and never again ventured into that chunk-play territory. That won't happen with Hartman. 
Hartman, who set the conference record for career touchdown passes in his final ACC game (he finished with 110) will now play for a program that has dominated what is now his former conference. Notre Dame has won 28 consecutive games against ACC teams. Oh, and one of the six ACC teams on Notre Dame's schedule next season? Wake Forest. October 28. In Notre Dame Stadium. 
Yeah, that will be interesting. 
At first glance, the new Irish starting quarterback looks a lot like the former Irish starting quarterback. From his size (6-foot-1, 210 pounds) to the facial hair to his somewhat slight build to the same number — 10 — Hartman looks a lot like Drew Pyne out there on the football field. Then you watch the 23-year-old Charlotte, North Carolina, native confidently command an offense, and that's where the similarities effectively end. 
Hartman will stand in the pocket even as it's about to crumble and wait for an open receiver, then usually find him. He closed his five-year career with Wake Forest having thrown for 12,967 yards and those 110 touchdowns. He completed 59.1% of his passes. He was a lot of what Pyne wasn't in his first season a starter. 
Prior to the bowl game, Hartman threw for 3,421 yards and 35 touchdowns this season. He completed 63% of his passes and averaged 311.0 yards per game. Notre Dame's quarterbacks combined to throw for 2,399 yards and 22 touchdowns in 2022. They completed 63.2% of their attempts and averaged 199.0 yards per game. 
As his decision to enter the portal became reality, the question was, what kind of pro quarterback is Hartman? Is he a late-round pick? An undrafted free agent? Who cares? Hartman can't worry about any of that; Notre Dame can't worry about any of that. 
All that matters in 2023 is that Hartman does what the Irish offense — the Irish program — needs him to do. Get that group of 11 moving in the right direction down the field with chunk plays. With big plays. With game-turning plays and drives and throws. Get back to double-digit sea wins. Get to a big-time bowl. 
It's not about the NFL. If it was, Hartman's in the wrong place. It doesn't matter how he got to Notre Dame. It only matters that he's here. 
Down in Winston-Salem, he could kind of/sort of hide during the college football season. After all, how much national scrutiny really is laid on the Demon Deacons? Anything it was, even this season, pales in comparison to the spotlight that will be on him in South Bend. He'll be hailed as the missing piece as spring practice nears. He'll be second-guessed when he throws his first pick or is handed his first loss.  
That comes with the job. It's a hard job. Is Hartman ready for it? Does he know everything he signed up for? He better, because his college life forever changed when he chose Notre Dame. Welcome to campus, kid. Bring a warm coat and that right arm and those spiffy passing stats.  
Now go win some games. A lot of them. 
Follow South Bend Tribune and NDInsider columnist Tom Noie on Twitter: @tnoieNDI. Contact: (574) 235-6153.
This post appeared first on USA TODAY