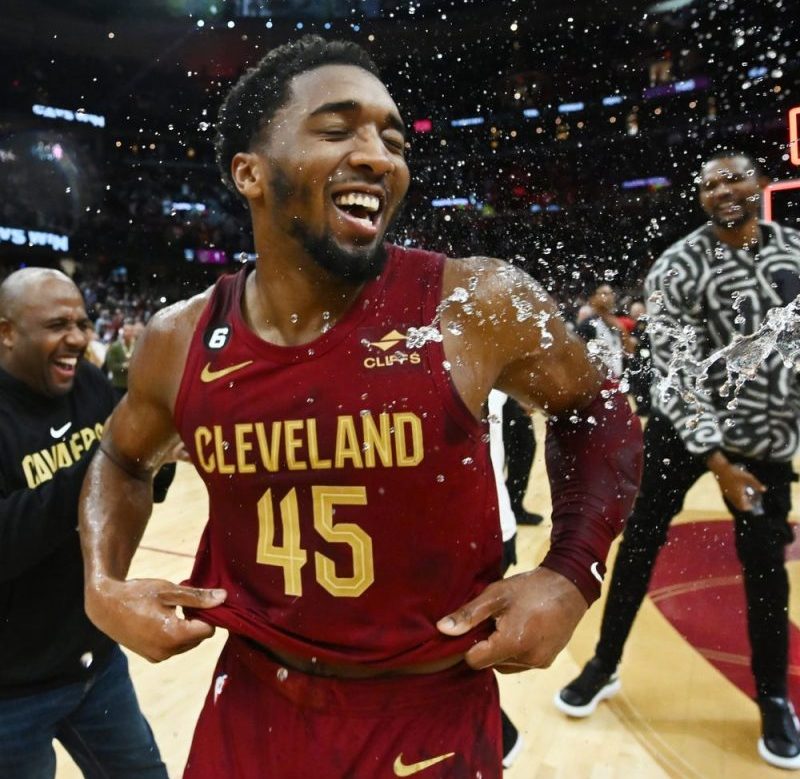 Donovan Mitchell leads NBA season of stunning individual performances
Seventy-one points – 71! – from Cleveland's Donovan Mitchell.
Mitchell's performance marks the 12th time a player has scored at least 70 in a game, and he became just the seventh player in NBA history to reach that figure.
It was just one of several spectacular individual offensive performances this season.
Follow every game: Latest NBA Scores and Schedules
On the same day Mitchell scored 71, Golden State's Klay Thompson had 54 points, Chicago's DeMar DeRozan 44, the Los Angeles Lakers' James 43 and Philadelphia's Joel Embiid 42. It was the fourth time this season five players scored at least 40 points on the same day, and before Dec. 23, it had happened just four times in 76 NBA seasons, according to The Associated Press.
This season, players have scored at least 40 points 88 times, which is 11th-most in league history, and it's not even the halfway point of the season. If the pace continues, this season will pass the 1961-62 season for most 40-point games. That's the season Wilt Chamberlain scored 100 in a game and he had 63 of those 142 40-point games, according to stathead.com.
STAY UP-TO-DATE:  Subscribe to our Sports newsletter now!
On Tuesday, Milwaukee's Giannis Antetokounmpo scored a career-high 55 points. It was the 14th 50-point game this season – on pace for the most 50-point games in a season since the early 1960s when Chamberlain dropped 50 on opponents on the regular.
Why the big-scoring games? Gifted offensive players, and in general, rules that favor offense.
Let's take a look at the top eye-popping offensive performances of 2022-23 so far:
Cleveland's Donovan Mitchell
71 points, 11 assists, eight rebounds
Nothing in the first quarter indicated Mitchell was headed for an historic game. He had five points in the first quarter, 16 at halftime and the Cavs trailed the Bulls 60-39 late in the second quarter. But Mitchell scored 24 points in the third, 18 in the fourth and 13 in overtime – 55 points in the final 29 minutes, of which Mitchell played every second. Mitchell was 22-for-34 from the field, 7-for-15 on 3s and 20-for-25 from the free throw line. 
Dallas' Luka Doncic
60 points, 21 rebounds, 10 assists
The Mavs' star has a league-leading eight 40-point games and none more impressive than his 60-point triple-double in an overtime victory against New York. The 60 points and 21 rebounds were career highs, and it was the first 60-point, 20-rebound triple-double in NBA history. Is this the year Doncic wins the MVP award?
Philadelphia's Joel Embiid
59 points, 11 rebounds, eight assists, seven blocks
Embiid has posted monster numbers all season and is No. 2 behind Doncic and Antetokounmpo with seven 40-point games. The Sixers needed every bit of this performance in a 105-98 victory against Utah. He was 19-for-28 from the field and 20-for-24 from the foul line in the first of two 50-point efforts this season.
Phoenix's Devin Booker
58 points, six rebounds, five assists
Not many players in the league can score like Booker when he has it going offensively. One of five players with at least five 40-point games this season, Booker was efficient in the second of his 50-point performances, making 21 of 35 shots from the field, going 6-for-12 on 3-pointers and 10-for-15 from the foul line.
Los Angeles Lakers' Anthony Davis
55 points, 17 rebounds, three blocks
Davis didn't live at the line to get his double-nickel though he made all nine of his free throw attempts. Davis destroyed Washington with his low-post game, making 20 of 27 shots inside the 3-point line, including 32 points in the paint.
Milwaukee's Giannis Antetokounmpo
55 points, 10 rebounds, seven assists, two steals
If Antetokounmpo is going to make 15 of his 16 free throws, as he did in this victory against Washington, he's going to put up a big number. He dropped 55 without a made three, going 20-for-33 inside the arc, including 38 points in the paint. Dominant. He joined Doncic as the only players in the league with eight games of at least 40 points.   
Golden State's Klay Thompson
54 points, eight rebounds, three assists
Thompson needed two overtimes to reach 54 points but no matter, 54 in 46 minutes is still special. Thompson launched 39 shots, made 21 and hit 10-of-21 3-pointers. It remains a treat to watch Thompson sink shots.
Toronto's Pascal Siakam
52 points, nine rebounds, seven assists
The Raptors have their issues but at 26.5 points, 8.3 rebounds and 6.7 assists per game, Siakam is having another All-Star-caliber season.
Cleveland's Darius Garland
51 points, six assists, two steals
Mitchell isn't Cleveland's only prolific scorer. Garland has three 40-point games, including 51 in a loss to Minnesota. 
Golden State's Steph Curry
50 points, nine rebounds, six assists
Curry doesn't need an inordinate number of made 3s to get 50. He can score from anywhere – 20 points inside the arc, 21 points on 3s and nine from the free throw line. That's to go along with two other 40-point games this season.
Memphis' Ja Morant
49 points, eight assists, two blocks
Morant scored 49 points on just 26 shots. Efficiency is a common thread among these fantastic performances. Morant was 17-for-26 from the field, 5-for-6 on 3s and 10-for-13 from the line. Eight assists underscore how difficult he is to defend.
Boston's Jayson Tatum
49 points, 11 rebounds, three assists, two steals
It doesn't matter if Tatum wins MVP this season. He is one of the league's best players and he has displayed that this season. Just 24, Tatum averages 30.9 points this season with six games of 40 or more points.
Los Angeles Lakers' LeBron James
47 points, 10 rebounds, nine assists
C'mon now. On his 38th birthday, no less. James looks like he can play well into his 40s and still score 40.
Brooklyn's Kevin Durant
45 points, seven rebounds, five assists, two steals, two blocks
One of the game's greatest bucket-getters, Durant has scored 30 or more points in 17 games and is shooting a career-high 56.4% from the field. He should move into the top-10 all-time in scoring by season's end and be a top-five all-time scorer by the end of his career.
Denver's Nikola Jokic
40 points, 27 rebounds, 10 assists, two steals
With the first 35-25-10 triple-double since Chamberlain in 1968, according to the basketball-reference.com, it's no surprise Jokic is making a strong push for this third consecutive MVP.
Follow NBA reporter Jeff Zillgitt on Twitter @JeffZillgitt
This post appeared first on USA TODAY