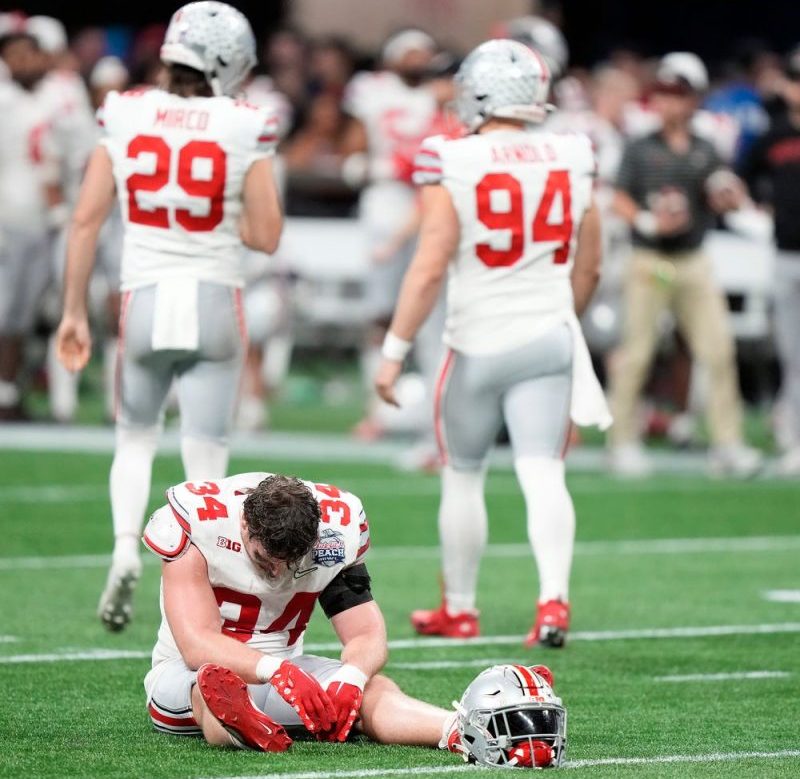 'Ohio State probably deserved to win this game': Buckeyes fall short
Ruggles earlier made a 48-yard field goal, but he missed what would have been game-winning kick and Ohio State fell to top-ranked Georgia 42-41 at Mercedes-Benz Stadium in a College Football Playoff semifinal at the Peach Bowl.
It was a crushing disappointment in a game that was similar to a loss to Clemson in the semifinals three years ago. Just as in that game, the game turned on several plays that went against the Buckeyes.
'I thought our team came out and swung and played hard in this game,' OSU coach Ryan Day said. 'We came up short. Came down to one play. It wasn't just the last play.
Follow every game: Latest NCAA College Football Scores and Schedules
'There were a lot of plays in the game you wish you had back as coaches and players. It's what happens in a game like this. I told the guys I'm proud of the way they played, I'm proud of the way they competed.'
The loss came despite a brilliant performance by Ohio State quarterback C.J. Stroud. In what is likely his last game as a Buckeye before heading to the NFL, Stroud threw for 348 yards and four touchdowns despite losing tight end Cade Stover (back injury) early and star receiver Marvin Harrison Jr. (concussion) in the third quarter.
'We lost Cade early in the game, which really sent us really in a tailspin in a couple groupings,' Day said. 'I thought that Xavier, Mitch (Rossi) and even Joe (Royer) stepping in, did a nice job. It's something we had to work through all season.
'To say that losing Marvin didn't have an impact on the game, it absolutely did. But what (Stroud) did and the way he competed in the second half, all those things coming at him, I can't say enough. I'm so proud of the way he played. … The way he attacked this game, I couldn't be any more prouder of how he did that.' 
Stroud even used his legs effectively. His 27-yard scramble to the Georgia 30 on Ohio State's final possession after the Bulldogs took the lead with 54 seconds left put OSU in field goal range. But the Buckeyes (11-2) couldn't get closer, and Ruggles' field goal wasn't close.
'I just tried to leave it all on the line,' Stroud said. 'Games like this, you're at a loss for words, coming down to one play. But honestly it doesn't come down to one play. It's so many things that line up. … I feel like I left my heart on that field.'
The Bulldogs (14-0) will try to repeat as national champion against TCU, which beat Michigan 51-45 in a wild Fiesta Bowl.
Ohio State led 38-24 late in the third quarter, but that lead could have been bigger, and possibly insurmountable.
The Buckeyes led 35-24 when Stroud heaved a third-down ball to the back of the end zone. As the ball arrived, Georgia's Javon Bullard appeared to hit Harrison with his helmet, jarring the ball free. Bullard was called for targeting, which would have given the Buckeyes first-and-goal and the possibility of taking a three-possession lead.
But the call was reversed on review and Ohio State settled for a field goal.
On Georgia's next possession, the Buckeyes appeared to have gotten a fourth-down stop when Lathan Ransom knocked tight end Brock Bowers out of bounds, but after replay review, Georgia was granted the first down.
The Buckeyes stiffened and forced Georgia to settle for a field goal.
Ohio State went three-and-out on its next possession and the Bulldogs wasted no time scoring after that. Ransom slipped, allowing Arian Smith to get behind him for an easy 76-yard touchdown reception. A two-point conversion made it 38-35.
Ohio State drove to the Georgia 18 on its next possession, but Stroud was sacked and Ruggles kicked a 48-yard field goal to make it 41-35 with 2:43 left.
That left it up to the Buckeyes' defense, which had tightened up after a dismal first half. But it couldn't stop the Bulldogs. Stetson Bennett drove the Bulldogs 72 yards in five plays, the final 10 when Adonai Mitchell got free from Denzel Burke in the right corner of the end zone.
'Ohio State probably deserved to win this game, but we didn't quit it,' said Georgia coach Kirby Smart
The Buckeyes led 28-24 at halftime.
The offensive fireworks in the first half started after each team had to punt on its first possession. Ohio State then went 71 yards in four plays with a 24-yard catch by Harrison starting the drive and a 31-yard catch ending it.
Georgia completed a 20-yard pass on third-and-10 to start its drive. The Bulldogs scored when Bennett threw a screen pass to running back Kenny McIntosh, who found a lane and ran for a 25-yard score.
Ohio State regained the lead on a 75-yard drive capped by a tough 2-yard run by Miyan Williams. The Buckeyes' defense then created one of the rare big defensive plays of the half when Steele Chambers intercepted a Bennett pass and returned it to the Georgia 30.
Stroud made it 21-7 when he avoided the Bulldogs' rush and found Harrison in the corner of the end zone for a 16-yard touchdown.
But Ohio State's defense got overpowered by land and air as Georgia scored twice to tie the game. A 47-yard completion set up Kendall Milton's 11-yard touchdown run, and McIntosh ran 52 yards, stopped only when he tripped on the turf, on Georgia's game-tying touchdown. At one point, Georgia was averaging 13.9 yards per run.
The Buckeyes finally stopped the bleeding when it held the Bulldogs to a 32-yard field goal that gave Georgia its first lead, 24-21, with 1:44 left before halftime.
Ohio State ended the scoring with a clutch drive on its final possession. Without any timeouts, Stroud completed four straight passes, the final one a 37-yarder to Xavier Johnson, who made a spin move to get into the end zone.
Georgia outgained Ohio State 313-248 in the first 30 minutes. The Buckeyes had only 10 rushing yards against a Georgia's top-ranked run defense.
But the defense settled in to start the second half, and the Buckeyes scored on their first drive of the third quarter on a 10-yard touchdown catch by Emeka Egbuka to take a 35-24 lead.
Then the drama really began.
This post appeared first on USA TODAY