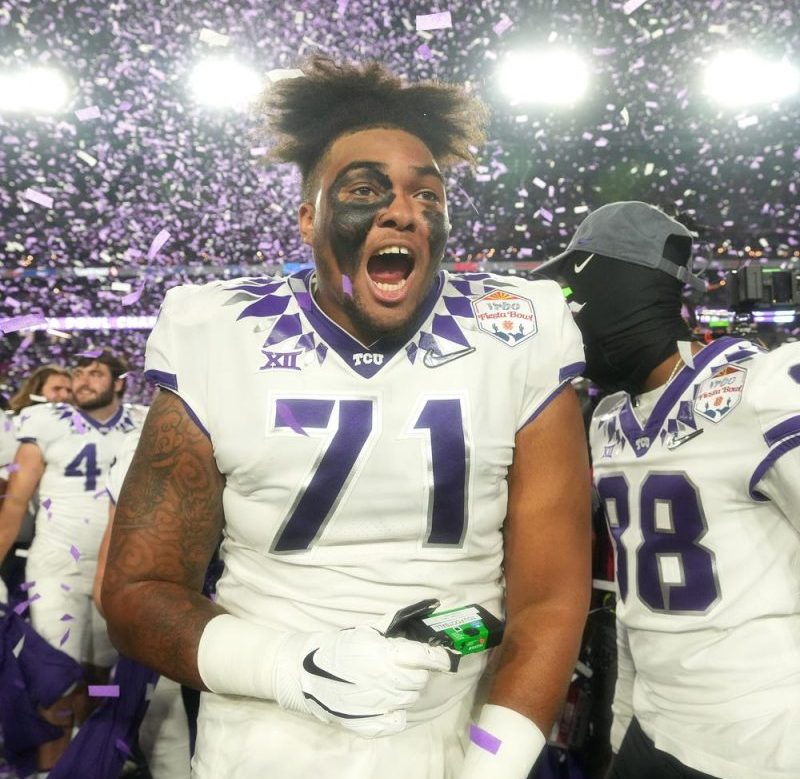 TCU again proves doubters wrong and is now one win from national title
GLENDALE, Ariz. — The question posed about TCU by Michigan linebacker Junior Colson at one of the midweek media availabilities leading into the Fiesta Bowl says it all: 'They're in the Big 12, right?'
Discounted all season, beginning with a projected seventh-place finish in the preseason conference poll, the disrespect reached a crescendo leading into the College Football Playoff semifinal — and the Horned Frogs were paying attention.
'For us, yeah, we definitely talked about it. We saw it,' said junior offensive lineman Marcus Williams.
'It was really disrespectful to us. We felt that we were in this game and everyone else counted us out, and for them to go on national television and say they didn't even know what conference we were in, that they were going to roll over us, basically, we took it as disrespect. And we decided we were just going to come out and play our game like we always do. We're going to do what we do regardless of what they talk about.'
Favored by more than a touchdown, the Wolverines came into the Fiesta Bowl overly confident in their chances of advancing into a national championship against the winner of the Peach Bowl between Georgia and Ohio State. Instead, they ended up on the wrong side of a 51-45 loss that was one of the biggest upsets in playoff history.
Follow every game: Latest NCAA College Football Scores and Schedules
But looking past TCU will give Michigan nightmares all offseason. The Wolverines were supposed to be the bigger, tougher, better team. Not quite. They were expected to dominate the line of scrimmage; they did anything but. TCU was supposed to be smothered by one of the nation's best defenses; the Horned Frogs put up 488 yards of offense overall on 6.9 yards per play, Michigan's worst performance on the season.
'Throughout this whole year, we've had teams even in our conference that said that we're better than them, we're going to roll,' said junior offensive lineman Brandon Coleman. 'What we've done good is just focus on ourselves. We know that if we play to the best of our abilities we can win any game that we play.'
Yes, TCU is in the Big 12, which had previously flopped in every playoff appearance. But don't let history fool you. By pushing back against the Wolverines' physical play and winning yet another shootout decided by a single possession, TCU will head into the national championship game with a statement-making win that belies the lack of faith in the Frogs' chances on this stage.
After decimating pregame predictions about how Michigan's toughness and physicality would be too much to overcome, the Frogs should be given the benefit of the doubt in any possible matchup for the national championship.
'We heard all week that they were going to out-physical us,' said senior linebacker Dee Winters. 'I think, like you said, it just gave us a little bit of motivation. So I think the guys handled it well during practicing and were very physical, and it showcased tonight.'
They were able to aggressively combat Michigan's style of play and force the Wolverines to abandon their preferred tempo in favor of a run-and-gun shootout. They harassed quarterback J.J. McCarthy into two crucial interceptions, one returned for a touchdown for the game's opening score in the first quarter and a second in the third quarter. Every time Michigan climbed back within a possession TCU had an answer.
One team ran for 263 yards on 6.4 yards per carry, and it wasn't Michigan. The Wolverines finished with 180 yards on 40 carries, with 54 yards coming on a long Donovan Edwards run on the game's first snap. From there, the Frogs held Michigan to just 3.2 yards per carry with 13 tackles for loss and four sacks. The Wolverines had three tackles for loss and just one sack.
In the end, every projected weakness leading into this matchup turned out to be off the mark.
'Look, I heard it. It frustrated me,' said coach Sonny Dykes. 'Again, I believe in our players. Look, I think we're a physical, tough-minded football team. It bothered me that we heard all week about how we were going to get lined up and run through and all that stuff. And I'm sure these guys were extra motivated.'
Maybe the Wolverines should've paid closer attention to an opponent that gutted out an unbeaten run until an overtime loss to Kansas State in the conference championship game. While Michigan was rolling through the Big Ten — no team had led the Wolverines by more than a touchdown before the first quarter against TCU — the Frogs were pulling out one narrow win after another, breathing an overwhelming sense of belief into a team that hadn't even reached the postseason since 2018.
In an environment pitting the very best teams in the Bowl Subdivision, there's something to be said for having a battle-tested mindset. 
'They had a business mentality when we got here to Phoenix and it carried over to the game,' Dykes said.
Even still, it's inevitable that TCU will hear more of the same heading into the championship game. Georgia is too powerful. The Bulldogs will control the line of scrimmage, wear down the Horned Frogs and pull away.
'We know we're going to hear it again. It's not going to stop now,' said Dykes. 'We're going to play again in 10 days, and we're going to hear the same crap for 10 days that we heard leading up to this ballgame. We got to do what we did this game. We've got to answer that criticism and show up and do what we're supposed to do. If we think that's going away, I think you guys all know that's not. That's just the way it is.'
But count out TCU at your own peril. The Horned Frogs will be prohibitive underdogs in the championship game. There will be the questions about how they'll match up, whether they'll be able to run the ball, whether this magical, out-of-nowhere run to the doorstep of the most unexpected national championship in decades will eventually land with a thud against the Bulldogs or Buckeyes.
Michigan will tell you something different. Having passed that test in the Fiesta Bowl, anything is possible with a championship on the line.
'We're a different team than that,' Williams said. 'They also put us in the bottom of the Big 12 in the beginning of the year. Now we're in the national championship. So for anyone else who has anything to say … it speaks for itself.'
This post appeared first on USA TODAY