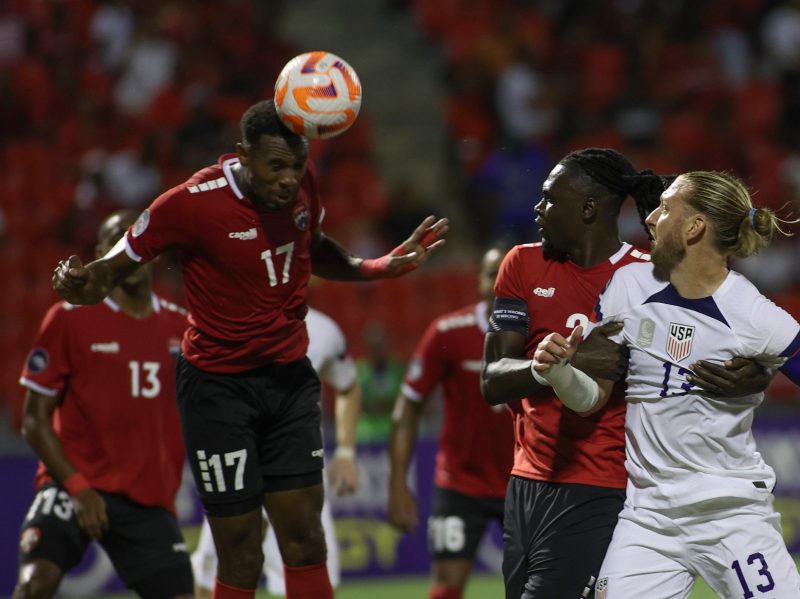 USMNT reaches Copa America despite ugly loss at Trinidad and Tobago
The U.S. men's national soccer team has reached the CONCACAF Nations League semifinal and the 2024 Copa América — but they probably won't be celebrating much on Monday night.
The USMNT fell 2-1 to Trinidad and Tobago in the quarterfinal second leg, as a boneheaded first-half red card by Sergiño Dest turned a straightforward evening into a nervy affair in Port of Spain.
"It is concerning because that's not what we represent, that's not who we are as a group," Berhalter said after the game about Dest's red card. "We pride ourselves in staying mentally disciplined, battling through any type of conditions. Whether they're good decisions or bad decisions, we're supposed to keep going and respond in an appropriate way, and that obviously wasn't the right response from Sergiño. He apologized to the group. He said it's not going to happen again. As a team, the players, the staff, we need to hold him accountable.
'We were very firm with our words after the game. He put a number of guys in jeopardy, made a number of guys do a lot of extra work in this weather."
But despite conceding twice after Dest's red card, the 10-man visitors held on for a 4-2 aggregate win after Thursday night's 3-0 victory in the first leg.
It seemed that it would be a pretty uneventful evening for the USMNT after Antonee Robinson's 25th-minute header gave his side a four-goal lead on aggregate. But things turned rather quickly just over 10 minutes later when Dest quite simply melted down.
Triggered by a throw-in call that didn't go his way, Dest got back-to-back yellow cards by first drop-kicking the ball into orbit and then, despite the pleas of his teammates, getting a second yellow after continuing to berate referee Walter López.
Down to 10 men, the USMNT was unable to regain control of the match, as the home side quickly found a goal through Reon Moore to level the game before halftime.
The U.S. was still all over the shop to begin the second half, and Alvin Jones seemed to give the home side a real shot at pulling off a miracle when his 57th-minute free kick from range went through the hands of Matt Turner to make it 2-1.
At that point, anything seemed possible despite T&T still needing three more goals. The U.S. had no control of the game and the home side was full of confidence, boosted by an increasingly boisterous crowd and a man advantage.
But the USMNT did eventually manage to regain a foothold, and saw out a relatively uneventful final 20 minutes to progress to the Nations League Finals.
Just like the last time the U.S. went to Trinidad and Tobago, the home side emerged with a 2-1 win. Despite a similarly dismal performance to the infamous 2017 game in Couva, this time the USMNT at least achieved its overall aim.
This post appeared first on USA TODAY