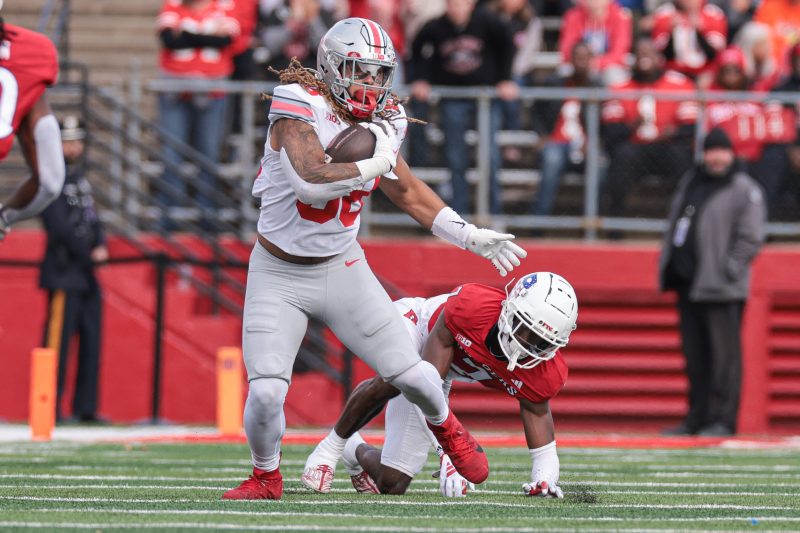 Ohio State jumps Michigan in the US LBM Coaches Poll
There weren't many actual upsets in college football over the weekend. But a few performances on the field caused some slight ballot adjustments by the voters in the US LBM Coaches Poll after Week 12. As a result, the top five looks a bit different.
Georgia strengthened its hold on the No. 1 ranking it has held all season. The Bulldogs were voted first on all but two of the 63 ballots submitted this week after a decisive win at Tennessee. Ohio State nudges ahead of Michigan by two poll points for the No. 2 position, with both the Buckeyes and Wolverines claiming a single first-place vote. Michigan survived its first close game of the year at Maryland, while Ohio State dominated Minnesota from start to finish. The matter will be settled on the field next week, of course, but naturally fans of both teams will not be shy about sharing their opinions on this vote.
Florida State retains the No. 4 spot, but No. 5 Washington closed the gap to just eight points after a tough road win at Oregon State. The Beavers, who fall just five places to No. 15, have another opportunity to shake up the rankings next week as they visit No. 6 Oregon.
TOP 25: Complete US LBM Coaches Poll after Week 12
UP AND DOWN: Winners and losers from Week12 in college football
Texas, Alabama and Louisville also hold steady in positions seven through nine, and Missouri climbs a spot to round out the top 10. Before this week, the Tigers were last in the top 10 in the final poll of the 2013 season.
Arizona is the biggest mover of the week, vaulting six places to No. 16 after another strong showing against Utah. Tennessee stays in the poll at No. 23 despite its fourth loss of the season and second in a row.
Unbeaten Liberty moves into the rankings for the first time this season at No. 22. No. 24 North Carolina State and No. 25 SMU also enter.
Utah, North Carolina and James Madison drop out.
This post appeared first on USA TODAY