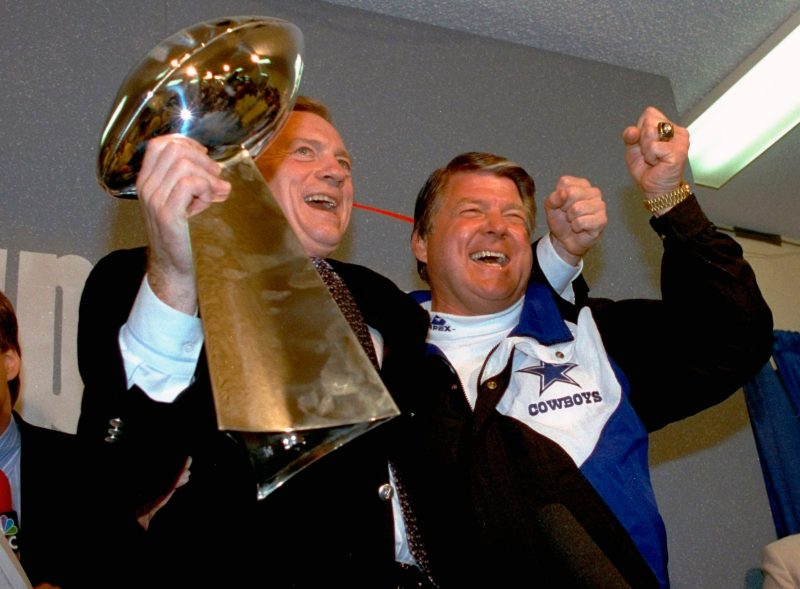 Cowboys legend to receive long-awaited honor after owner relents
Jerry Jones finally relented in his long-running standoff with Jimmy Johnson.
Jones, the longtime Dallas Cowboys owner, announced Johnson, the franchise's former head coach, will enter the franchise's Ring of Honor next month. He revealed the move during the NFL on Fox pregame show before the Cowboys' game Sunday against the Carolina Panthers.
Jones, 81, and Johnson, 80, shared a laugh during the announcement with Jones saying Johnson would be inducted on "Dec. 30, 1923" – instead of 2023.
The Cowboys host the Detroit Lions on Dec. 30.
"You're going in the Dallas Cowboys Ring of Honor," Jones told Johnson during the broadcast.
NFL STATS CENTRAL: The latest NFL scores, schedules, odds, stats and more.
It has been 20 years since Johnson led the Cowboys to back-to-back Super Bowl titles. Despite Johnson being inducted into the Pro Football Hall of Fame in 2021, the coach had to endure a prolonged wait to be acknowledged by Jones.
After Johnson led the team to another title in the 1993 season, the coach and Jones mutually decided to part ways.
In a 1994 league meeting in Orlando, Jones said: "There were 500 coaches who could've won the Super Bowl with that team.'
"He apologized the next day, but that cut pretty deep. It was a long, long, long time ago, and there's water under the bridge."
Under Barry Switzer, Johnson's replacement, the Cowboys went on to win the Super Bowl in the 1995 season. The franchise has not reached the NFC championship game since then.
Prior to Johnson's induction in to the Pro Football Hall of Fame, Jones acknowledged that the coach would one day be inducted into the team's Ring of Honor. He did not, however, set a date.
'While I'm alive?' Johnson said with a laugh after Jones' announcement.
Former Cowboys quarterback Troy Aikman said in a September interview he was disappointed Johnson had yet to be inducted.
"I wouldn't be in the Pro Football Hall of Fame, nor would Emmitt or Michael or Charles Haley, or anyone else, if it weren't for what Jimmy meant to those teams," Aikman said.
"I just thought it was the Dallas Cowboys Ring of Honor. He's made it the Jerry Jones Ring of Honor," Aikman added.
Johnson was the Cowboys' first coach after Jones bought the team in 1989. He won two Super Bowls in his five seasons and finished with a 44-36 record and a 7-1 postseason mark.
This post appeared first on USA TODAY