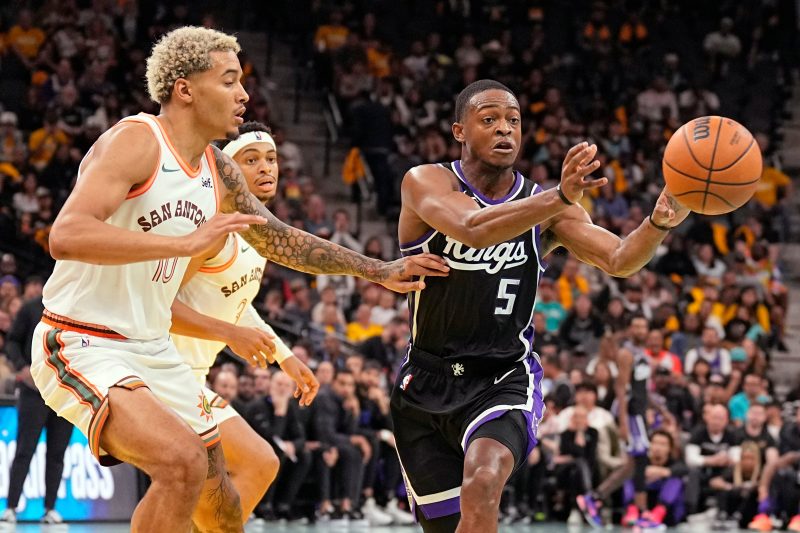 NBA power rankings: Western team rolling with six straight wins
Last season didn't end the way the Sacramento Kings envisioned.
With the No. 3 seed, they lost to the sixth-seeded Golden State Warriors in a competitive and entertaining first-round Western Conference playoff series.
It was the Kings' first playoff appearance since 2006, and while the loss was a disappointing end to an impressive 48-34 season after going 30-52 in 2021-22, it revealed the potential the Kings have under Coach Mike Brown and All-NBA center Domantas Sabonis and guard De'Aaron Fox.
After a 2-4 start that coincided with Fox missing two weeks (ankle injury), the Kings have won six consecutive games, moved up in the West standings and in this week's edition of the USA TODAY Sports NBA power rankings.
The Kings have six players in double-figures in points, led by Fox's 31.9 per game and Sabonis' 20.8. Fox also averages 6.1 assists and 4.6 rebounds, and Sabonis averages 12.9 rebounds and 7.2 assists. And both are shooting at least 50% from the field.
STAY UP-TO-DATE: Subscribe to our Sports newsletter for exclusive content
Are the Kings now ready for their first playoff series win since 2004 and their first conference finals appearance since 2002?
Here are this week's USA TODAY Sports' NBA power rankings:
1. Boston Celtics (11-2)
The Celtics, winners of six consecutive games, have the league's best record, No. 4 offense, No. 1 defense, No. 1 net rating and the best starting five.
Last week: 3
2. Philadelphia 76ers (10-3)
Players need to perform, but don't discount new Sixers coach Nick Nurse's style and influence on the team and their start – No. 3 offensively.
Last week: 1
3. Minnesota Timberwolves (9-3)
Last week, Karl-Anthony Towns averaged 29 points, 8.0 rebounds and 4.3 assists and shot 59.3% from the field, 38.9% on 3-pointers and 94.1% on free throws.
Last week: 5
4. Oklahoma City Thunder (10-4)
Chet Holmgren is an early 50-50-90 guy, averaging 17 points, 7.8 rebounds, 2.6 assists and 2.1 blocks and shooting 56.5% from the field, 46% on 3-pointers and 90.7% from the free throw line. He's making sure Rookie of the Year isn't a one-man race for Victor Wembanyama.
Last week: 13
5. Milwaukee Bucks (9-4)
Everything is a small sample size at this time of the season, but there are signs the Bucks, who have won four consecutive games, can be a solid defensive team under first-year coach Adrian Griffin – with Brook Lopez as a rim protector.
Last week: 14
6. Denver Nuggets (9-4)
Developing Christian Braun as an invaluable sixth man and building depth are focuses for a team that appears headed for another deep playoff run behind star Nikola Jokic.
Last week: 2
7. Sacramento Kings (8-4)
In his three games since returning from an ankle injury, De'Aaron Fox has scored 28, 28 and 43 points on 53% shooting from the field and 38.5% on 3-pointers.
Last week: 15
8. Dallas Mavericks (9-5)
Offense won't be a problem with Luka Doncic, Kyrie Irving and a strong supporting case, but they are No. 26 defensively and have allowed at least 120 points in eight games.
Last week: 4
9. New York Knicks (8-5)
Last week: 8
10. Orlando Magic (8-5)
The league's No. 1 defense just shut down the league's top offense, holding Indiana to 25.8% on 3-pointers in a 128-116 Magic victory Sunday in which the Pacers scored just 44 points in the first half.
Last week: 9
11. Indiana Pacers (7-5)
The Pacers are No. 4 in 3s made per game (14.9) and No. 9 in 3-point percentage (.378), and Tyrese Haliburton is one of the best players in the league right now.
Last week: 7
12. Miami Heat (8-5)
Last week: 12
13. Phoenix Suns (7-6)
Still waiting for a game where Devin Booker, Kevin Durant and Bradley Beal play in the same game, and that's going to be at least a few more weeks while Beal tries to get his injured back healthy.
Last week: 17
14. Los Angeles Lakers (8-6)
The Lakers have won five of their past six games, and in a 3-1 week, LeBron James averaged 29 points, 8.8 assists, 7.5 rebounds and shot 62.7% from the field and 48.1% on 3-pointers with 35 and 37 points in his past two games.
Last week: 16
15. Houston Rockets (6-5)
Get familiar with Alperen Sengun, 21, and his game: 20.1 points, 8.4 rebounds and 5.7 assists per game and shooting 59.1% from the field.
Last week: 6
16. Cleveland Cavaliers (7-6)
Offense isn't easy for the Cavaliers who in the bottom third of the league in offensive rating, 3-pointers made per game and 3-point shooting percentage.
Last week: 18
17. Atlanta Hawks (6-6)
Last week: 11
18. Brooklyn Nets (6-7)
Off the bench, Lonnie Walker IV averages 16.6 points, shoots 51% from the field and 45.6% on 3s and has four 20-point games.
Last week: 19
19. Golden State Warriors (6-8)
The Warriors have lost six consecutive games, are without suspended Draymond Green for three more contests but at least Steph Curry is back after missing two games with right knee soreness.
Last week: 10
20. New Orleans Pelicans (6-7)
Victories over Dallas and Denver and a one-point loss to Minnesota were part of a productive week, supported by strong offensive performances from Brandon Ingram, Zion Williamson, Jonas Valanciunas and rookie Jordan Hawkins.
Last week: 22
21. Los Angeles Clippers (4-7)
The Clippers finally got a win with James Harden in lineup (106-100 vs. Houston) and have a chance to add to the win column with consecutive games against the Spurs this week.
Last week: 21
22. Toronto Raptors (6-7)
The Raptors are No. 2 in fastbreak points, No. 6 in points in the paint and No 4 in assists per game.
Last week: 20
23. Chicago Bulls (5-9)
The early-season losses have made opposing executives see if the Bulls are considering trading some of their key players.
Last week: 23
24. Utah Jazz (4-9)
Looking for bright spots on a struggling defensive team (No. 28), Lauri Markkanen leads a decent offense at 24.8 points per game on 48.7% shooting from the field and 40% shooting on 3s.
Last week: 28
25. Portland Trail Blazers (3-10)
Injuries to Anfernee Simons (out another 2-4 weeks after right thumb surgery) and rookie Scoot Henderson (sprained right ankle, bone bruise) keep Portland from growing.
Last week: 24
26. Memphis Grizzlies (3-10)
A win over San Antonio was mitigated by losses to the Lakers and Celtics and Marcus Smart's injury (sprained left too) which will sideline him for about a month.
Last week: 29
27. Charlotte Hornets (3-9)
The Hornets were winless in the week, have lost four in a row and can't stop an opponent from scoring with the league's worst defensive rating, allowing 121.4 points per 100 possessions.
Last week: 25
28. Washington Wizards (2-10)
The Wizards have the makings of a long-term contributor and maybe even an All-Star in French rookie Bilal Coulibaly.
Last week: 27
29. San Antonio Spurs (3-10)
The future is bright with Victor Wembanyama – it's just a long way from today with the Spurs struggles offensively (No. 29) and defensively (No. 29).
Last week: 30
30. Detroit Pistons (2-12)
The Pistons have lost 11 consecutive games.
Last week: 26
This post appeared first on USA TODAY