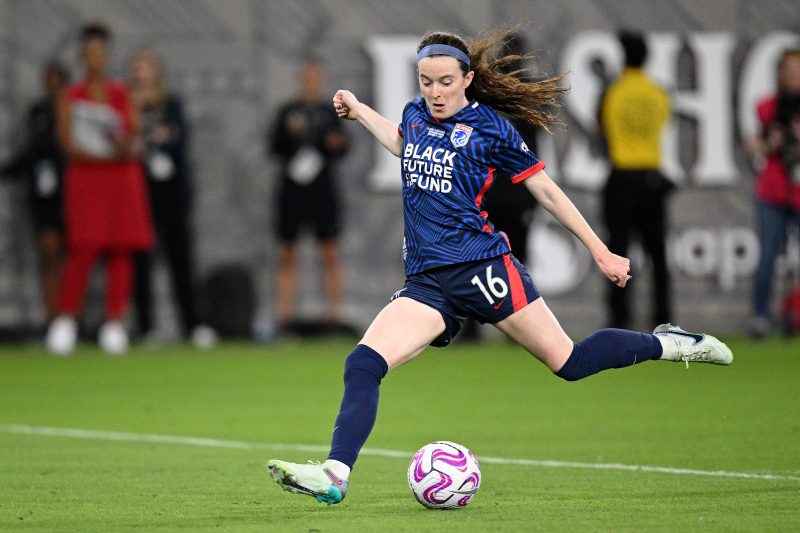 Big stars left off USWNT roster that focuses on future
It's not hard to imagine the future of the U.S. women's team.
All you have to do is check out the roster for the December camp.
No Alex Morgan or Alyssa Naeher on the roster announced Monday for two games against China. No Becky Sauerbrunn, Crystal Dunn or Kelley O'Hara, either. The team is firmly in the hands of the next generation, led by Lindsey Horan, Rose Lavelle, Sophia Smith, Trinity Rodman and Naomi Girma, with first looks at NWSL Rookie of the Year Jenna Nighswonger and Korbin Albert, a 20-year-old who left college after two years to sign with Paris Saint-Germain.
Of the 26 players on the roster, 11 have fewer than five caps. There are only 11 with 25 or more caps with the USWNT, though one of those, Abby Dahlkemper, hasn't played for the U.S. since April 2022 because of a back injury.
Now, this doesn't mean new coach Emma Hayes has decided to turn the page on the veteran stars. (She's not even in place yet, though interim coach Twila Kilgore said she and Hayes collaborated on the roster.) But one thing became abundantly clear during the World Cup debacle, and that was that the expiration date for the Golden Generation — World Cup titles in 2015 and 2019, and Olympic gold in 2012 — was nearing, and no matter how many youngsters former coach Vlatko Andonovski brought in, it wasn't enough.
The USWNT needs to expand its player pool, both for next summer's Paris Olympics and beyond. With a limited number of roster spots at every camp, something had to give.
'I'm very confident both Emma and I know what the players that are not called into camp are capable of doing and what their value is. We simply wanted to use this roster to get more players in, to look at them and get some evaluations in a quicker period of time,' Kilgore said.
'It's a great opportunity for each of them to show us why they are here. That they want to win. That they're going to be brave. That they're going to be creative. That they're going to be themselves. That they can take on information quickly and apply it in a game, which is really important at the international level,' Kilgore added. 'And that they want to be here for the long term.'
Kilgore had already begun doing this in camps earlier this fall. Teenagers Jaedyn Shaw and Olivia Moultrie got their first call-ups, as did Chelsea's Mia Fishel. The idea was to introduce them to the USWNT environment in low-pressure situations, Kilgore said, but also to do it in time for the new coach to have as much intel as possible on the player pool.
Again, this doesn't mean Hayes is going to field a roster of young 20-somethings in Paris, and Kilgore said several times the veterans on this roster remain very much in the mix. Naeher is still one of the best keepers in the international game and, even at 38, Sauerbrunn is as good a center back as there is.
But Morgan, who will be 35 in Paris, has struggled to find the net lately. She has scored just three goals since she converted the penalty that lifted the USWNT to the Concacaf W Championship over Canada in July 2022, qualifying the Americans both for the World Cup and Olympics.
She could still regain the form that made her one of the world's most dangerous players for the better part of a decade. It wasn't even a year ago she finished second to Spain's Alexia Putellas in voting for FIFA's Best Women's Player. Or maybe she's better suited to a substitute role now, as Carli Lloyd and Abby Wambach eventually were.
'Each and every one of them are professionals and they responded as professionals,' Kilgore said about her conversations with the veterans not on the roster. 'They understand we're watching everything they do, everything matters, that they're not out of the mix and there's equal opportunity moving forward to make this roster.'
The trickiest balance in sports is getting the most out of top players for as long as possible but recognizing when it's time to move on. Or time for them to have different roles. Making the calculation even harder is when players are beloved or have made such significant impacts, as the USWNT veterans have.
But that's why Hayes is going to be the highest-paid coach in the women's game. To make tough decisions like these, whether it's before Paris or after. To do so, she's going to need all the information she can get, on both the current players and their eventual replacements.
Hayes has managed at Chelsea for more than a decade, but she got her start in coaching in the United States and still keeps close tabs on the USWNT. During the interview process, U.S. Soccer sporting director Matt Crocker said it was clear she was well-versed in the team, both its current players as well as the wider talent pool.
But Hayes will not take over the USWNT until after Chelsea's season ends in late May, giving her just two camps with the U.S. women before Paris.
'It's not ideal Emma can't start with us right away,' Crocker acknowledged. 'But from my perspective, what was important is that we've got the best candidate for the long term rather than the wrong candidate for the short term.'
It makes it even more important, too, that younger players get evaluated in the national team setting now so Hayes knows exactly what she'll have to work with when she takes over. Kilgore said she and Hayes are talking often, and their decisions are collaborative.
Kilgore also plans to spend time in London over the next six months to work with Hayes. Crocker said he's 'hopeful' Hayes can be at USWNT camp next week, to meet the players if nothing else, but is trying to be respectful of her schedule and her job with Chelsea.
'What we've got in both Twila and Emma is two outstanding, collaborative leaders who I know can work together (so) we can start to implement some of those changes both on the pitch and off the pitch that we want to see the team to become in the future,' Crocker said. 'It will be an evolving process that starts now, and you can see that from the roster that's been picked.'
At some point, generational turnover will occur. This is a glimpse at what the USWNT might look like after it happens.
Here's the full USWNT roster for December camp
GOALKEEPERS: Jane Campbell (Houston Dash), Aubrey Kingsbury (Washington Spirit), Casey Murphy (North Carolina Courage)
DEFENDERS: Alana Cook (OL Reign), Abby Dahlkemper (San Diego Wave FC), Tierna Davidson (Chicago Red Stars), Emily Fox (North Carolina Courage), Naomi Girma (San Diego Wave FC), Casey Krueger (Chicago Red Stars), M.A. Vignola (Angel City FC)
MIDFIELDERS: Korbin Albert (Paris Saint-Germain), Sam Coffey (Portland Thorns FC), Savannah DeMelo (Racing Louisville FC), Lindsey Horan (Olympique Lyon), Rose Lavelle (OL Reign), Olivia Moultrie (Portland Thorns FC), Jenna Nighswonger (NJ/NY Gotham FC), Emily Sonnett (OL Reign)
FORWARDS: Mia Fishel (Chelsea FC, ENG), Ashley Hatch (Washington Spirit), Midge Purce (NJ/NY Gotham FC), Trinity Rodman (Washington Spirit), Jaedyn Shaw (San Diego Wave FC), Sophia Smith (Portland Thorns FC), Alyssa Thompson (Angel City FC), Lynn Williams (NJ/NY Gotham FC)
Follow USA TODAY Sports columnist Nancy Armour on social media @nrarmour.
This post appeared first on USA TODAY