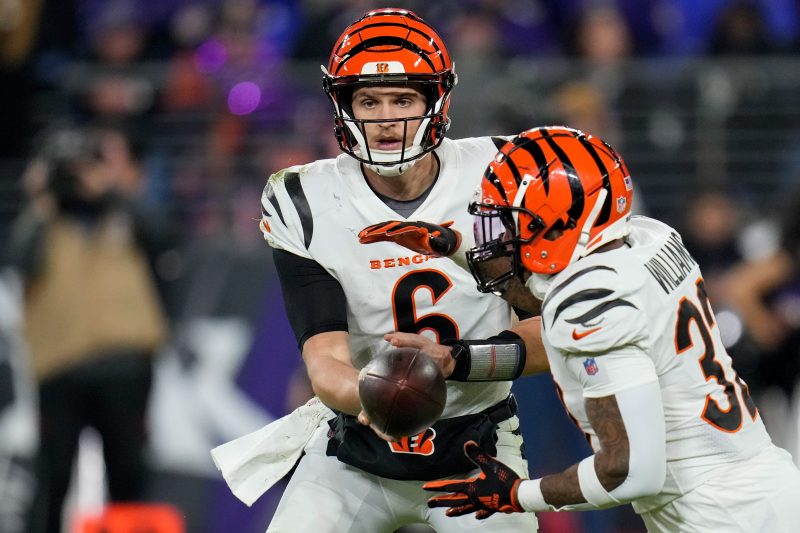 Who is Bengals QB Jake Browning? Meet Burrow's backup in Cincinnati
The Cincinnati Bengals are putting the ball in the hands of J.B. – backup quarterback Jake Browning – after starting quarterback Joe Burrow suffered a season-ending torn ligament in his right wrist.
Burrow injured the wrist on his throwing hand during the second quarter of the Bengals' 34-20 loss to the Baltimore Ravens on 'Thursday Night Football.' Burrow connected with running back Joe Mixon for a four-yard touchdown pass, but Burrow clutched his wrist after the throw and looked visibly frustrated on the sidelines before heading back to the locker room.
Browning replaced Burrow under center and completed 8-of-14 passes for 68 yards and one touchdown. His short two-yard pass to Bengals wide receiver Ja'Marr Chase in the end zone was Browning's first career NFL touchdown.
Here is everything you need to know about Browning:
NFL STATS CENTRAL: The latest NFL scores, schedules, odds, stats and more.
Who is Jake Browning?
Jake Browning was born April 11, 1996 and is currently 27 years old. Browning attended Folsom High School in Folsom, California, and went on to play quarterback at the University of Washington from 2015–2018. Browning is currently the Huskies' all-time passing leader (12,296 yards).
Has Jake Browning played in the NFL?
Browning doesn't have much NFL experience prior to taking over for Burrow.
Browning signed with the Minnesota Vikings as an undrafted free agent in 2019 and spent two seasons with the franchise, mostly on the practice squad. Browning was waived by the Vikings in August 2021 and signed with the Bengals practice squad days later. Browning beat out Trevor Siemian for the Bengals backup job in training camp this season.
He took his first regular-season snap during the final minutes of the Bengals' Week 1 blowout loss to the Cleveland Browns, where Browning went 0-1 in passing attempts. Browning came in relief for Burrow in the Bengals' 34-20 loss to the Ravens on 'Thursday Night Football' in Week 11.
The Bengals' matchup against the Pittsburgh Steelers on Sunday, Nov. 26 will mark Browning's first career NFL start.
Joe Burrow out for season
Bengals coach Zac Taylor told reporters Friday that Burrow suffered a season-ending torn ligament in his right wrist during Cincinnati's loss on Thursday night. The injury to his throwing hand will keep him out the rest of the season.
"He had an acute injury (Thursday)," Taylor said. "He tore a ligament in his wrist that will likely require surgery and require him to be out for the rest of the season. We're still gathering more information on that, but that seems to be where it's headed right now."
Burrow injured his right wrist in the second quarter. He checked out of the game after a short touchdown throw to running back Joe Mixon with 5:49 remaining in the second period and didn't return. Burrow clutched his wrist following the TD throw and was seen grimacing on the sideline trying to grip and throw a football before he headed to the locker room. — Tyler Dragon
What did Joe Burrow say about Jake Browning?
In his press conference announcing his injury, Joe Burrow said he has full confidence Browning will lead the 5-5 Bengals to the postseason: 'They are going to keep fighting, get wins, make the playoffs.'
'Jake is going to play great,' Burrow said. 'Jake played really well yesterday when he got his chance and that was off of no practice, so he's going to get better and better. I'm excited to watch him too.'
Burrow continued: 'We watched the tape together. Just trying to give him any insight on things I've experienced… give him as much or as little as he wants. He's going to do a great job. We are very similar people and that's why I'm such good friends with him. He's very even-keeled. No moment is too big for him. He went on 'Thursday Night Football' on a short week with no practice and played well.'
Bengals quarterback depth chart: Who's up next?
Burrow, who signed a five-year, $275 million contract extension in September to become the NFL's highest-paid player, is the Bengals starting quarterback, followed by backup Browning. Then, it's AJ McCarron up next on the quarterback depth chart.
Cincinnati signed McCarron, the Bengals' original fifth-round draft pick in 2014, to the practice squad in September. McCarron last played in the NFL in 2020 during a stint with the Houston Texans and has not thrown an NFL pass since the beginning of the 2020 season. He did, however, start for the XFL's St. Louis Battlehawks earlier this year and led the league with 24 TD passes.
This post appeared first on USA TODAY