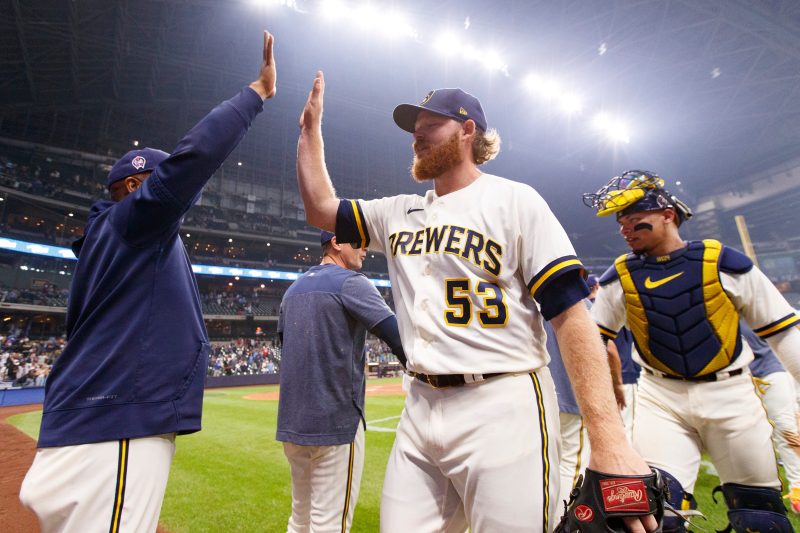 NL Central champs nontender two-time All-Star pitcher
The news came as no surprise.
But it was tough to digest nonetheless.
Unable to find a trade partner, the Milwaukee Brewers instead had their hand forced Friday and non-tendered right-hander Brandon Woodruff, one of the best pitchers and most engaging individuals in franchise history.
The decision came as a result of the shoulder surgery Woodruff underwent on Oct. 13, a procedure that could sideline the 30-year-old for the entirety of the 2024 season.
Woodruff would have been due a salary north of $12 million and become a free agent heading into 2025 – an untenable scenario for a Brewers team that might well be heading toward a rebuild.
HOT STOVE UPDATES: MLB free agency: Ranking and tracking the top players available.
'Today we had to make a very difficult decision relating to one of the best pitchers and human beings in franchise history,' general manager Matt Arnold said. 'Throughout his 10 seasons in the organization, Brandon Woodruff has represented the Brewers with class, kindness, heart and toughness.
'He is recognized as a tremendous teammate, both on the field and in the community, where he and his wife, Jonie, have positively impacted so many lives around them.
'We remain very open to his return to Milwaukee, and regardless of what uniform he wears next, Woody will always be a member of the Brewers family.'
The Brewers did tender contracts to nine players – shortstop Willy Adames, first baseman-outfielder Jake Bauers (acquired in a trade earlier Friday), outfielder Tyrone Taylor, right-handers Corbin Burnes, Adrian Houser, Joel Payamps, Devin Williams and Bryse Wilson and left-hander Hoby Milner.
In addition to Woodruff, Milwaukee also non-tendered first baseman Rowdy Tellez and right-hander J.C. Mejía.
Non-tender of Brandon Woodruff ends pitcher's nearly 10-year run with Brewers organization
But the big news is the departure of Woodruff, who was one of the longest-tenured players in the organization having been drafted out of Mississippi State in the 11th round in 2014.
He went on to become one of the Brewers' best starting pitchers, twice being named an all-star while also authoring one of the team's biggest moments when he homered off Clayton Kershaw to help spark a victory over the Los Angeles Dodgers in Game 1 of the 2018 National League Championship Series.
Woodruff's best two seasons came in 2021 and 2022 before he was bitten by the injury bug and forced to miss most of this past season – first with a subscapular strain that limited him to just two starts until August and then with an anterior capsule tear that forced him out of his scheduled Game 2 start in the NL wild-card playoff series.
In 11 starts in 2023, Woodruff went 5-1 with a 2.28 earned run average, WHIP of 0.82 and 74 strikeouts over 67 innings.
His complete-game shutout of the Miami Marlins on Sept. 11 at American Family Field was one of the Brewers' two best pitching performances of the season along with the eight no-hit innings spun by Burnes against the New York Yankees one day earlier.
Woodruff's final appearance for the Brewers came in Miami on Sept. 23, when he exited after five ineffective innings in which his fastball velocity had dipped noticeably.
Brandon Woodruff said this offseason: 'I would love to stay in Milwaukee'
He went 46-26 with a 3.10 ERA and WHIP of 1.05 in 130 career appearances (115 starts) and struck out 788 in 680⅓ innings with the Brewers.
Barring any future reunions, it's a tough way to split up for both player and team.
'Let's make this clear – I love Milwaukee and the organization, all the people in the organization from top to bottom,' Woodruff told the Milwaukee Journal Sentinel, part of the USA TODAY Network, on Oct. 31. 'Look, I would love to stay in Milwaukee. I realize I'm in a unique situation. I would love for it to work out. But I also realize I'm in a weird position. Because I'm due another raise and it's a lot of money and teams aren't going to necessarily want to pay one year not to pitch, right?
'So, the obvious thing is you either work something out longer term, or I could potentially be a free agent. That's kind of plain, cut-and-dried. That's where I'm at. But my hope is that I will be in Milwaukee – and not just for a couple years, but for a long, long period of time.'
Neither the departures of Tellez nor Mejía – who was twice suspended for PED use while with the Brewers – were surprising.
The same could be said for Milwaukee's tenders, although whether Adames, Burnes and perhaps Williams remain with the Brewers could be up for discussion this winter depending on whether they decide to go into a full-scale rebuild under new manager Pat Murphy.
This post appeared first on USA TODAY