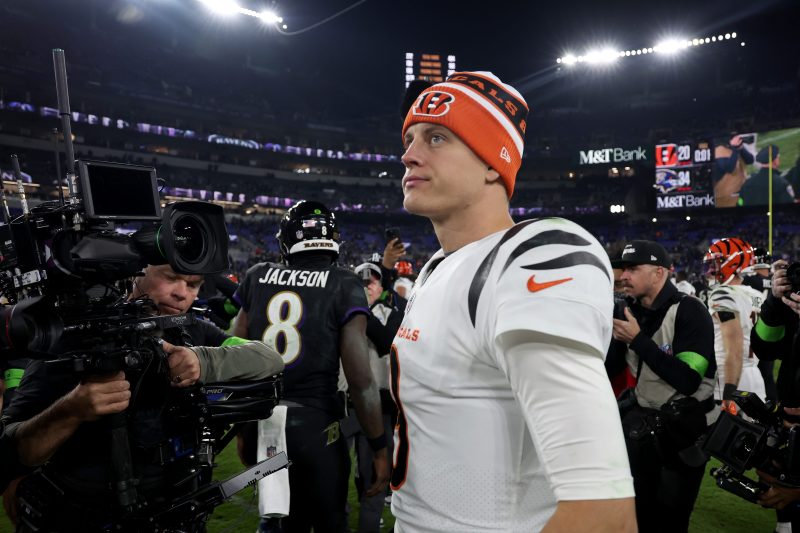 Bengals QB Joe Burrow out for season with wrist injury
Cincinnati Bengals quarterback Joe Burrow is out for the season.
Bengals coach Zac Taylor told reporters Friday that Burrow suffered a season-ending torn ligament in his right wrist during Cincinnati's 34-20 loss to the Baltimore Ravens on Thursday night. The injury is to his throwing hand.
"He had an acute injury (Thursday)," Taylor said. "He tore a ligament in his wrist that will likely require surgery and require him to be out for the rest of the season. We're still gathering more information on that, but that seems to be where it's headed right now."
Burrow injured his right wrist in the second quarter when he landed on it following a hit. He checked out of the game after a short touchdown throw to running back Joe Mixon with 5:49 remaining in the second period and didn't return. Burrow clutched his wrist following the TD throw and was seen grimacing on the sideline trying to grip and throw a football before he headed to the locker room.
'I landed on the wrist a little bit,' Burrow said of the sequence of events. 'The next play, the touchdown pass I felt a pop in the middle of the throw.'
NFL STATS CENTRAL: The latest NFL scores, schedules, odds, stats and more.
Who will replace Joe Burrow at quarterback?
Jake Browning replaced Burrow at quarterback on Thursday, and the Bengals likely will rely on Browning for the rest of the season. Cincinnati also might elevate AJ McCarron from the practice squad.
"Sure, this is adversity. It's not foreign to our team over the last several years and even this year. It's exciting to see guys rally around each other and rally around Jake (Browning) playing quarterback," Taylor said. "I'm excited to see this team respond. I feel energy. Obviously, it's tough to see your starting quarterback as good as Joe Burrow go down. That's tough."
Joe Burrow's injury history
Injuries have plagued Burrow this season. He sustained a calf injury during training camp and was hampered by the injury to start the season. He appeared to be getting healthier during Cincinnati's recent four-game winning streak, which included victories over the San Francisco 49ers and Buffalo Bills, but now he's dealing with an injury to his right wrist that will sideline him for the rest of the season.
This is the second time an injury has cut Burrow's season short. He sustained a season-ending knee injury as a rookie in Week 11 of the 2020 season. 
"It's tough. You work so hard for seasons and moments like these. Whenever you get hurt and it ends it early, it's tough to handle. But that's part of the game," Burrow said Friday. "I've been through it before. Just got to grind it out."
Follow USA TODAY Sports' Tyler Dragon on X @TheTylerDragon.
This post appeared first on USA TODAY