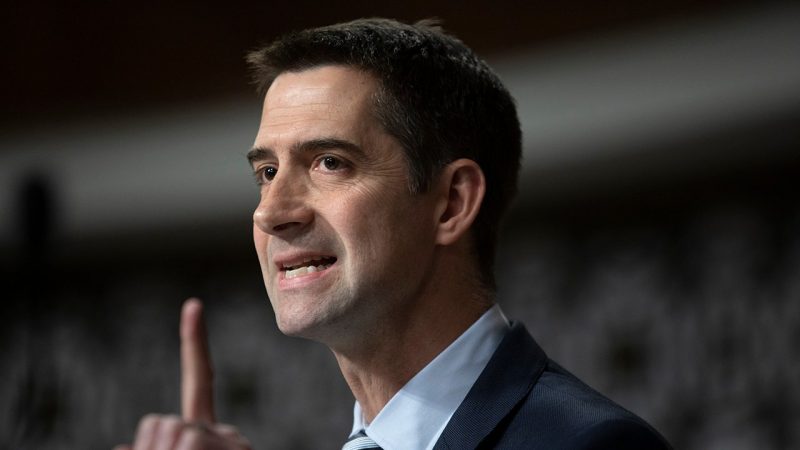 GOP senator slams Biden admin relationship with China: 'love-struck teenagers'
Sen. Tom Cotton, R-Ark., slammed the Biden administration for its relationship with China, expressing concern over the possibility of lifting tariffs on Chinese imports imposed by the Trump administration. 
'Biden administration officials should stop chasing after their Chinese communist counterparts like love-struck teenagers. It's embarrassing and it's pathetic,' Cotton said during an appearance on 'Fox News Sunday.' 'In fact, it projects weakness to China.'
Cotton's remarks came less than 24 hours after a Chinese warship come within nearly 150 yards of a U.S. destroyer in the Taiwan Strait late Saturday. The U.S. Indo-Pacific Command confirmed the incident took place as the USS Chung-Hoon was conducting joint exercises with Canada.
'It encourages them to do things like buzz our aircraft or come within a few hundred yards of our ships, encourages them to send spy balloons floating all across America,' Cotton said. 
The tariffs were put in place by former President Donald Trump in 2018 and 2019. They came in response to an investigation that found China was violating U.S. intellectual property laws and coercing American companies into transferring sensitive technology to Chinese firms as a condition of gaining access to China's market.
Cotton – who has been vocal in his criticism toward the defense cuts included in the debt ceiling bill – said the best way to deter China and other such countries would be with military presence. 
'To get back to this bill that we just voted on, the single best way we can deter China and Iran and Russia is to have a military capable of deterring them. That's one of the core lessons of history,' Cotton said. 
He had previously introduced an amendment aimed at bolstering defense funding in the debt limit bill, while also criticizing the allocated military budget in his own remarks on the Senate floor Thursday. The amendment failed to gain any traction. 
President Biden signed the debt ceiling bill Saturday, raising the government's borrowing limit and averting a potential default on the national debt. The Fiscal Responsibility Act cuts non-defense spending to near fiscal 2022 levels, capping growth at 1% for the next two years and proposing non-mandatory caps for the four years after.
The law also increases defense spending by 3% for the first year, below the level of inflation. Cotton maintains that such a move is 'very risky for our country.'
'There's no question the Pentagon can find savings, but not savings to match and offset the cuts in this bill or the threats that we face from countries like China and Iran and Russia,' Cotton said. 
Fox News' Brie Stimson, Liz Friden and Eric Revell contributed to this report.  
This post appeared first on FOX NEWS