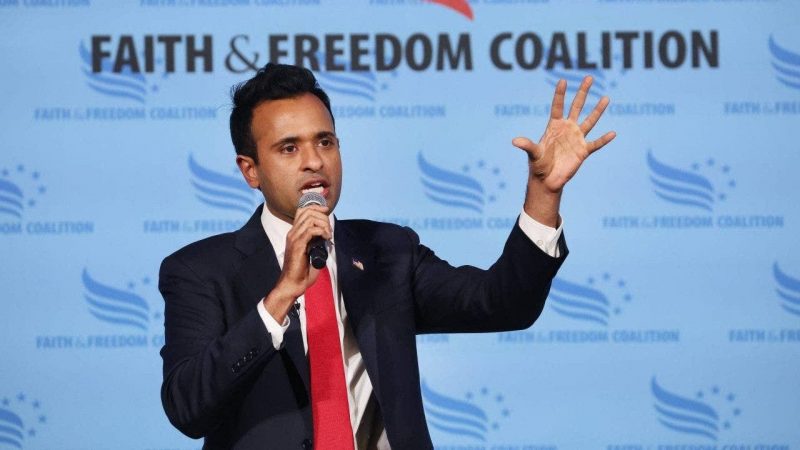 'Anti-woke' GOP presidential candidate says he wouldn't ban transgender service in military
Republican presidential hopeful Vivek Ramaswamy made clear he did not intend to ban transgender individuals from serving in the military.
'I would not reinstate a ban on transgender members,' Ramaswamy said during in interview on ABC's 'This Week' Sunday.
Ramaswamy's remarks came in response to questioning about his alleged 'anti-woke' bona fides, with host Martha Raddatz noting that he was introduced at a recent event as the 'godfather of the anti-woke movement.'
The candidate did note that he wanted to be 'very clear' that he was 'very focused' on transgender 'ideology' not being aimed at kids.
Shortly after taking office, President Biden moved to scrap a Trump-era regulation that banned people from openly serving under their self-identified gender. The move to allow transgender individuals to serve openly was finalized in June 2021, and applies to all active-duty, National Guard or Reserve members, and U.S. military service academy cadets.
Ramaswamy is seen as a long-shot candidate by many observers, trailing former President Donald Trump and Florida Gov. Ron DeSantis, the favorites to win the 2024 GOP nomination. 
According to the latest Fox News polling, Ramaswamy is the preferred candidate of just 3% of Republican primary voters, far behind the 53% who support Trump and 21% who support DeSantis. Ramaswamy also trails former Vice President Mike Pence and former Ambassador to the United Nations Nikki Haley, who garnered 6% and 4% support in the Fox News poll, respectively.
But Ramaswamy said he was embracing his status as an 'outsider,' something that was once true of Trump before he shocked observers to secure the GOP nomination and White House in 2016.
'I'm the outsider in this race, I think you get to be an outsider once,' Ramaswamy told 'This Week.' 'I'm the first millennial ever to run for the GOP nomination for U.S. president, and I'm actually leading us to something. Too long, many other conservative have been running from something.'
Reached for comment by Fox News Digital, a Ramaswamy said the GOP hopefully sees 'transgenderism' as a 'mental health disorder' and that 'individuals with mental health disorders should not be categorically barred from serving in the military, but should be evaluated on a case-by-case basis.'
'He believes that more Americans should serve in the military which can provide our citizenry with shared purpose and meaning that we currently lack, which itself is a key driver of the mental health epidemic in America,' the spokesperson added. 'Vivek is a strong opponent of trans indoctrination of young Americans.'
This post appeared first on FOX NEWS