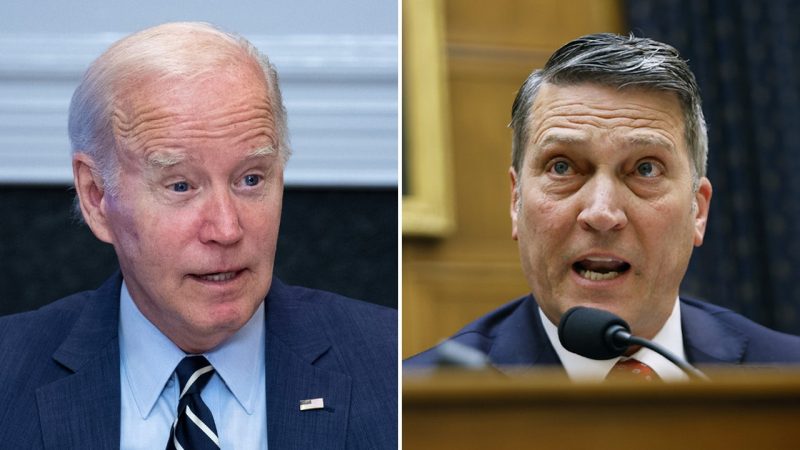 Former doctor for Trump, Obama slams White House's 'malpractice' in allowing Biden to seek re-election
Texas GOP Rep. Ronny Jackson, a former White House physician, is continuing to raise flags over President Biden's health, concluding that he is 'not fit mentally or physically' after the president fell on stage Thursday during a commencement ceremony at the U.S. Air Force Academy.
'I don't wanna sound like a broken record, but I'm just going to say it again: This man's not fit mentally or physically to be our president, and it's a bad situation for us,' Jackson said during a Friday evening appearance on Fox News Channel's 'Hannity.' 'Part of the job of the President of the United States is to inspire confidence and project power, and he's not doing that. He can't do that, he's too old to do that, and I think it's a shame.'
The many gaffes and the recent fall he endured show that Biden, according to Jackson, is offering a 'package that doesn't sell around the world.'
'I think his lack of physical ability and his physical decline is now starting to highlight the cognitive decline that we've been watching for so long now,' Jackson said. 'It's a package that just doesn't sell around the world, and it's becoming a national security issue for us. We have to do something about.'
'To think that this man thinks he can be president at the age of 86 when he's 80 right now [and] could be in office for another six years is just malpractice on part of the White House in the West Wing to allow this to be happening, for him to even be talking about running for another term,' he continued. 'Somebody needs to be held accountable. People like Jill Biden and people that surround him and are supposed to love him and care about him, they should be doing something about this, and they should be stopping this because it's a shame.'
Jackson said it has reached a 'point where our commander in chief needs a walker' in order to maneuver around at events.
'Could you imagine? It would be a better image than what we're seeing right now — seeing him creep around in a walker,' he said. 'At least he wouldn't be falling flat on his face in front of the entire world.… It's embarrassing for him, and it's embarrassing for our country.'
Jackson, who said he prays that Biden does not get re-elected next year, said he does not 'honestly think he can finish the time he's got left, built should he finish that time, there's no way this man can be our president for another four years.'
Jackson previously served as the White House physician to former Presidents Barack Obama and Donald Trump, and has repeatedly questioned whether Biden is cognitively fit for office.
In April, Jackson circulated a letter among House Republicans demanding that Biden take a cognitive test or drop out of the 2024 race. The latest letter, first obtained by Fox News, came shortly after Biden announced that he will seek re-election next year.
'We call on you to either resign immediately and renounce your bid for reelection or submit to a clinically validated cognitive screening assessment and make those results available to the public,' read Jackson's letter, which was addressed to Biden.
The letter cited Biden's age, public gaffes and polls showing many Americans doubt the president's mental fitness.
'When you first announced your bid to run in the 2020 presidential election, questions and concerns were raised surrounding your cognitive abilities. Those concerns have only increased because your mental decline and forgetfulness have become more apparent since you were elected,' Jackson wrote in the letter.
Jackson led previous calls for Biden to take a cognitive test, including one in July 2022 that was signed by more than 50 House Republicans.
In February, Jackson called for an end to the 'cover-up' of Biden's health after the president's physical claimed that he is healthy and fit to serve as commander in chief.
'The majority of Americans can see that Biden's mental health is in total decline, yet there is no transparency from the White House on what's going on, if anything, to address this issue and his inability to do his job,' Jackson told Fox News Digital at the time. 'Yesterday's written physical exam report released by Biden's physician, Kevin O'Connor, further confirms that this administration is still adamant about concealing the truth.'
The Biden administration has repeatedly brushed aside concerns about Biden's acuity. Earlier this year when GOP presidential candidate Nikki Haley proposed that politicians over 75 take mental competency tests, White House press secretary Karine Jean-Pierre said attacks on Biden over his fitness for office failed in the past.
'You know, we've heard these types of attacks or remarks before. And, you know, if you go back to 2020, they said that the president couldn't do it in 2020 and attacked him there, and he beat them,' Jean-Pierre said. 'Maybe they're forgetting the wins that this president has had over the last couple of years. But I'm happy to remind them anytime.'
This post appeared first on FOX NEWS