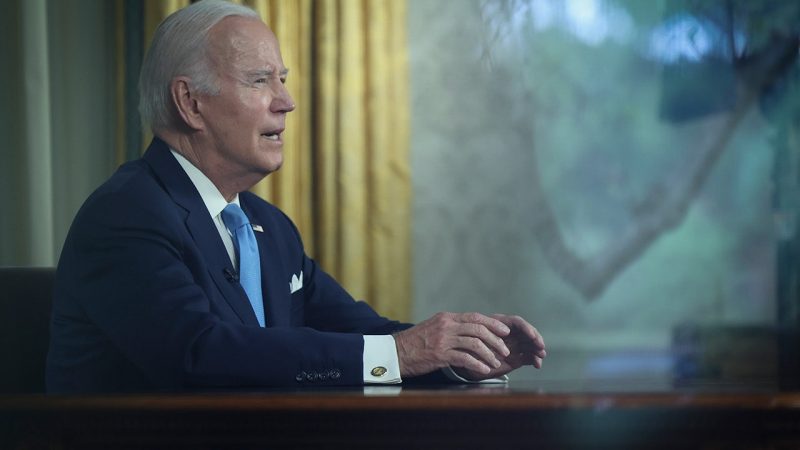 Biden signs debt ceiling bill, avoiding government default
President Biden has signed a debt ceiling increase, raising the government's borrowing limit and averting a potential default on the national debt. 
The White House announced the bill signing in an emailed statement in which Biden thanked congressional leaders for their efforts. The Treasury Department had warned that failing to increase the government's borrowing limit would leave the country without cash to pay its bills and more than likely cause an economic catastrophe. 
'I just signed into law a bipartisan budget agreement that prevents a first-ever default while reducing the deficit, safeguarding Social Security, Medicare, and Medicaid, and fulfilling our scared obligation to our veterans,' Biden tweeted Saturday. 'Now, we continue the work of building the strongest economy in the world.'
Republicans had passed legislation in April to raise the debt limit which also curtailed government spending, but Biden and Democratic lawmakers rejected their bill. The two sides went into a standoff that lasted for weeks as Biden refused to negotiate, demanding a clean debt limit increase before any discussion on spending. 
However, as the deadline to raise the borrowing limit or start missing debt payments approached, both sides entered into tense negotiations to work out a compromise. 
The final deal Biden struck with House Speaker Kevin McCarthy, R-Calif., — called the Fiscal Responsibility Act — suspends the public debt limit through Jan. 1, 2025 and cuts non-defense spending to near fiscal 2022 levels, capping growth at 1% for the next two years and proposing non-mandatory caps for the four years after. It also claws back some money aimed at the Internal Revenue Service and some unspent COVID-19 pandemic funds. The law increases defense spending by 3% for the first year, below the level of inflation. 
The bill passed with bipartisan support in both the House of Representatives and the Senate, though more Democrats voted for it than Republicans. Lawmakers on the right and left kicked and screamed the whole way and called it a betrayal of their respective values.
Texas Republican Chip Roy, a deficit hawk, referred to the deal as a 'turd sandwich.' 
'Passing this budget agreement was critical. The stakes could not have been higher,' Biden said from the Oval Office on Friday evening. 'Nothing would have been more catastrophic,' he said, than defaulting on the country's debt.
'No one got everything they wanted, but the American people got what they needed,' Biden said, highlighting the 'compromise and consensus' in the deal. 'We averted an economic crisis and an economic collapse.'
Lawmakers have said the debt deal includes an automatic 1% cut to discretionary spending if Congress fails to pass each of 12 appropriations bills Congress traditionally is supposed to enact into law by Jan. 1. 
'Leaders Schumer & McConnell committed to pass all 12 appropriations bills on time this year—for the 1st time since 2005—under pressure of an auto spending cut I included in the debt limit agreement,' McCarthy tweeted Thursday. 'Ending the era of the omnibus & getting Washington back to work!' 
However, former Rep. Justin Amash, R-Mich., has called attention to legislative text that says the 1% cuts will happen if 'there is in effect an Act making continuing appropriations for part of fiscal year 2024 for any discretionary budget account.' 
'To put this in more ordinary language, it's saying that if a continuing resolution (CR) is in place, then there will be 1% cuts (i.e., sequester). A CR is when Congress can't agree on new appropriations, so they simply extend old appropriations,' Amash tweeted Thursday, criticizing the bill.
'This is different from an omnibus. In other words, Congress can avoid the cuts simply by passing (and having the president sign) an omnibus before January 1. That means the 12 appropriations bills don't have to be separate; they can be combined into one giant bill, along with (absolutely) anything else they want to include.' 
The national debt stands at $31.4 trillion and growing. 
Fox News' Elizabeth Elkind and the Associated Press contributed to this report. 
This post appeared first on FOX NEWS