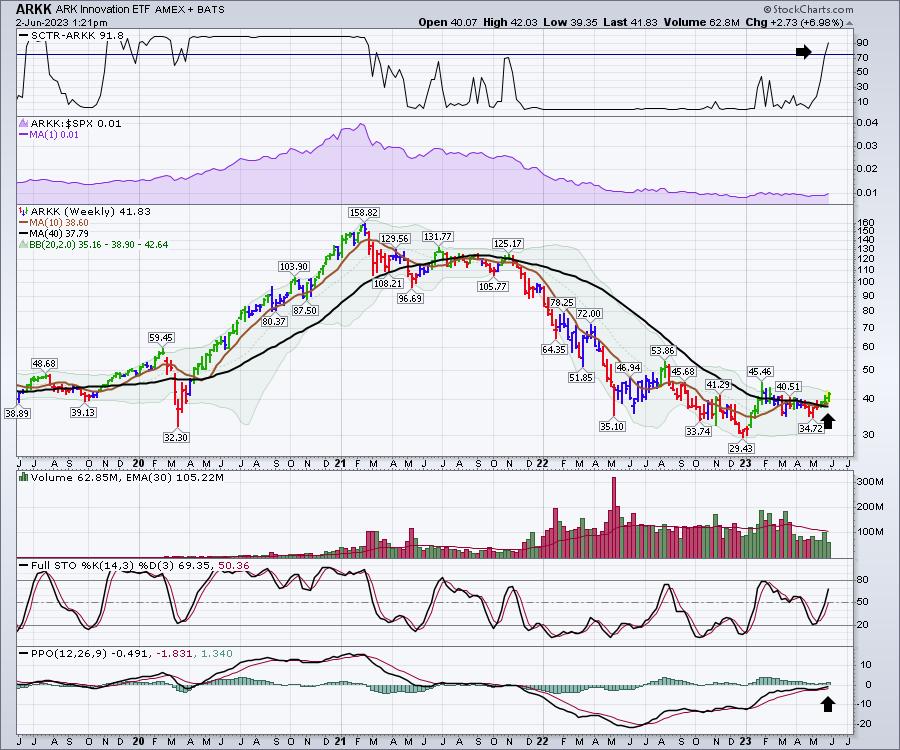 Some New Charts Suggest This Leg Continues
Investor interest seemed to be restricted to semiconductors and software. This week, it appears to be widening out into new areas for a move higher. It's been a long time since anyone loved the ARK series of funds, but the ARKK has an SCTR above 75, suggesting a strong move has started and is behaving better than most of the ETF's out there.
Joe Terranova is a pretty smart investor. He has traded with one of the brightest minds in the commodities business, Mark Fisher. JOET is the ticker of the Terranova momentum fund. He has struggled to grasp the gains in the narrow advance as well, but this week the chart is starting to turn up. Looks great. SCTR moving back above 50, the price is breaking a big downtrend and the PPO looks to be headed into positive territory.
Another ticker I like to keep an eye on is the IBD 50 ETF (FFTY). It has struggled as it is a growth and momentum fund. The daily chart is perking up and you can see the SCTR moving higher as well.
The weekly chart shows how it can be a solid performer, or a solid under-performer. I like the SCTR turning up after making an 18-month base. Price is trying to break out from a sideways consolidation since the beginning of the year. The weekly Full sto was stuck in the lower half, and has now flipped back to the upper half. Price will close above the 40 WMA for the first time in a long time.
I've been waiting for some broadening out. Nice to see a meaningful change in these charts.
I covered some of this on the Monthly conference call on June 1, and members are listening to the recording today. I'll have a lot more in the weekend newsletter. If you would like to try a subscription to Osprey Strategic, it is only $7 for the first month and let's you catch all of the recent postings.