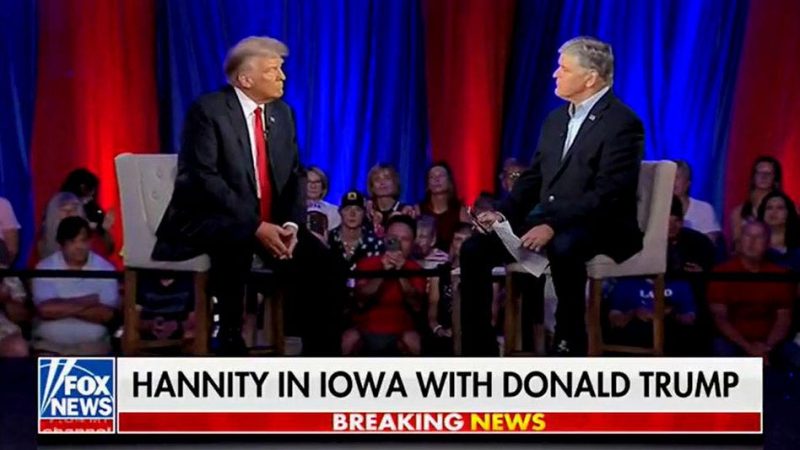 Trump mocks Chris Christie's expected 2024 campaign launch: 'He's polling at zero'
Former President Donald Trump took a not-so-subtle swing at former New Jersey Gov. Chris Christie on Thursday, mocking his expected entry into the race for the 2024 Republican presidential nomination by pointing to his dismal approval rating while governor.
During an exclusive Fox News Town Hall in Iowa, the location of the first contest in the presidential primaries, Trump questioned why Republicans like Christie continued to jump into the already crowded field of candidates seeking to challenge his front-runner status.
'I don't know why people are doing it. They're at one percent. Some are at zero,' Trump told Fox News' Sean Hannity. 'I hear Chris Christie's coming in. He's at – he was at 6% in New Jersey, which is – I love New Jersey, but 6% approval rating in New Jersey. What's the purpose? And he's polling at zero.'
Trump's attacks come after news broke Wednesday that Christie is planning to officially launch his presidential campaign next week. It would be the former governor's second run for the presidency after an unsuccessful bid during the 2016 Republican primaries.
Christie left office with an approval rating near the single digits following a number of scandals that made him one of the least popular governor's in New Jersey history. Similarly, he hasn't had much of an impact on Republican primary voters in the race so far, as the few polls that have included him show him in the low single digits or less.
Trump went on to also mock fellow Republican candidates already in the race, like former Arkansas Gov. Asa Hutchinson, who he called 'Aida,' and Florida Gov. Ron DeSantis, who is currently seen as the former president's main rival in the race.
'This guy, nobody knows who the hell he is. Never good,' Trump said of Hutchinson. 'You know, it's fine, but I don't understand what they're doing.' 
'Now maybe there's something wrong, but when you're at 1% or less –  1%, it says 1% with an arrow pointing left. There's one guy who's at zero with an arrow pointing left that means he's at less than zero. It is what it is,' he added. 
'I really go after the one whose second, and I think the one whose second has gone down so much and so rapidly that I don't think he's going to be second that much longer. I think he's going to be third or fourth,' he said, referencing DeSantis.
Sources familiar with Christie's thinking say that Christie will formally launch his campaign at a town hall at Saint Anselm College's New Hampshire Institute of Politics, next Tuesday, June 6.
Fox News' Paul Steinhauser and Anders Hagstrom contributed to this report.
This post appeared first on FOX NEWS