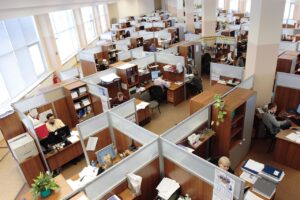 Slower US job, wage gains expected in May
WASHINGTON – US job growth likely slowed in May, with wages coming off the boil, potentially allowing the Federal Reserve to skip an interest rate hike this month for the first time since embarking on its aggressive policy tightening campaign more than a year ago.
Nevertheless, the Labor Department's closely watched employment report on Friday is expected to still show the labor market remaining tight. The unemployment rate is forecast climbing to 3.5% from 3.4% in April but the report will confirm that the economy remained far away from a dreaded recession, though more pockets of weakness are emerging.
"The jobs report is likely to show another step down in the pace of growth, but still a very strong labor market," said Bill Adams, chief economist at Comerica Bank in Dallas. "The Fed is under less pressure to raise interest rates at its meeting this month, than at any time over the last year and a half."
The survey of establishments is likely to show nonfarm payrolls increased by 190,000 jobs last month after rising 253,000 in April, according to a Reuters survey of economists.
It would mark a slowdown from the monthly average of 285,000 in the first four months of this year, but stay well above the 70,000-100,000 needed per month to keep up with growth in the working-age population.
Data for March and April would be closely watched for revisions. The government lowered employment gains in February and March by a combined 149,000 last month.
Despite massive layoffs in the technology sector after companies over-hired during the COVID-19 pandemic and the drag from higher borrowing costs on housing and manufacturing, the services sector, including leisure and hospitality, is still catching up after businesses struggled to find workers over the last two years. Industries like healthcare and education also experienced accelerated retirements.
The backfilling of these retirements and increased demand for services are some of the factors driving job growth. Pent up demand for workers was underscored by Labor Department data this week showing there were 10.1 million job openings at the end of April, with 1.8 vacancies for every unemployed person.
But cracks are emerging. A Conference Board survey on Tuesday showed the share of people viewing jobs as "plentiful" dropped in May to the lowest level since April 2021.
While the Fed's "Beige Book" report on Wednesday described the labor market as having "continued to be strong" in May, it noted that "many contacts" were "fully staffed," and some "were pausing hiring or reducing headcounts."
Temporary help employment, a harbinger for future hiring, is down by 174,000 since its peak in March 2022.
PROGRESS ON INFLATION
But the overall labor market remains upbeat, with first time applications for state unemployment benefits hovering at very low levels. Most economists expect payrolls growth to continue at least through the end of the year.
Average hourly earnings are expected to have risen by 0.3% after jumping 0.5% in April, which was attributed to a calendar quirk. That would keep the year-on-year increase in wages unchanged at 4.4% in May. Annual wage growth averaged about 2.8% prior to the pandemic.
Slowing wage inflation is corroborated by other measures like the Atlanta Fed's wage tracker, which has come off its peaks. Government data on Thursday showed sharp downward revisions to unit labor costs in the first and fourth quarters.
"We're making progress on inflation, you can't expect the inflation problem to go away in a year," said Brian Bethune, an economics professor at Boston College. "It doesn't make sense to push the economy into some kind of artificial recession, because you're going to do more harm than good."
Financial markets see a nearly 70% chance of the Fed keeping its policy rate unchanged at its June 13-14 meeting, according to CME Group's FedWatch Tool. The Fed has raised its benchmark overnight interest rate by 500 basis points since March 2022.
The average workweek is forecast unchanged at 34.4 hours. Some companies are probably reducing hours rather that cut jobs.
The household survey from which the unemployment rate is calculated is likely to show solid employment gains, though an ongoing strike by 11,500 members of the Writers Guild of America poses a downward risk. The Labor Department's Bureau of Labor Statistics, which compiles the employment report, did not record the work stoppage in its May strike report.
"Those striking workers could show up as unemployed in the household survey, however," said Nancy Vanden Houten, lead U.S. economist at Oxford Economics in New York.
The labor force participation rate, or the proportion of working-age Americans who have a job or are looking for one, was likely unchanged at 62.6% after a recent surge in participation in the prime age group. – Reuters