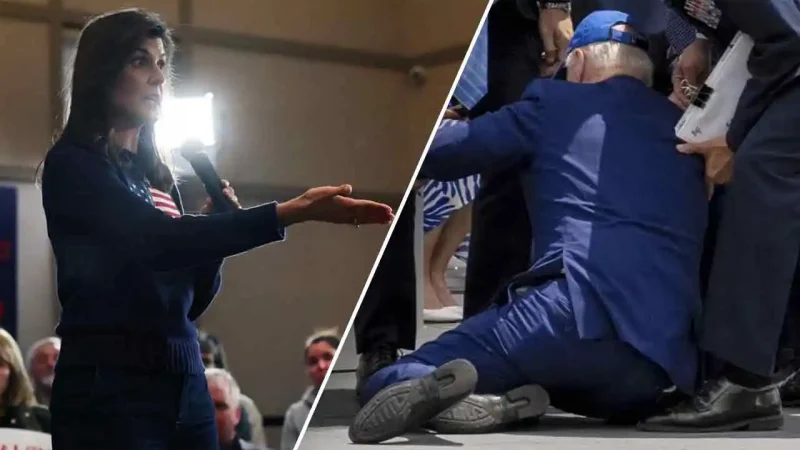 Nikki Haley warns US 'could end up with a President Harris' if Biden re-elected after latest trip and fall
FIRST ON FOX: Republican presidential candidate and former U.N. ambassador Nikki Haley issued a stark warning after President Biden's Thursday trip and fall episode, arguing his possible re-election as president could ultimately lead to Vice President Kamala Harris becoming the commander-in-chief.
'No one should feel good about watching the President fall. While this is hard to see, we have to be honest with the American people,' Haley told Fox News Digital. 'Our enemies see the same TV clips and wonder who is in charge.' 
'Joe Biden is the oldest president in history, and if he's reelected, we could end up with a President Harris. This is why I have repeatedly called for mental competency tests and term limits for politicians. It's time for a new generation of leadership in Washington,' she added.
According to the White House, Biden tripped over a sandbag while shaking hands after delivering the commencement address at the Air Force Academy, but was not injured by the fall.
Haley's opponent, former President Donald Trump, also reacted to the fall while campaigning in Iowa, calling it 'not inspiring.'
'He actually fell down? Well, I hope he wasn't hurt,' Trump said. 'The whole thing is crazy. You've got to be careful about that… even if you have to tiptoe down the ramp.'
'That's a bad place to fall… that's not inspiring,' he later added.
Biden's fall Thursday comes about two years after he fell on the steps while boarding the Air Force One at Joint Base Andrews. 
Following the March 2021 fall in which Biden was filmed tripping on multiple steps, the White House said he was 'doing 100% fine' and blamed the stumble on the gusty conditions.
Fox News' Joe Schoffstall and Thomas Catenacci contributed to this report.
This post appeared first on FOX NEWS