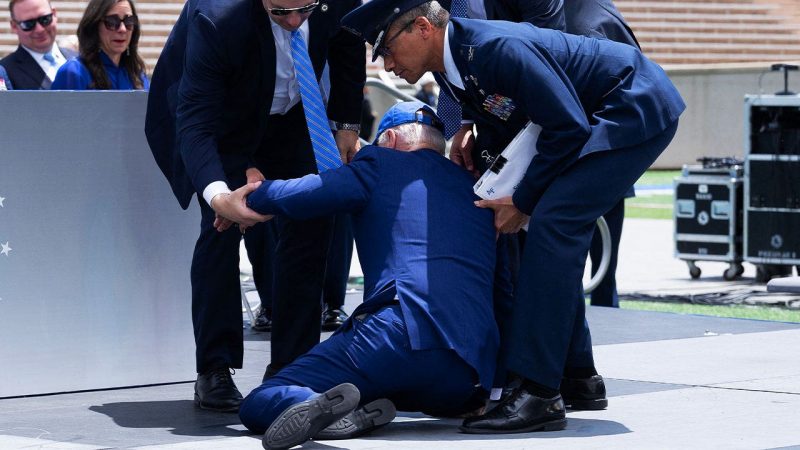 DeSantis on whether Biden's up for another four years as president: 'People can judge that'
MANCHESTER, N.H. – EXCLUSIVE – Florida Gov. Ron DeSantis says voters can judge if President Biden is up for another four years in the White House.
DeSantis, who last week launched a 2024 Republican presidential campaign, spoke Thursday with Fox News Digital in a national exclusive interview a couple of hours after President Biden tripped and fell after delivering a speech and handing out diplomas at the Air Force Academy graduation ceremony in Colorado.
Plenty of Republicans have questioned whether the 80-year-old Biden – the nation's oldest president – is physically and mentally up to the intense demands of the White House for another four years. 
Asked if he agreed, DeSantis said 'people can judge that.'
While he emphasized 'I hope that he didn't sustain injures and if he did, I hope he has a speedy recovery from those,' DeSantis added that 'I'm running for president because I want the U.S. to have a speedy recovery from the injuries that Joe Biden has inflicted on the country and at the end of the day I think that his policies have been wrong.'
'I do think he lacks energy and all that, but he is pursuing a course that's not been good for this country and that's my main concern,' DeSantis emphasized.
DeSantis repeated those comments minutes later at the top of rally at Manchester Community College, the Florida governor's fourth and final event of a jam-packed day in New Hampshire, the state that holds the first primary and second overall contest in the GOP presidential nominating calendar.
One of DeSantis' rivals for the Republican presidential nomination – former ambassador and former South Carolina Gov. Nikki Haley – made news earlier this year by calling for mental competency tests for all politicians age 75 and older.
Asked if he agreed with such a suggestion, DeSantis answered, 'I think it's kind of a gimmick. I think ultimately the voters are able to make those determinations.'
'Ultimately voters are going to be responsible for their choices and hopefully we're going to do better in 2024,' the governor added.
DeSantis, repeating a line he's used in his stump speeches since launching his campaign, told Fox News that it's going to take more than one term in the White House in order 'to slay the deep state, this big unaccountable bureaucracy.'
The comments appear to be a swipe at former President Donald Trump, who's the commanding front-runner in the GOP nomination polls as he runs a third straight time for the White House. After a term in office, Trump can only serve four more years if elected in 2024.
'I've been watching DeSanctus go out and say 'I've got eight years. It's going to be eight years," Trump said Thursday at a campaign event in Iowa. 
And Trump vowed that, 'It will take me six months to have it totally the way it was.' 
Asked about the former president's comments, DeSantis told Fox News 'if the former president says he can slay the deep state in six months, my question to him would be – well you already had four years, why didn't you slay it then.'
Since declaring his candidacy for president last week, DeSantis has been stepping up his counterattacks against former President Donald Trump, who's been blasting his main rival for the GOP nomination for months.
The former president, his political team and allies have amplified their attacks over the past couple of months.
DeSantis had mostly resisted responding to Trump's attacks until last week. But as he kicked off his first campaign swing as a 2024 candidate on Tuesday in Iowa, DeSantis started aggressively throwing punches at the former president during a question-and-answer session with reporters.
'So look, I'm going to respond to attacks,' DeSantis said. 'I'm gonna counterpunch and I'm gonna fight back on it.'
On Wednesday evening, as DeSantis was taking the stage for his fourth event in Iowa, Trump took aim at him on social media over the governor's different pronunciations of his name.
'Have you heard that 'Rob' DeSanctimonious wants to change his name, again. He is demanding that people call him DeeeSantis, rather than DaSantis. Actually, I like 'Da' better, a nicer flow, so I am happy he is changing it. He gets very upset when people, including reporters, don't pronounce it correctly. Therefore, he shouldn't mind, DeSanctimonious?' Trump said.
Trump took aim after media reports in recent days highlighted how DeSantis has used two different pronunciations of his name in recent weeks, switching between 'Deh-Santis' and 'Dee-Santis.'
'I think it's so petty. I think it's so juvenile,' DeSantis said Thursday morning in a radio interview in New Hampshire as he responded to Trump.
Getting into a personal slugfest day after day with the former president, who a master of in-your-face politics, may not be a sustainable strategy.
Asked if his pushback against Trump was getting personal, DeSantis disagree, saying 'I'm not personal at all. Some of the stuff is very juvenile. I don't think the voters want it. I'm not getting into the gutter.'
And when asked the correct pronunciation of his last name, DeSantis told Fox News 'it's ridiculous. These stupid things. Listen, the way to pronounce my last name – winner.'
This post appeared first on FOX NEWS