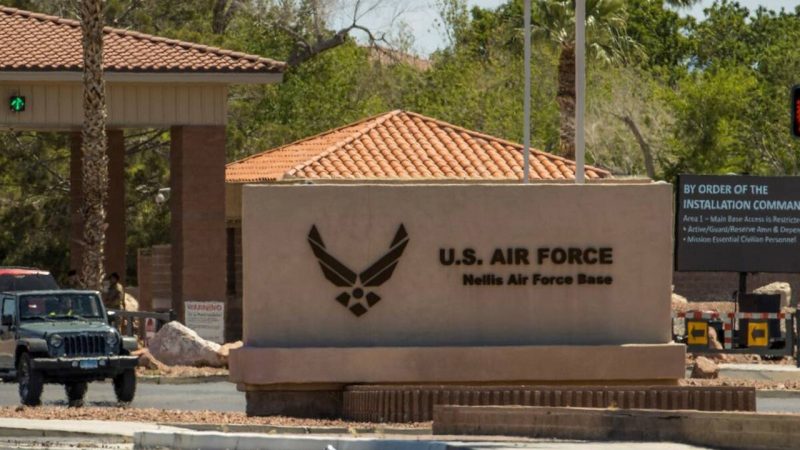 Rep Gaetz gets Pride Month 'family friendly' drag show at Nevada Air Force base canceled
One week after Rep. Matt Gaetz, R-Fla., demanded answers from the Department of Defense about why a 'child-friendly' drag show was being hosted at Nellis Air Force Base in Nevada, the show was abruptly canceled.
'HUGE VICTORY,' Gaetz wrote on Twitter. 'Drag shows should not be taking place on military installations with taxpayer dollars PERIOD!'
A drag show initially scheduled for June 1 — in celebration of Pride Month — organized by the Nellis LGBTQ+ Pride Council, was canceled, the group confirmed on Facebook.
'The Nellis LGBTQ+ Pride Council is saddened to inform you that we are no longer able to host our annual Pride Month Drag Show on Nellis AFB.' The group said it 'received notification that the DoD has directed Commanders not to host Drag events on military installations.'
The cancellation came after Gaetz 'demanded answers' from Defense Secretary Lloyd Austin and Chairman of the Joint Chiefs of Staff General Mark Milley, the lawmaker highlighted on Twitter.
On May 23, Gaetz wrote a letter to Milley and Austin 'demanding immediate answers on why these drag shows are still occurring' despite their testimony in March that the Defense Department did not support or endorse such shows, he said.
The two leaders said at the time that they were not aware such events were still happening on military bases.
'I'm demanding immediate answers on why these drag shows are still occurring despite Austin and General Milley testifying that they should not be happening,' Gaetz wrote on Twitter, sharing the letter.
In the letter, Gaetz reminded Austin and Milley of their testimony before the House Armed Services Committee on March 29, where they expressed their disapproval of such performances.
'On March 29, 2023, during the House Armed Services Committee hearing on the 'FY24 Defense Budget Request,' I questioned you about diversity, equity, and inclusion (DEI) programs within the Department of Defense (DoD). I find it completely unacceptable that DoD is using taxpayer dollars to fund DEI programs that are divisive in nature. DoD resources should be used for mission-essential operations, not diverted toward initiatives that create cultural fissures within our service ranks,' Gaetz wrote in the letter dated May 23.
He added, 'When I highlighted specific cases of drag queen story hours and drag shows occurring on U.S. military bases, shockingly, you indicated you were unaware that such events are taking place. However, I am pleased to know you do not support these drag events and agree with me that they should not be happening.'
'To aid you in executing the agreed-upon elimination of DoD-funded drag events, I have enclosed supplementary documents that further highlight the DoD's pervasive and persistent use of taxpayer dollars for drag events,' the Republican continued.
He also included questions about the respective instances, requiring answers to the House Armed Services Committee so it could conduct 'further oversight of this matter.'
The letter then highlighted the June 2023 Nellis drag show as well as a similar event hosted at Nellis the year before, on June 17, 2022.
'Under what authority does a commander approve, host, and fund burlesque shows on a military base utilizing taxpayer funding?' Gaetz asked, referencing a drag show hosted at the Nellis Club during which time Colonel Josh DeMottis was the commander.
The letter also highlighted past events like one that took place on May 27, 2022, at the Ramstein Air Force Base, located in Germany; and, one on July 30, 2022, at the Joint Base Langley-Eustis in Virginia.
The May event was canceled, but Gaetz inquired in the letter: 'Prior to its cancelation, how many service members were diverted from their normal duties to help plan, organize, and facilitate the drag queen story hour?'
The June 1 event was going to feature RuPaul's Drag Race Season 5 star CoCo Montrese, according to its advertisement.
According to NBC News, the decision to cancel the event came directly from Austin and Milley, the latter of which was visibly agitated when he was informed about the event.
A drag show was hosted at Nellis Air Force Base each of the past two years, including 2021 and 2022.
This post appeared first on FOX NEWS
–>