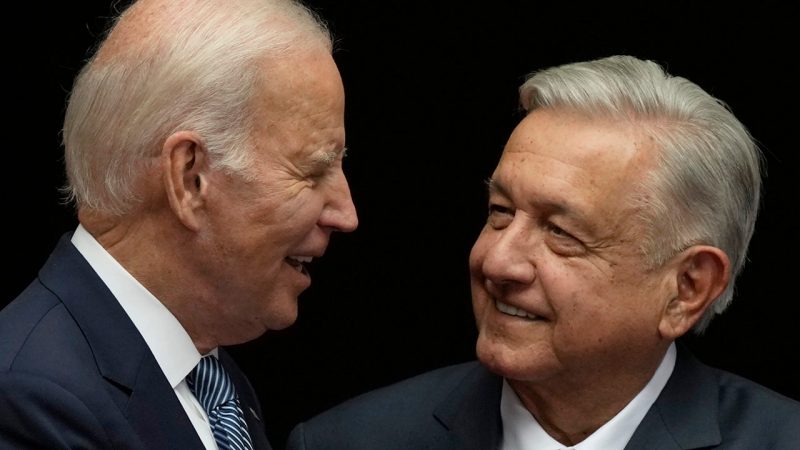 As Mexican president wages 'information campaign' targeting Republican votes, Biden admin stays quiet
The president of Mexico is continuing to wage what he has called an 'information campaign' against Republicans in the U.S., urging Hispanics not to vote for them due to their policies on immigration and fentanyl — but the Biden administration has so far stayed quiet on the apparent election meddling by the southern neighbor.
President Andres Manuel Lopez Obrador muscled his way into the 2024 presidential debate last week after Florida Gov. Ron DeSantis announced his candidacy and promised to shut down the border with Mexico.
Lopez Obrador accused DeSantis of pushing 'anti-immigrant' policies and urged Hispanics not to vote for him.
'I hope the Hispanics of Florida wake up and don't give him any votes, that they don't vote for those who persecute migrants, those who don't respect migrants,' he said.
Those remarks are not an isolated instance however, and appear to be part of an 'information campaign' he announced in March, after Republican lawmakers suggested potential military action to take out the drug cartels pumping out fentanyl and sending it to the U.S.
'Starting today we are going to start an information campaign for Mexicans who live and work in the United States and for all Hispanics to inform them of what we are doing in Mexico and how this initiative by the Republicans, in addition to being irresponsible, is an offense against the people of Mexico, a lack of respect for our independence, our sovereignty,' he said.
'And if they do not change their attitude and think that they are going to use Mexico for their propaganda, electoral, and political purposes, we are going to call for them not to vote for that party, because it is interventionist, inhumane, hypocritical, and corrupt,' Lopez Obrador said, later adding that Mexico would be insisting that 'not one vote' goes to Republicans from Mexicans and Hispanics.
In July 2022, he also targeted Texas Gov. Greg Abbott and said that Mexico is 'going to ask our countrymen there that they don't vote for that candidate or party.'
However, the Biden administration has so far not engaged with the remarks publicly, despite the apparent meddling in U.S. elections by a foreign government. Neither the State Department nor the White House responded to multiple requests for comment on the matter from Fox News Digital.
Lopez Obrador has also taken swipes at American lawmakers when appealing for help from the Chinese Communist regime in stopping fentanyl, which is created in Mexico using Chinese precursors.
'Unjustly, they are blaming us for problems that in large measure have to do with their loss of values, their welfare crisis,' he wrote. 'These positions are in themselves a lack of respect and a threat to our sovereignty, and moreover they are based on an absurd, manipulative, propagandistic and demagogic attitude.'
The Mexican leader has also made bizarre claims that fentanyl is not made in Mexico — when it is primarily made in Mexico from Chinese precursors before being transported into the U.S. across the land border.
Meanwhile, diplomatic tensions were on display between the two countries in March when the Mexican military seized an American construction company's facility. Mexican President Lopez Obrador had accused the company of trying to extract minerals from Mexico without the required permits and ship them to the U.S.
This post appeared first on FOX NEWS